Found December 13, 2012 on With Leather:
Naturally, we've been very happy about the rise of Ronda Rousey and what it means to the future of women in UFC and just Mixed Martial Arts competition in general. But as much fun as it has been to talk about the successful, charismatic and, well, attractive Rousey, I've regrettably ignored what is an equally important – or maybe even arguably more important – story in Rousey's opponent, Liz Carmouche, becoming the first openly gay fighter in UFC history.The move is a nice one for UFC President Dana White, who famously dropped an F-Bomb (f*ggot, not f*ck) in an interview several years ago, as he can now boast of the UFC's universal inclusiveness with both women and homosexuals all in one fell swoop. PR stunts aside, though, it's just good for everyone, as long as it's not the only thing that defines Carmouche. I'm sure she'd like to be known as a UFC champion, in addition to being a champion for equality.In the meantime, her presence is a win-win for everyone involved, as the UFC takes a step forward in fighting the stigma of White's mistake, while Carmouche goes into her championship match at UFC 157 on Feb. 26 against Rousey with not only female MMA fans supporting her, but also gay MMA fans, and that's something that means a lot to her.One of the main reasons that I brought this up, aside from the whole great news aspect, was that before Carmouche was signed to fight Rousey in the UFC's first ever women's championship match, if you Googled "UFC gay", the two most common results were Dana White using the F-word and Ultimate Fighter contestant Dakota Cochrane's gay porn past, which White has previously acknowledged being "cool with".It has been three years since White made his slip of the tongue in a video blog, and he's been dragged over the coals for it to this day, which is why he still apologizes for it any time that it's mentioned, albeit with his unique style of not giving a sh*t about the people who attack him for it. In fact, as recently as October, he'd expressed his willingness to have a gay fighter in the UFC:"I'll tell you right now, if there's a gay fighter in the UFC, I wish he would come out," he said. "I could care less if there's a gay fighter in the UFC. There probably is, and there's probably more than one. It's 2012. Give me a break."Maybe it's a coincidence that Carmouche is in the UFC now as the best possible competition for Rousey, or maybe it's simply a scratch-my-back scenario that helps White look a little better as he tells activist groups to "F*ck off". Either way, if you Google "UFC gay" now, the main story is Carmouche, and that's good, because it's time.The post Lost In The Shuffle: UFC's Big Step Forward With Liz Carmouche, First Openly Gay Fighter appeared first on With Leather.
Original Story:
http://feedproxy.google.com/~r/uproxx...
THE BACKYARD
BEST OF MAXIM
RELATED ARTICLES
INTERESTING CAREER SWITCH
Rachel Wray, a former cheerleader for the Kansas City Chiefs, is pursuing a career in MMA and she appears to be faring well, winning her first two fights.
I'll admit it, I got into Twitter because of the UFC, and the only reason I have Facebook is to watch UFC preliminary fights, so they got me. The UFC has been heralded as kings of social media, they dominate it. From the fighters to the PR people to the president himself, Dana White, everyone [...]
Mercedes Terrell is sort of a jack-of-all-trades in the world of modeling. She got her start modeling for a variety of car magazines and trade shows and eventually made her way into the MMA world with Bellator Fighting Championships. Don't slouch at Mercedes for not being in the UFC. Bellator is the second largest MMA promotion company in the U.S. and has a lot of notority across...
Could the fight that enraptured an audience for almost all of 2011 actually happen in 2013? It looks like it. Dana White recently told MMAFighting.com that a fight has been offered to both "The King of PPV" Georges St. Pierre and Mr. 209 himself, Nick Diaz for UFC 158 March 16th in GSP's home of [...]
Stop me if you heard this one before. I think I'll wait until see Georges St-Pierre and Nick Diaz in the octagon together before I get excited again about this UFC fight.
MMA News

Delivered to your inbox

You'll also receive Yardbarker's daily Top 10, featuring the best sports stories from around the web. Customize your newsletter to get articles on your favorite sports and teams. And the best part? It's free!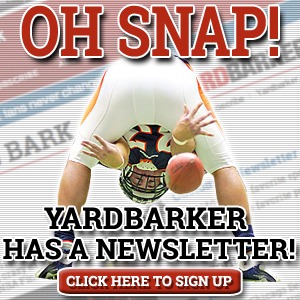 Latest Rumors
Best of Yardbarker

Today's Best Stuff

For Bloggers

Join the Yardbarker Network for more promotion, traffic, and money.

Company Info

Help

What is Yardbarker?

Yardbarker is the largest network of sports blogs and pro athlete blogs on the web. This site is the hub of the Yardbarker Network, where our editors and algorithms curate the best sports content from our network and beyond.