Found February 25, 2013 on hov-mma:
"We're Taking Over!!" - Anonymous, Ok, me. Zuffa closed up the Strikeforce shop, but brought over a troupe of hungry young fighters into the UFC.  Those fighters have taken the bull by the horns and are doing work in the Octagon.  These guys have gone a combined 5-1 in their UFC debuts.  It's like they are doing a takeover angle, pro wrestling fans will get this.  Isaac Vallie-Flagg Hadn't lost in his last twelve fights, Isaac has been on a major roll in the lightweight division.  He was 2-0 in Strikeforce and debuted in the UFC against one of the toughest and more durable lightweights in the world, Yves Edwards.  In a classic back and forth affair, they each had their moments, but when the final bell rang to end the contest, Vallie-Flagg was awarded a split decision, his third split decision in as many fights.  When you live by the sword, you often die by the sword, but so far, he's getting it done.  Next Up:  No match is announced, but you can expect him to get a contest a little further up the rankings.  Maybe a matchup with Evan Dunham would be of interest.     Bobby Green A winner of five in a row, he wasn't done any favors, when brought in to debut against the uber-tough Jacob Volkmann.  Volkmann is a wrestler with a smothering style, who has worn down plenty a fighter and was a big favorite heading into the contest.  All Bobby Green did was will his way to victory.  He was stuffed under Volkmann and fought, scrapped, battled and brawled his way to victory.  He took all that Volkmann had, and then with only seconds left in the fight, he secured a rear naked choke, and a future in the UFC.  Dana White was very impressed with Green.  As for Volkmann?  He got fired. Next Up:  I'd like to see him face someone like Danny Castillo.  That would be an interesting match. Robbie Lawler Robbie Lawler is a UFC veteran who had last fought in the Octagon is 2004.  He's been bouncing around a little until he found a home in Strikeforce.  His career has always been, win a couple, lose one, but he's got a couple of things going for him that make him marketable.  He has knockout power in either hand, and he brings an aura of imminent danger to his fights.  His return to the UFC was against Josh Koscheck, who did the smart thing and wrestled him, but all Lawler needed was one big shot on the ground to turn the tide, and TKO Koscheck.  He's a star who fans love to cheer for.  Next Up:  Perhaps if Nick Diaz loses his title fight with GSP, which is a real possibility, he can meet Lawler in a rematch of their 2004 UFC clash that saw Lawler KO'd for the only time in his 29 fight career.  A fight with Jake Ellenberger or Martin Kampmann could be fun. Caros Fodor The lone transplant who failed to win in his opener, Caros Fodor still impressed in a very difficult fight with UFC veteran Sam Stout.  The fight was a back and forth battle, where Fodor tried to press the action, but an always developing Stout used a newly impressive wrestling game to keep him at bay when needed.  It was a close fight, but Stout won the split decision.  Nothing for Fodor to hang his head about, but he has lost two consecutive fights now, so he has to either win his next one, or go out and do something Grice-like in losing.  Up Next:  Not sure who Fodor will get next in the UFC but a matchup with someone outside the top fifteen would seem reasonable.  Maybe a fight with Dos Anjos or Yves Edwards could be on the horizon.  Nah-Shon Burrell Nah-Shon committed one of the biggest errors in the UFC when he showed up better than five pounds over his allotted 170 pound weight limit.  It is NEVER a good idea to miss weight in the UFC, but when it is your debut….ouch!  Nah-Shon knew he needed to perform in his fight, and he did.  He and Yuri Villefort had a very spirited fight to open the night at UFC 157.  It was back and forth, lots of furious action, and probably was only bested by Fight of the Night winner, and early Fight of the Year candidate Matt Grice vs. Dennis Bermudez.  It was another big win for Strikeforce, and a much needed shot in the arm for a heavy Burrell.  Up Next:  Next for Burrell is a battle with the scale.  He has to prove he can make the weight, or he'll be cut regardless of talent.  Once he does that, expect him to face someone like Justin Edwards, James Head or Jason High….lots of options with the letter J there. These fighters some Strikeforce are hungry, and they are taking every opportunity that the UFC is giving them to shine.  If you're a UFC guy paired up against one of these new Strikeforce transplants, you're going to have to pack a lunch.  The UFC is over their desired fighter capacity by 100 fighters, a fact apparently not lost on Strikeforce.  
Original Story:
http://www.hov-mma.com/2013/02/monday...
THE BACKYARD
BEST OF MAXIM
RELATED ARTICLES
170 is such a better weight for Lawler who looked better than he has in years. I'm sure there isn't too many complaints about him taking out Kos. Tate And Zingano Not Impressed With Rousey Lawler And Lombard After Training
A welterweight shootout between Robbie Lawler (Pictured) and Josh Koscheck kicked off Saturday's "UFC 157: Rousey vs. Carmouche" pay-per-view broadcast. Please click HERE to catch our live results and play-by-play coverage. Honda Center in Anaheim, California is hosting tonight's festivities. The show is headlined by a bantamweight title tilt between champion Ronda Rousey...
After a spectacular night of MMA action, UFC President Dana White awarded Robbie Lawler (Pictured), Kenny Robertson, Dennis Bermudez and Matt Grice each an additional $50,000 for their special performances Saturday night at "UFC 157: Rousey vs. Carmouche." Lawler's 1stRound TKO victory over Josh Koscheck was the only knockout on the evening, so his 'Knockout of the Night'...
The Ultimate Fighting Championships announced the UFC on Fuel TV 7 live gate and attendance as well as the bonus awards at the post-fight press conference. Live Gate: $1.4 million Attendance:15,525 Knockout of the Night – Robbie Lawler Submission of the Night – Kenny Robertson Fight of the Night – Dennis Bermudez vs. Matt Grice Each fighter was awarded $50,000 for their efforts. 
UFC 157 took place last night from the Honda Center in Anaheim, California and early gate figures are showing that Ronda Rousey and women's MMA pulled over 15,500 people into the Honda Center and created a live gate of $1.4 million.
An extra $50K was awarded to the following fighters for their failure to underachieve during tonight's festivities in Anaheim, California this evening: Fight of the Night: Dennis Bermudez vs. Matt Grice Knockout of the Night: Robbie Lawler Submission of the Night: Kenny Robertson (pictured)
Koscheck was upset this Saturday by Robbie Lawler loosing in the first round by TKO.  Kos was controlling the fight up until he got caught and with someone as powerful as Lawler all it takes is one.  This is the second loss in a row for Koscheck, though in his previous fight he dropped a very controversial split decision to number one ranked Johny Hendricks.  Still it puts Kos...
Imagine if you were starving and standing outside of a restaurant, peeking through the window while watching others inhale gourmet food as if they were taking their last breath. When you walk up to the hostess to request a table, you're told they're unable to seat you because admission is for members only. It would be a natural reaction to then work your tail off to one day earn...
The historic UFC 157 is now officially behind us. The Anaheim card featured an outstanding night of fights that culminated in a spectacular showing from women's bantamweight champ Ronda Rousey, who defeated her toughest threat to date, Liz Carmouche, with another 1st round arm-bar. The card also featured several incredible upsets including Robbie Lawler's emphatic TKO over...
An interesting featherweight match-up has been officially added to the UFC's Memorial Day fight card. Jeremy Stephens will be dropping down to featherweight to face the debuting Estevan Payan.  UFC officials announced the match-up early Wednesday.  Stephens will be moving down to featherweight after dropping his last three fights as a lightweight. Losses to Yves Edwards, Donald...
MMA News

Delivered to your inbox

You'll also receive Yardbarker's daily Top 10, featuring the best sports stories from around the web. Customize your newsletter to get articles on your favorite sports and teams. And the best part? It's free!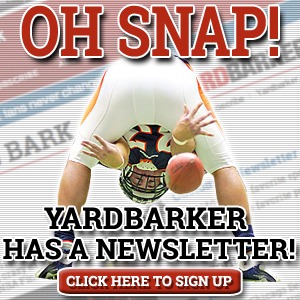 Latest Rumors
The Backyard

Today's Best Stuff

For Bloggers

Join the Yardbarker Network for more promotion, traffic, and money.

Company Info

Help

What is Yardbarker?

Yardbarker is the largest network of sports blogs and pro athlete blogs on the web. This site is the hub of the Yardbarker Network, where our editors and algorithms curate the best sports content from our network and beyond.