Found March 20, 2012 on Fox Sports:
Last week was another good week of training, and brings me a step closer to my next fight, scheduled for April 14 in Stockholm, Sweden, against Italy's Alessio Sakara. It will have been just over six months since my last fight by the time I get to grips with Sakara and, yes, I am delighted to be back doing what I love to do -- both in the gym and then in the Octagon, where it all counts. In terms of my specific preparation for this fight, I've really been working hard on my jiu-jitsu and wrestling with a whole host of top-level guys, including Roan Carneiro, Douglas Lima, Chip Coffey, Roberto Traven, Rafael Assuncao and many others. In fact, there are a ton of Brazilian jiu-jitsu black belts at my gym right now and it's very educational to be able to roll with them. Therefore, in addition to working on all areas of my game, I have placed particular emphasis on improving my submission game this time around. Also, we've got a bunch of different Division I collegiate wrestlers coming down to train with us and help improve the standard of wrestling. I'm always looking to try and progress my wrestling game, and so it is hugely beneficial for me to be spending time with guys that have been wrestling since they were knee-high. These guys do things instinctively that the rest of us are still trying to learn through repetition. Although no training camp is ever easy or kind on your body, I'm feeling a lot better within myself ahead of this fight with Sakara. I've started paying more attention to how my body feels during sessions and in between sessions and am now allowing my body to dictate how and when I train, as opposed to just pushing through the pain barrier and causing unwanted damage or fatigue down the line. My trainer and I have tried to coordinate a lot of what I'm doing, and make sure that a lot of it -- whether strength and conditioning, wrestling, jiu-jitsu, boxing or something else -- is manageable and realistic. The key is to train hard, of course, but to manage the workload to prevent you feeling all broken down and sorry for yourself by the time the fight comes around. I've been doing my strength and conditioning at a place called Sports Lab here in Atlanta and it's a real quality place. Not only are they focusing on my strength and conditioning, but they've also got some recovery specialists who are working on the finer points of my body and ensuring that I recover quickly from tough sessions. They are helping me get the best out of my body for each and every session, and this kind of advice and guidance is really crucial to me at this stage in my athletic life. All in all, I'm just really focusing hard on becoming a whole lot smarter in regard to training and my own body. I don't ever want to again reach that point at the end of camp where you feel like you've been hit by a car. Then somebody tells you a fight is coming up in five days. That's never a good feeling, regardless of how gifted, tough or fit you may be. It is crucial that all fighters are in a position to peak effectively on the night of their fight and to produce their optimum performance during that 15- or 25-minute slot. If you end up producing your best stuff a few days or weeks in advance of that moment, then it's an uphill struggle from there, believe me. At this point in my career, it's all about doing things right and realizing that it's perfectly OK to still be learning. I'd say everybody involved in this sport is still on that same learning curve, and I'm no different. Take my last fight, for example. Now, it goes without saying, nobody every wants to lose a fight, but, at some stage we all have to face up to the fact that somebody will come along and just simply be better than we are on a given night. That happened to me last October against Chael Sonnen. Not only is Chael one of the very best middleweights in the world, but he was also a nightmare for me stylistically. We all knew that going into the fight, and I said as much in many pre-fight interviews. I was under no illusions, and was only too aware that I needed to be at my very best -- better than ever before -- in order to get that victory against Chael. Unfortunately, it didn't happen for me on the night. Still, the defeat didn't make me panic, reassess plans or doubt myself. Instead, I just brushed myself down and got back to working on all the things that went wrong on the night. That's all I can do -- that's all I can manage. Me. My skills. My body. When you're young and naïve you may go through life thinking you're invincible and that life is all about you, but that's not the case, especially when competing in a sport like mixed martial arts. It's a dog-eat-dog world and, now I'm over that loss to Sonnen, and all the better for it, I'll be looking to show all of my improvements on April 21st against Alessio Sakara. How do you think I should go about winning the fight? Tweet me your thoughts @BrianStann. Middleweight contender Brian Stann battles Italian striker Alessio Sakara in Stockholm, Sweden on Saturday, April 14, live on FUEL TV.
Original Story:
http://msn.foxsports.com/ufc/story/Br...
THE BACKYARD
BEST OF MAXIM
RELATED ARTICLES
An extraordinary true story about a warrior in the Octagon and selfless soldier in the battlefield. UFC Middleweight & U.S. Marine Brian Stann walks us through every harrowing detail of the mission for which he was awarded the Silver Star. Stann also outlines his return to the Octagon after his battle in the middle east; [...]
For the most part here at Crystal Ball Run, we like to take a look at college football in a lighter way. Yes, we take what we do seriously, but college football is also supposed to be fun, and because of it, we try to present our content that way. After all, if we can't make fun of ourselves in the process of making fun of Les Miles, Charlie Weis and Lane Kiffin, what's the point...
MMA News

Delivered to your inbox

You'll also receive Yardbarker's daily Top 10, featuring the best sports stories from around the web. Customize your newsletter to get articles on your favorite sports and teams. And the best part? It's free!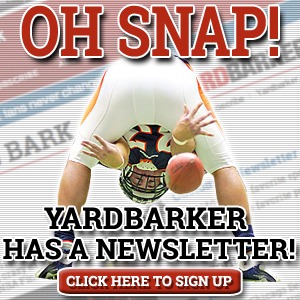 Latest Rumors
The Backyard

Today's Best Stuff

For Bloggers

Join the Yardbarker Network for more promotion, traffic, and money.

Company Info

Help

What is Yardbarker?

Yardbarker is the largest network of sports blogs and pro athlete blogs on the web. This site is the hub of the Yardbarker Network, where our editors and algorithms curate the best sports content from our network and beyond.