Found March 27, 2013 on hov-mma:
Episode 10 of The Ultimate Fighter marks the first two of the semi-final fights:  Collin Hart vs. Kelvin Gastelum and Dylan Andrews vs. Luke Barnatt.  As expected in a one hour episode that features two fights instead of the usual one, there was much less time for interviews, training footage, and - thank you producers! -dumbass house antics and commentary.  (Just as a side note regarding last week's unfinished medical issue, we did not revisit the Kevin Casey trip to the hospital, so it appears the jury is still out on whether or not Kevin was suffering from acute renal failure.  He did tweet that he was treated for it, but the producers did not address the issue with any follow up…leading me to speculate that at the very least, there are some serious and concealed weight cutting/hydration/renal issues in the TUF house.  That being said, MMA is a professional combat sport and the athletes have a responsibility to be smart about their training and fight preparation.  Acute renal failure brought on by weight cutting/dehydration is the exact opposite of smart; and for it to allegedly happen more than one time speaks volumes about a fighter's fight preparation.  I'm glad Kevin Casey is ok, but he needs to rethink his pre-fight system.) The first fight of the night was Kelvin Gastelum vs. Collin Hart, but the real highlight was Ronda Rousey's visit to the TUF house to lead a training session (as promised) for Team Sonnen.  Ronda was lighthearted and fun, but lightening fast and she wowed Team Sonnen with some Judo moves that left them surprised and respectful.  She clearly inspired Kelvin with her presence and her advice as he took her pep talk to heart and quoted her later when he said, "Collin Hart doesn't have the right to beat me." Fight 1: Kelvin Gastelum vs. Collin Hart.  After the fun training session with Ronda Rousey, this fight was almost anti-climactic.  Both fighters came out banging and it appeared that Collin was landing with slightly more accuracy, but Kelvin quickly caught Collin and dropped him; jumping in to finish him with a TKO. The Gastelum – Hart part of this week's show, including the fight, was over just before the 21 minute mark of the one hour episode, leading me to hope that the second semi-final fight was going to go the distance (or else we were facing substantial verbal filler by producer talk-favorites, Josh Samman and Bubba McDaniel).  Thankfully, I was right about the next fight and whatever extra few minutes there were to fill, were filled by a visit by boxing legend Mike Tyson, who visited both fighters in the locker room and then was cage side for the fight. Dylan Andrews vs. Luke Barnatt.  According to the tale of the tape (and Coach Sonnen) Luke Barnatt was going into this fight with a substantial advantage over Dylan Andrews.  But Dylan had something a little more intangible on his side that would go a long way toward balancing out the odds:  a spiritual connection with one of his coaches and a deep commitment to winning for his family.  Together, these forces kept Dylan grounded and in the here and now; focused solely on the fight immediately in front of him. Luke was already looking ahead at the next fight, wanting his win to be a dominant and intimidating factor in his next fight.  So despite Luke's 5" height and 2.5" reach advantages, Dylan was meeting him as an equal with a solid and grounded game plan and attitude.  It was an interesting fight.  Dylan was able to take Luke down, almost at will, for two full rounds, but was unable to capitalize on his position.  Luke, while seemingly unable to get back to his feet, was very active from the bottom, landing some big elbows and consistently scoring with strikes. There was some back and forth – Luke did get a takedown of his own and was throwing some solid knees, but mostly Luke was held down for the majority of two rounds.  The judges, however, were (correctly, in my opinion) able to note all of the damage that Luke was doing from the bottom and the lack of damage that Dylan was doing from the top and called the first two rounds a draw…leading to a third and final round.  (Personally, I reluctantly gave the first round to Dylan 0-8 and then gave the second round to Luke, 10-8. The Judges must have scored it similarly since it went to round three.)  Both fighters looked tired in the corners just prior to the third round, but both come out swinging.  Dylan was able to take control of the round by constantly moving forward and keeping Luke on the retreat.  Shortly into round three, after a fairly dynamic exchange, Dylan caught Luke with a couple of solid blows in the clinch that left Luke reeling.  Dylan immediately capitalized on Luke's weakness and rained down several heavy blows that crumpled Luke to the mat – leading to a TKO victory in the third round for Dylan Andrews.  It was a good fight, but I would have liked to have seen Dylan do a little more striking on the ground.  Conversely, I would have liked to see Luke make a more concerted effort to get to his feet.  He is extremely limber and with the added leverage of his height advantage, Luke should have been able to regain his feet several times; but didn't.  The fight was much more dynamic and equal when they were standing and exchanging strikes:  I would have liked to have seen a little more of that.  A few consolation words from Mike Tyson to Luke Barnatt and the episode is over…leaving us with previews of next week's fights.  Fights that I for one am very anxious to see.  Look out Bubba McDaniel:  here comes Uriah Hall!  Talking TUF with Denise Tracey Archive
Original Story:
http://www.hov-mma.com/2013/03/talkin...
THE BACKYARD
BEST OF MAXIM
RELATED ARTICLES
Chael Sonnen made a name for himself back in 2010 with his creative and colourful trash talk heading into his UFC 117 title fight against Anderson Silva. Whilst at the time many did not consider him a legitimate threat to Silva, that opinion was quickly changed when Sonnen dominated the middleweight kingpin for four rounds before succumbing to a triangle choke late in the final...
In my estimation, in MMA, outside of Jose Aldo, Anthony Pettis, Renan Barao, GSP, Jon Jones and Anderson Silva, there is really no one better than Ben Henderson. Now, just because he's in the running for one of the top pound for pound positions doesn't mean he's a GOAT. We don't want to count Ben's eggs before they hatch or anything, but let's just say he needs a couple...
MMA News

Delivered to your inbox

You'll also receive Yardbarker's daily Top 10, featuring the best sports stories from around the web. Customize your newsletter to get articles on your favorite sports and teams. And the best part? It's free!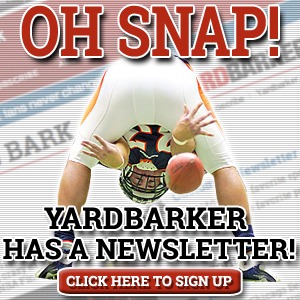 Latest Rumors
Best of Yardbarker

Today's Best Stuff

For Bloggers

Join the Yardbarker Network for more promotion, traffic, and money.

Company Info

Help

What is Yardbarker?

Yardbarker is the largest network of sports blogs and pro athlete blogs on the web. This site is the hub of the Yardbarker Network, where our editors and algorithms curate the best sports content from our network and beyond.