Found November 14, 2012 on Fox Sports:
PLAYERS:
Georges St-Pierre
,
Carlos Condit
,
Johny Hendricks
,
Martin Kampmann
,
Matt Hughes
,
Matt Serra
,
Jake Shields
,
Josh Koscheck
,
BJ Penn
,
Jon Fitch
,
Jason MacDonald
,
Dan Hardy
,
Dana White
,
Anderson Silva
,
Amir Sadollah
,
Charlie Brenneman
,
Rick Story
,
Mike Pierce
,
Jake Ellenberger
,
Paulo Thiago
,
Thales Leites
,
Paul Daley
,
Tom Lawlor
,
Chris Camozzi
,
Karlos Vemola
,
Kyle Kingsbury
,
Patrick Cote
,
Chad Griggs
,
Bobby Lashley
,
Travis Browne
,
Jose Aldo
,
Yves Edwards
,
Jorge Gurgel
,
Yves Jabouin
,
Leonard Garcia
,
George Roop
,
Dustin Poirier
,
Alessio Sakara
,
Brian Stann
,
Nick Ring
,
Court Mcgee
,
Sam Stout
,
Spencer Fisher
,
Joe Lauzon
,
Matt Wiman
,
Dennis Hallman
,
Mark Bocek
,
Nik Lentz
,
John Alessio
,
Terry Etim
,
Anthony Njokuani
Georges St-Pierre is back as the Ultimate Fighting Championship returns to his native Montreal for UFC 154: St-Pierre vs. Condit this Saturday at the Bell Centre. After spending the better part of two years nursing a knee injury and watching from the sidelines, St-Pierre returns to defend his coveted welterweight crown against interim champion Carlos Condit. Meanwhile, red-hot title contenders Johny Hendricks and Martin Kampmann set out to prove why they deserve the next crack at 170-pound gold. Here's a closer look at UFC 154: St-Pierre vs. Condit. Main Card (PPV): Georges St-Pierre (22-2) vs. Carlos Condit (28-5) An undisputed UFC welterweight champion will be crowned Saturday as the French-Canadian phenom makes his long awaited return to the Octagon against the interim beltholder Condit. St-Pierre, 31, has distinguished himself from the pack as the most accomplished welterweight in the history of the sport, cementing himself among the most successful pound-for-pound greats of all time. A black belt in Kyokushin karate and Brazilian jiu-jitsu, the Tristar Gym product has avenged his only two professional setbacks against Matt Hughes and Matt Serra, while compiling wins over a who's who of top contenders, including Jake Shields, Josh Koscheck, Thiago Alves, B.J. Penn and Jon Fitch. The three-time "Canadian Athlete of the Year" is riding a string of four consecutive decision wins, leading to some criticism of his style and inability to finish opponents. However, St-Pierre has turned in immaculate efforts against a multitude of styles and game plans, falling back on an extensive wrestling pedigree to secure takedowns, often at will. St-Pierre holds the record for most takedowns landed in UFC history with 68, but his striking and submissions are too often overlooked. St-Pierre has landed a UFC record-high 977 significant strikes throughout his career with an outstanding accuracy of 53.4%. The Quebec native also keeps busy on the canvas with 22 career submission attempts, fifth most in UFC history and second most in the welterweight division. Formerly cornered by Greg Jackson, the acclaimed New Mexico-based coach has opted not to corner either protege at UFC 154, avoiding another bitter falling out like he had with former pupil Rashad Evans. St-Pierre's extensive skills are well-documented, but it remains to be seen how he rebounds from a severely injured ACL and a year-and-a-half on the shelf. In terms of overall weapons, Condit could very well be St-Pierre's toughest opponent to date. Undefeated in title fights, Condit is a proven finisher with 26 wins by knockout or submission in 28 triumphant performances. A finishing ratio of 93% is highly impressive in such a competitive division. The longtime Jackson pupil has spent the majority of his camp training under striking guru Mike Winkeljohn, refining an already dangerous muay thai base. A Brazilian jiu-jitsu brown belt, Condit actively pursues submissions off his back, a position he should be well acquainted with as he prepares to fight St-Pierre. The former WEC welterweight champion dropped a razor-thin split decision to Martin Kampmann in his April 2009 UFC debut, but he won his next five fights, including highly impressive knockouts of Jason MacDonald, Dan Hardy and Dong Hyun Kim. Condit will give the champion fits in all positions as his strikes can finish fights in an instant, while his submission attempts will threaten St-Pierre on the mat. St-Pierre has never been comfortable eating big shots as he's often reminded about tapping out to a flurry from Serra in April 2007, while Condit possesses a granite chin and an aggressive offensive style. It will undoubtedly be the stiffest test for St-Pierre in years. With many fans and even UFC president Dana White already jumping the gun and predicting a superfight between St-Pierre and Anderson Silva, the returning Montreal resident remains humble as he refers to Condit as the true champion. If St-Pierre hasn't lost a beat, his speed and strength should be apparent assets in this fight. By closing the distance and planting Condit on his back, St-Pierre will score crucial points with the judges, earning a hard-fought decision after five of the toughest rounds of his career. In triumph, St-Pierre can begin to consider the prospect of a superfight with the middleweight champion Silva, a tantalizing clash that would undoubtedly establish one of the two stars as the sport's true pound-for-pound king. Verdict: St-Pierre via decision Johny Hendricks (13-1) vs. Martin Kampmann (20-5) With a welterweight title shot potentially hanging in the balance, rising stars Hendricks and Kampmann should engage in a compelling co-headliner. Hendricks, 29, a four-time NCAA Division I All-American and three-time Big 12 Conference champion, is riding a four-fight winning streak. No stranger to 4-0 runs, the Oklahoma native built the same streak after starting his UFC career by crushing Amir Sadollah in 29 seconds, followed by wins over the likes of T.J. Grant and Charlie Brenneman. Hendricks' momentum was halted when he dropped a competitive decision to Rick Story in December 2010, but he's now positioned himself as a top-tier contender with victories over T.J. Waldburger, Mike Pierce and American Kickboxing Academy teammates Jon Fitch and Josh Koscheck. The bearded southpaw mostly flew under the radar until it took him just 12 seconds to knock out Fitch at UFC 141, the second-fastest knockout in UFC welterweight history. An elite wrestler with heavy hands, a high takedown rate and relentless clinch work, Hendricks will need to pressure his Danish foe from the onset. Kampmann, 30, a Brazilian jiu-jitsu brown belt under Robert Drysdale training out of Xtreme Couture in Las Vegas, has notched spectacular come-from-behind finishes in recent bouts with Jake Ellenberger and Thiago Alves. The well-rounded veteran holds other notable UFC wins over Story, Paulo Thiago, Jacob Volkmann, Thales Leites and headlining interim champion Condit. Kampmann is always content trading, which is what ultimately led to him getting knocked out by Paul Daley in September 2009. Kampmann's striking is actually impressive, but he does his best work from a distance when he circles and counters effectively. Kampmann is also a savvy submission player with 17 career attempts, the sixth most in UFC history and third most in the welterweight division. Although he possesses no formal background in wrestling, Kampmann trains with world-class wrestlers on a daily basis. His 74.5% takedown defense rate is the sixth best in UFC welterweight history. Kampmann repeatedly stuffed Jake Shields' takedowns in their October 2010 UFC bout, but the judges narrowly sided with the former Strikeforce champion in a controversial decision. Hendricks could pack heavier power in his overhand fists, but Kampmann's output could be the difference maker. He needs to stay busy and break down the body of his opponent, while preparing to sprawl when Hendricks tries to close the distance. An intelligent strategy coupled with Kampmann's usual toughness should be key factors in carrying the Dane to a hard-fought decision. Verdict: Kampmann via decision Francis Carmont (19-7) vs. Tom Lawlor (8-4) In a main card middleweight pairing, Montreal's own Carmont seeks his fourth win in the UFC against the fan-friendly Lawlor. A close friend and training partner of UFC welterweight champion St-Pierre, the 31-year-old Carmont has reinvented himself since moving from France to join Firas Zahabi's Montreal-based Tristar Gym. Carmont has had little trouble dispatching Chris Camozzi, Magnus Cebenblad and Karlos Vemola since joining the UFC, but he still has a long way to go to join the division's top contenders. Carmont is already well-equipped for what Lawlor will bring his way as he's blocked 12 of his opponents' 13 takedown attempts in the UFC. The 29-year-old Lawlor wrestled for the University of Central Florida before taking up mixed martial arts. Lawlor has earned some impressive wins over Kyle Kingsbury, CB Dollaway and Patrick Cote, but Lawlor's most recent 50-second knockout of MacDonald in May was certainly his most memorable outing. The only middleweight to earn a knockout and a submission in under a minute, Lawlor has never been known as much of a striker with most fans likely remembering him for his imitations of other personalities during entrances and weigh-ins. Nonetheless, the Massachusetts native shouldn't be overlooked. Carmont's physical strength, superior striking and relentless pursuit of submissions should lean the fight in his favor. Lawlor will feverishly push for takedowns, but Carmont should utilize his positioning to lock in a fight-ending submission. Verdict: Carmont via Submission, Round 2 Cyrille Diabate (18-8-1) vs. Chad Griggs (11-2) In a light heavyweight showdown, the tactical muay thai southpaw Diabate battles the free-swinging slugger Griggs. Diabate, 39, a native of France, has been around the game since 1999. With international experience against the likes of Mauricio "Shogun" Rua, Diabate punctuated his resume with a first-round knockout of Luiz Cane in his UFC debut. The Team Quest product and Snake Team representative is coming off a majority decision win over Tom DeBlass in April. A superlative technical striker, Diabate's lone UFC losses were submissions against Alexander Gustafsson and Anthony Perosh. Against a like-minded standup fighter in Griggs, the Frenchman should freely showcase his dynamic striking. Griggs, 34, compiled a three-fight winning streak under the Strikeforce banner, trouncing Bobby Lashley, Gian Villante and Valentijn Overeem to earn himself a shot in the UFC when the Strikeforce heavyweight division folded. In his promotional debut this past April, Griggs was outclassed by Hawaiian giant Travis Browne, succumbing to a first-round arm-triangle choke. The Arizona native is a brawler at heart, which could lead to his demise against the technical expertise of Diabate, who will repeatedly target the legs and body of his opponent, breaking him down en route to a late stoppage. Verdict: Diabate via TKO, Round 3 Mark Hominick (20-11) vs. Pablo Garza (11-3) Kicking off the main card, the beloved Ontario native Hominick tries to rebound from a career-worst three-fight losing streak against the Academy of Combat Arts product Garza. Hominick, 30, turned in one of the gutsiest efforts in UFC history when he challenged Jose Aldo for the featherweight title at UFC 129 in April 2011, fighting through a massive hematoma and taking the Brazilian champion to the limit. The dynamic Canadian kickboxer, a pupil of the late Shawn Tompkins, was a heavy favorite going into his bout with South Korean brawler Chan Sung Jung at UFC 140 last December. Hominick was stunned in just seven seconds, sending him to the back of the list of contenders. Hominick's bad luck continued at UFC 145 this past April as he dropped a split decision to Eddie Yagin. A well-rounded conditioning machine with exceptional striking, Hominick boasts career wins over the likes of Yves Edwards, Jorge Gurgel, Bryan Caraway, Yves Jabouin, Leonard Garcia and George Roop. Garza, 29, is looking to rebound from back-to-back losses of his own against Dennis Bermudez and Dustin Poirier. The Brazilian jiu-jitsu purple belt made an emphatic statement in his UFC debut, knocking out Fredson Paixao with a flying knee in 51 seconds. He followed up that win with a flying triangle choke submission of Jabouin at UFC 129. The first fighter to win a UFC featherweight bout, Garza needs to respect Hominick's striking. Not only does Hominick finish 80% of his opponents, he stays busy, holding the record for second-most strikes in featherweight history with the fourth-most accurate percentage of strikes landed. Garza needs to use his lanky frame to land his shots on Hominick from a distance. The hungry Canadian is returning to Montreal, the birthplace of his professional career, for the first time since 2007. He'll move forward and swarm Garza with a cavalcade of combinations over the course of three rounds, looking to leave a lasting impression on the judges if it goes the full 15 minutes. Verdict: Hominick via decision Preliminary Bouts (FX): Patrick Cote (17-8) vs. Alessio Sakara (15-9) Middleweight strikers Cote, 32, and Sakara, 31, look to return to the win column in an exciting tilt. Both are pure boxers with knockout power. The difference, however, is Cote's hard jaw. Sakara has been knocked out often in his career, including his most recent loss against Brian Stann. Cote has rarely been stunned, let alone knocked unconscious. Sakara is the more technically gifted boxer, but Cote can absorb whatever Sakara dishes out. Conversely, Sakara's suspect chin is unlikely to withstand Cote's heavy artillery. Verdict: Cote via KO, Round 1 Nick Ring (13-1) vs. Constantinos Philippou (11-2) In another intriguing middleweight matchup, the Canadian prospect Ring meets the fast-rising contender Philippou. Ring, 33, edged Court McGee in a competitive bout at UFC 149 this past July, while the Cyprus native Philippou, 32, is on a four-fight winning streak, including a unanimous decision over Riki Fukuda at UFC 148. A cast member on the 11th season of "The Ultimate Fighter," Ring has recently spent time at Tristar Gym in Montreal. Any game plan Ring may bring to the table will likely be thrown out the window once Philippou finds a home for his big shots. Philippou has landed 89% of his significant head strikes in the UFC, a record at middleweight. If he can repeatedly tee off on Ring's noggin, it should impact how the judges see the fight after three rounds. Verdict: Philippou via decision Sam Stout (17-8-1) vs. John Makdessi (9-2) Canadian strikers collide in a sizzling lightweight scrap as the former Shawn Tompkins protege Stout tries to build on a decision win over Spencer Fisher this past June when he tangles with the Lebanese-born Tristar Gym product Makdessi, who has dropped his last two fights in the Octagon. A five-time "Fight of the Night" award winner, the 28-year-old Stout holds notable wins over Yves Edwards, Joe Lauzon and Matt Wiman in the UFC. Meanwhile, the 27-year-old Shotokan karate black belt Makdessi earned impressive back-to-back wins in the UFC before he was decimated by the much bigger Dennis Hallman at UFC 140 last December. Both fighters like to circle and land flashy strikes. This fight will likely come down to the wire with Makdessi doing just enough to return to the win column. Verdict: Makdessi via decision Mark Bocek (11-4) vs. Rafael dos Anjos (17-6) Two dangerous contenders seek their third consecutive victory as the Canadian Bocek, 31, takes on the Brazilian dos Anjos, 28, in a lightweight bout. Bocek has improved considerably since joining up with Montreal's Tristar Gym. A Brazilian jiu-jitsu black belt, Bocek has demonstrated vastly improved wrestling in his recent wins over Nik Lentz and John Alessio. Anchored at Evolve MMA, dos Anjos has finished some quality contenders, including Terry Etim, George Sotiropoulos and Kamal Shalorus. Most recently, the Rio de Janeiro native earned a unanimous decision over Anthony Njokuani in July. Bocek will push forward aggressively, putting dos Anjos in precarious positions on the mat to edge out a hard-fought decision. Verdict: Bocek via decision
Original Story:
http://msn.foxsports.com/ufc/story/uf...
THE BACKYARD
BEST OF MAXIM
RELATED ARTICLES
Here is every Canadian fighter on the UFC 154 card posing behind their leader George St-Pierre. Montreal will be rocking come Saturday. The Countdown To UFC 154 E:60 – Georges St-Pierre
I don't know about you fight fans, but I have seriously missed Georges St-Pierre, and I can't think of many better ways for him to make his return at tomorrow night's UFC 154 PPV event than by facing the man who took his place at UFC 143 and ultimately his Welterweight Championship. Hell, for the sake of brewing some excitement, let's go ahead and say that Carlos "The Natural...
All the fighters slated to participate in tomorrow night's "UFC 154: St-Pierre vs. Condit" event will be tipping the scale today inside New City Gas in Montreal. The first athlete is scheduled to weigh-in at approximately 4PM ET/1PM PT. Please click HERE if you would like to stream today's weight competition. Welterweight king Georges St-Pierre (Pictured) ends his 19-month...
On November 17, at the Bell Centre in Montreal, Quebec, Canada, Georges St. Pierre will finally step back into the octagon for the first time since April 2011. Last December while preparing to defend the UFC welterweight championship against Nick Diaz, Georges sustained an anterior cruciate ligament injury. ACL's that are torn are usually associated to impact sports such as American...
All the major players participating in Saturday's "UFC 154: St-Pierre vs. Condit" extravaganza will be hitting the podium today inside New City Gas in Montreal. Stream Wednesday's pre-fight press conference live right here on 5thRound.com starting at 1PM ET/10AM PT. Today's festivities are free and open to the public. A welterweight title unification bout between champion...
By Marcos Villegas It seems Greg Jackson has learned his lesson on what he should do when fighters he has trained get matched up against each other, this Saturday UFC interim welterweight champion Carlos Condit will face UFC welterweight champion Georges St-Pierre at UFC 154. Both fighters have trained under Greg Jackson, with the trainer [...]
Georges St-Pierre will return to the octagon, where he will face interim welterweight champion Carlos Condit at UFC 154 on Saturday in Montreal. GSP has been out of action for 11 months after undergoing surgery to reconstruct a ruptured ACL. From a medical perspective, GSP's knee may end up being the first flicker in the aura of one of the greatest champions of all time. Not...
Mixed martial arts continues to gain steam in terms of popularity, but there are still those who are generally skeptical of the sport. If you're interested in some intense action, however, look no further than Saturday's UFC 154, as it could be the event that wins over borderline fans. The main event of Saturday's UFC card at Montreal's Bell Centre features 170-pound welterweight...
MMA Check out the live pre-show before the big fight between Georges St-Pierre and Carlos Condit.
The welterweight championship unification bout at UFC 154 between Georges St-Pierre and Carlos Condit is set as both fighters successfully made weight on Friday. St-Pierre weighed in at 170lbs while Condit tipped the scales at 169lbs. UFC 154 Weigh-in Results Georges St-Pierre (170) vs. Carlos Condit (169) – Main Event Johny Hendricks (171) vs. Martin Kampmann (171) Francis Carmont...
Georges St-Pierre says if he ever dated Mandy Moore, critiques Rory MacDonald's attire and discusses time machines with MMA Fighting's Ariel Helwani. Tom Lawlor Has Epic Sumo Match GSP Leads The Canadians At UFC 154
MMA News

Delivered to your inbox

You'll also receive Yardbarker's daily Top 10, featuring the best sports stories from around the web. Customize your newsletter to get articles on your favorite sports and teams. And the best part? It's free!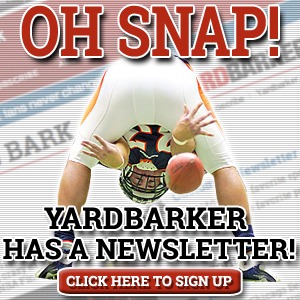 Latest Rumors
The Backyard

Today's Best Stuff

For Bloggers

Join the Yardbarker Network for more promotion, traffic, and money.

Company Info

Help

What is Yardbarker?

Yardbarker is the largest network of sports blogs and pro athlete blogs on the web. This site is the hub of the Yardbarker Network, where our editors and algorithms curate the best sports content from our network and beyond.