Found September 08, 2013 on The Hot Read:
Clint Bowyer's spin to bring out a caution with 9 laps to go at Richmond changed the entire season for several drivers, and some think he did it intentionally. In the last race before the Chase begins next week, several teams were fighting for the last few spots. Jeff Gordon had rallied from two laps down to 8th place and had a two point lead on Joey Logano for the 10th and final points position. Ryan Newman had to win to top Martin Truex Jr to take the last wild card spot. He had charged to the front and appeared to have the race won. Truex needed help if he was going to make it in, and he got it from his teammate. Bowyer's spin brought out the caution and everything changed. All the leaders came into the pits, and with a variety of pit strategies and a poor pit stop from Newman's team, Newman came out fifth. The caution also allowed Logano to make up ground on a few cars he had no chance to pass otherwise. With three laps to go, Carl Edwards charged to the lead. Newman was able to get to third but couldn't get the win. Gordon couldn't get past any cars on the restart and Logano made up a couple of points, which gave Logano the last spot over Gordon by 1 point. So thanks to Bowyer's spin, Truex and Logano were in, Gordon and Newman were out. So did he do it on purpose to help Truex? Rusty Wallace and Ray Evernham both said on ESPN that they thought he did. Dale Earnhardt, Jr. was right behind him when it happened and he said "I've never seen anything like it." He said Bowyer was hitting the breaks and playing with the throttle and Junior had no idea what he was doing before he spun. Bowyer's in-car radio was very suspicious as well. Someone from his team was heard saying "the 39 (Newman) is gonna win the race. Well that kinda sucks." They knew that meant their teammate was out. Someone was heard asking him "is your arm getting tired...is it getting hot in there. ..is the engine hot?" The implication was clear. They needed Bowyer to cause a caution, and soon after you could see him spinning the wheel hard as his car spun out. Bowyer was asked about it after the race and denied everything. He tried to act disappointed that they had a bad night, but they were in the Chase regardless. He even accused Junior of getting into him, which clearly did not happen. It was a shady move that changed the season for 4 teams. Truex and Logano still have a chance at the title. Newman and Gordon are done. Newman, remember, was let go from Stewart-Haas effective at the end of the year and is looking for a ride for next year. Making a run in the Chase would have helped him significantly, and Bowyer took that away. While Bowyer's motivation was to get his teammate in, he probably also got a little satisfaction from knocking Gordon out. Remember last season, Gordon put Bowyer into the wall in the second-to-last race of the season, ending Bowyer's championship hopes, and also igniting a brawl. He never retaliated on the track this season as many expected he might, but he got the ultimate revenge by ending Gordon's Chase hopes. There will be some happy teams and some angry teams heading to Chicago next week for the first race of the Chase. We may not have heard the last of this incident.
Original Story:
http://thehotread.com/more/clint-bowy...
THE BACKYARD
BEST OF MAXIM
RELATED ARTICLES
getty Clint Bowyer had a NASCAR Sprint Cup Series Chase spot sewn up before Richmond began but it is what he did in the closing laps of Saturday's race that has everyone raising their eyebrows. Bowyer's teammate  Martin Truex was outside of a Chase spot when Bowyer's No. 15 car spun around. It could have been a accidental spin but in car audio prior to it consisted of radio...
NASCAR heads to Richmond International Raceway this weekend.  The Nationwide Virginia 529 College Savings 250 will run on Friday, September 6 while the Sprint Cup series Federated Auto Parts 500 will run Saturday evening, September 7. The Camping World Truck series is at Iowa Speedway this weekend, for the Fan Appreciation 200, which will run on Sunday, September 9 in the afternoon...
Jerry Markland/Getty Images North America Ryan Newman has been named as the driver of the No. 31 car for Richard Childress Racing in 2014. Newman has 17 wins in NASCAR's top series including one at Indianapolis Motor Speedway in July. The 35-year-old Newman had been driving the No. 39 car at Stewart Haas Racing since 2009 but was jettisoned to make room for Kevin Harvick. Later...
NASCAR got it half right today. They announced significant penalties today for Michael Waltrip Racing as a result of Clint Bowyer's suspicious spin Sunday. After listening to the audio from the teams of Clint Bowyer and Brian Vickers, they determined that MWR manipulated the outcome of the race in order to get Martin Truex Jr. into the Chase. The penalties now take him out...
Jerry Markland/Getty Images North America Ryan Newman released the following statement after NASCAR penalized Martin Truex Jr. 50 points,  knocking him out of the NASCAR Sprint Cup series Chase, giving Newman the second Wild Card Spot in the Chase. "I am proud that NASCAR took a stand with respect to what went on Saturday night at Richmond, I know it was a tough decision to make...
Jeff Gordon will try to race his way into NASCAR's playoffs from the pole position. The four-time series champion turned a track-record qualifying lap of 130.599 mph at Richmond International Raceway on Friday night to win his 73rd career pole position, and his first this season. ''I can breathe now,'' Gordon joked after seeing the time hold up. His lap pushed...
Martin Truex Jr. is out of the Chase for the Sprint Cup and Ryan Newman is in following a decision by NASCAR to penalize Michael Waltrip Racing for late-race actions the team to took to alter the outcome of Saturday night's Federated Auto Parts 400 at Richmond International Raceway. NASCAR also hit the team with a $300,000 fine, the largest monetary penalty in the sanctioning...
Richmond, VA- What an ending for Saturday night's NASCAR Sprint Cup Series race at Richmond International Raceway. With seven laps to go Ryan Newman was leading, Martin Truex Jr. was seventh, Jeff Gordon was eighth and Joey Logano was 25th. Because of that Newman held the second wildcard Chase spot, knocking Truex out. Meanwhile, Gordon held the final automatic spot to make it...
It all comes down to this. This is the last race before the Chase for the Sprint Cup begins. There are six drivers in the top-10 who have locked themselves into the Chase and one wildcard has been locked down. Those lucky drivers are Jimmie Johnson, Clint Bowyer, Kevin Harvick,[...]
NASCAR has issued penalties to Michael Waltrip Racing following the sanctioning body's review of Saturday's race at Richmond International Raceway. MWR was found to have violated Section 12-4 (Actions detrimental to stock car racing). As a result, MWR's three teams in the NASCAR Sprint Cup Series (No. 15, 55, 56) have been penalized with the loss of 50 championship driver and...
The regular season is over and Carl Edwards leads the points prior to the reorder for the start of the Chase. He won Saturday night and took a one point lead over Jimmie Johnson. Clint Bowyer (-13), Kevin Harvick (-14), and Kyle Busch (-31) round out the top-5. When they[...]
NASCAR News

Delivered to your inbox

You'll also receive Yardbarker's daily Top 10, featuring the best sports stories from around the web. Customize your newsletter to get articles on your favorite sports and teams. And the best part? It's free!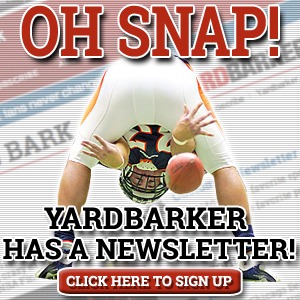 Latest Rumors
Best of Yardbarker

Today's Best Stuff

For Bloggers

Join the Yardbarker Network for more promotion, traffic, and money.

Company Info

Help

What is Yardbarker?

Yardbarker is the largest network of sports blogs and pro athlete blogs on the web. This site is the hub of the Yardbarker Network, where our editors and algorithms curate the best sports content from our network and beyond.