Found October 28, 2012 on Fox Sports:
Jimmie Johnson promises "it will be a fight to the end." And with three races remaining in the Chase for the Sprint Cup, it appears that Johnson and Brad Keselowski are the only heavyweights remaining for the title bout. However, it was Johnson and the No. 48 Hendrick Motorsports team that won every round at Martinsville Speedway. Johnson started from the pole to guarantee the top starting spot and best pit box. He led the most laps (193) and won the race to replace sixth-place finisher Brad Keselowski at the top of the standings and resume the points lead for the first time in four weeks. But Sunday's victory was not a knock-out by any means. Patience paid off for Johnson who fought off challenges from Clint Bowyer, Kyle Busch, teammate Jeff Gordon and Denny Hamlin over 500 laps. Hamlin, however, fell out of contention on Lap 393 with electrical issues to ignite the eighth caution. Gordon led three times for a total of 92 laps, but lane position on restarts and wrestling Bowyer in the closing laps took his No. 24 car out contention. Bowyer, who offered Johnson a welcome nudge or two throughout the afternoon, prompted crew chief Chad Knaus' suggestion to move over. Johnson relinquished the point twice to Bowyer over the course of the afternoon realizing "the big picture." While Johnson was leading on Lap 336, he claimed that Casey Mears "KO-ed" him after the two made contact on the backstretch. Three laps later, Johnson encountered a similar altercation with Juan Pablo Montoya. However, by that point Johnson's patience was tested again and Montoya went spinning in Turn 2 to draw the ninth caution. Johnson maintained the lead out of the pits and Knaus assured his driver that contact was only on the tire. As the temperature dropped, Johnson's car came to life as many of his competitors - including Bowyer - found that the cars tightened up. "The weather conditions were changing - overcast, clouds came in, cooler temperatures. The balance on the racetrack changed a lot for me and it came my way. Maybe it hurt the (No.) 15 (Bowyer), it looked like. Maybe hurt a couple of the other guys. It really helped my race car. It was nice to have Mother Nature lend me a hand there at the end and play into what my car needed." The action slowed again due to Kevin Harvick's engine dumping oil on the track on Lap 475. Johnson pitted for an adjustment and tires for the final 19-lap run. Keselowski elected to gamble and not to gain track position. However, with Johnson on fresh tires he easily passed Keselowski four laps later. Despite Busch nipping at his bumper in the final two circuits, Johnson held on for his 59th career win and took a two-point lead over Keselowski, who finished sixth, in the championship race. "We kept working on it," said Johnson, who posted his first victory since the Brickyard 400 in July. "Our pit stops were awesome. Got me track position each time, which was really, really important. To be on the inside lane and have control of the race was huge. "We executed well on all fronts. We'll have a dogfight for these final three." Certainly with Johnson's experience from competing in every Chase it would be easy to offer the five-time champions an advantage. Especially since Johnson feels "as focused and prepared as (he's) ever been in his career." But he realizes that Keselowski isn't going to lay down either. On Sunday, Keselowski started 32nd and still managed to pull off his 21st top-10 finish of the season. "The championships I've won, I saw a lot of amazing things out of my competition," Johnson said. "I'm certainly seeing that with Brad. So it's just that familiar space where you can't count him out. That's the reason I had that tone in my voice in qualifying. I knew they had a poor qualifying effort, but they would be there when the checkered fell. They're a good team. I have to expect that. We all do. That goes for the rest of the year. "I guess I see more of a familiar, never quit, fight-to-the-end attitude out of the (No.) 2 team that I've seen with some of the best in the sport, if it's Tony Stewart or Jeff Gordon. Denny, when I raced him. Mark Martin, they have that tenacity to stay after it and they're doing a great job." Although Keselowski posted a respectable finish on Sunday, he described his afternoon "like being in a war and surviving a battle." But he acknowledged that the team will "need to do more than survive to win the championship." "We've done that the last two weeks but we know we need to win," Keselowski said. "And I'm not surprised at all that Jimmie won today. He had a fast car. He had the fastest car all weekend so we need to take the weekends where we're not the fastest and execute, get solid finishes. We did that this week and last week. Now, over the next three weeks we need to make sure that we have the speed to match the execution. And if we can do that, then we can win this thing." Johnson feels that his team and Keselowski's are currently "pretty even." Johnson insists he has "no expectations" for this title, particularly after not being a factor in the final races of last year's Chase. "That's something that I carried on my shoulders last year," Johnson said. "I guess part of the pressure I've spoken about that was gone after losing last year's championship, the expectations were wrapped up in that. "This year has been a lot different. The pressure is there. The pressure is always there. You can't hide from it. But it's different. It's more about me doing the best job I can and this team doing the best job they can than it is keeping a streak alive or for other reasons. This is purely our reasons. As team 48, we want to win, nothing else." He's back Dale Earnhardt Jr. returned to action at Martinsville Speedway this weekend after he was sidelined for two weeks resting from concussions. Despite qualifying 20th, Earnhardt moved into the top 10 in the first 25 laps and remained there for the majority of the race before the team elected to stay out during the 10th caution on Lap 476 for track position. Although Earnhardt lined up second on the restart, the advantage was short-lived. Over the next 10 circuits, Earnhardt was attempting to remain in the top 10 and was taken out by Carl Edwards, who was punted by Sam Hornish Jr., to ignite the 11th caution on Lap 491. Earnhardt sustained damage to his splitter and finished 21st, the last car on the lead lap. "That was really ridiculous," Earnhardt said. "I mean you've gotta use a little common sense that was not a good move." While Earnhardt "felt pretty good" to be back in the car, he was "frustrated" with how the day ended. "We kind of gambled a little too much there at the end and cost ourselves a pretty decent race," Earnhardt said. "We worked hard all weekend, worked hard all race long -- and sold the farm at the end." Numbers game 36: Manufacturer's championships for Chevrolet. Johnson clinched the title with his win. 10: Consecutive manufacturer titles for Chevrolet. 12: Races between victories for Johnson - his last win was at Indianapolis. Say what? Fifth-place finisher Clint Bowyer describes his row with Jeff Gordon in the closing laps: "I was door-to-door with him and he just turned left to block me and I was already there. I hit the brakes and wheel-hopped, I hit him so hard and tried to stay off of him. It was a bad deal right there. You can see I was there and he just kept turning left on me and I was like, 'Hey, you better not do that.' It is what it is." And seventh-place Gordon's counter comment: "Yeah we were on the outside and I mean we were sitting ducks on the outside. I was just trying to get down. I felt like I got down in front of him (Bowyer) but maybe I didn't. I don't know I haven't seen the video. Pretty typical Martinsville with Clint Bowyer and the No. 24 car here it's not the first time. I like Clint a lot. We race really hard together and we were just racing hard right there."
Original Story:
http://msn.foxsports.com/nascar/story...
THE BACKYARD
BEST OF MAXIM
RELATED ARTICLES
Brad Keselowski is no longer leading the Sprint Cup points standings, but he remains confident in his Penske Racing team. "Don't count us out," he said Sunday. Keselowski's transformation at the Cup level since crew chief Paul Wolfe took control of the team in 2011 has been remarkable. Lest we forget, Keselowski finished 25th his rookie season. Once Wolfe came...
Brad Keselowski talks like racing continues to be business as usual. The 28-year-old is leading the standings in NASCAR'S Chase for the Sprint Cup, and while his margin over five-time champion Jimmie Johnson is only seven points, and perennial contender Denny Hamlin is only 20 points behind, Keselowski quickly dismisses talk that being chased in the chase means pressure. Keselowski...
Brad Keselowski differed from those who talked about the aerodynamic problems of the 2013 Sprint Cup cars. Keselowski was given a chance on Tuesday and Wednesday to test the 2013 Ford Fusion at Phoenix. Keselowski's chance to drive the car was the first tire test at a one-mile flat track. "I thought it was a great test," Keselowski told the NASCAR Wire Service. "I had heard...
Jimmie Johnson dominated, as expected, at Martinsville Speedway, and Brad Keselowski didn't flinch. This championship duel might go down to the wire after all. Johnson, a five-time series champion, raced to his seventh career victory on NASCAR's trickiest oval Sunday, and the triumph helped him erase a seven-point deficit and supplant Keselowski as the points leader with...
Brad Keselowski trails Jimmie Johnson by two points with Texas looming…
After capturing his seventh career win at Martinsville Speedway, Jimmie Johnson is one big step closer to his sixth Sprint Cup championship. Johnson's victory Sunday at the famed paperclip erased a seven-point deficit in the Chase standings, knocking Brad Keselowski from his perch as points leader with three races remaining. Johnson, who captured his fourth victory of the year...
Jimmie Johnson held off Kyle Busch on a restart with five laps to go Sunday and won for the seventh time in his career at Martinsville Speedway. The five-time series champion moved into the lead in the championship standings, two points over Brad Keselowski with three races remaining. Keselowski started 32nd, methodically worked his way forward, and took a late gamble to grab the...
MARTINSVILLE, VA – Ryan Blaney finished eighth at Martinsville Speedway in the No. 29 Draw-Tite RAM on Saturday afternoon. The Brad Keselowski Racing (BKR) driver had an impressive debut in his first race at Martinsville. Blaney qualified in the 11th position on Saturday morning pacing the 0.526 mile oval in 19.842 seconds or 95.434 M.P.H. to begin the Kroger 200. Lap 18 brought...
Ryan Blaney, driver of the No. 29 Cooper Standard RAM, will make his seventh career start in the NASCAR Camping World Truck Series season on Friday evening at Texas Motor Speedway. This weekend, Cooper Standard returns to the No. 29 Brad Keselowski Racing (BKR) RAM as its primary sponsor. Friday evening will mark Blaney's first career start at Texas Motor Speedway in any NASCAR...
The high flying Michael Waltrip Racing house of speed is getting shockingly close to rubbing shoulders with Hendrick Motorsports, Joe Gibbs Racing, Roush Fenway Racing, and more such NASCAR team elites. With their third win of the season earlier this month at Charlotte courtesy of Clint Bowyer's fuel reserves, the organization is moving in on legitimate championship contention...
After this weekend's race at Martinsville Speedway and looking forward, I feel like we're down to three, maybe three-and-a-half men, who have a shot at the championship. Denny Hamlin and his group took such a hit after the mechanical failure at Martinsville that being able to recover from the amount of points they lost in Sunday's race is going to be next to impossible...
Jimmie Johnson, driver of the #48 Lowe's Chevrolet, won the pole for Sunday's TUMS Fast Relief 500 from the Martinsville Speedway. After qualifying ended he spoke to the media about the pole win and his outlook for the race. Below is the transcript from that meeting. YOU'VE GOT A LOT OF THOSE CLOCKS OVER THERE JUST TALK ABOUT STARTING UP FRONT OBVIOUSLY A GREAT PLACE TO BE...
NASCAR News

Delivered to your inbox

You'll also receive Yardbarker's daily Top 10, featuring the best sports stories from around the web. Customize your newsletter to get articles on your favorite sports and teams. And the best part? It's free!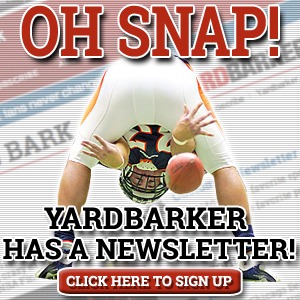 Latest Rumors
The Backyard

Today's Best Stuff

For Bloggers

Join the Yardbarker Network for more promotion, traffic, and money.

Company Info

Help

What is Yardbarker?

Yardbarker is the largest network of sports blogs and pro athlete blogs on the web. This site is the hub of the Yardbarker Network, where our editors and algorithms curate the best sports content from our network and beyond.