Found October 21, 2012 on Fox Sports:
PLAYERS:
Matt Kenseth
,
Aric Almirola
,
Brad Keselowski
,
Ryan Newman
,
Kyle Busch
,
Kasey Kahne
,
Denny Hamlin
,
Joey Logano
,
Danica Patrick
,
Landon Cassill
,
Martin Truex, Jr.
While many teams expected the race at Talladega Superspeedway to be the wild card in the Chase for the Sprint Cup, Sunday's Hollywood Casino 400 at Kansas Speedway trumped that notion. This wasn't your typical intermediate track romp. This was a race for survival, particularly for the champion contenders in an event that was mired by a record 14 caution periods - the most of any track all season. Roush Fenway Racing lame duck Matt Kenseth scored his 24th career NASCAR Cup win on Sunday - and his second in three weeks. However, his day was not without drama. Kenseth hit the wall on Lap 173 while attempting to avoid Aric Almirola, who spun on the backstretch. Kenseth recovered and regained the lead on Lap 218. He held the point for the final 49 laps. Still, with Kenseth's 55-point deficit to points leader Brad Keselowski with four races remaining in the Chase, it's hardly likely that the No. 17 team will be in the mix come the season finale at Miami-Homestead Speedway. That's not the case for Keselowski who proclaimed that should he win the championship, he'll credit the save he made on Lap 182 when he split the cars of Ryan Newman, Kyle Busch and teammate Sam Hornish Jr., who wrecked behind him in Turn 4. "Holy (crap), I can't believe I saved it," Keselowski said over the radio. "I hope there was an in-car camera for that. ... (Crew chief) Paul (Wolfe), that was awesome. I wish you could have seen it." Keselowski restarted 13th following the 12th caution on Lap 189. He salvaged an eighth-place finish and maintained his seven-point lead over Jimmie Johnson, who finished one position behind Keselowski but led 44 laps before he spun out in Turn 4 on Lap 136 while attempting to pass Martin Truex Jr. on the inside. "(Truex) bobbled a little in front of me and I thought that it was an opportunity to jump on the gas real hard and when I did that, my car took off and I couldn't catch it," Johnson said. Johnson sustained major damage to the right side of the No. 48 Chevrolet but the team made multiple stops for repairs which enabled him to return to action. Johnson restarted 29th. With a wavearound on a caution period, Johnson returned to the lead lap to finish ninth. "It's pretty torn up," Johnson said of his car after the race. "Definitely proud of this team and the fact that we never give up and continue to fight and try to get every point we can. I think the Nationwide race showed that this thing isn't over until the checkered flag falls." That was the advice Tony Stewart offered to his crew when the team was penalized for removing equipment from the No. 14's pit box on a stop. Stewart was assessed a stop-and-go penalty and sent to the tail end of the longest line on Lap 74 and restarted 25th. "We have three-quarters of the day left to get done what we need to get done here," Stewart said from the car. "We're far from giving this thing up. Stay focused guys. We've gotten through this before and we can get through it today, too." And, despite body slamming a couple of cars along the way, Stewart kept his promise. "Nice job hanging in there guys," Stewart said after finishing fifth. "I'm proud of you today." Although Stewart moved up to seventh in the points standings, he couldn't resist a jab at Kasey Kahne in the postrace interviews. Kahne, who was attempting to save fuel, was forced to drop behind Stewart for the Lap 240 restart for failing to maintain minimum speed during the caution when his car wouldn't re-fire. Stewart took exception with the way that Kahne raced him following that. "You know, he'll need a break somewhere here (in) the ending four races, and I doubt we will help him very much on it," Stewart said. "It's just a long day out here. It was a frustrating day." Kahne, the polesitter, had a stout car throughout the race. But his miscue with shutting off his car on the 14th and final caution likely cost him the win. "We had a good car; we got back to fourth," said Kahne, who led Lap 218. "We passed a lot of cars there. The team did an awesome job. Great pit stops; great pit calls. A lot a tire and fuel strategy race throughout. "Our guys did a really nice job. I had an awesome car. It was a little loose there taking off. It was coming to me and getting good there at the end. We just weren't close enough at that point in time. But still, a solid day." Kahne held on to fourth-place in the points standings with his 10th top-five finish of the season and gained ground on Keselowski, who finished four positions behind him. Bowyer also cut his deficit slightly after finishing sixth, but was not a fan of the repaved track. "For us, if we got hung up on the bottom every restart it was worth a position, maybe two, and it just wasn't much fun," Bowyer said. "But, it is what it is. I don't know what the hell was going on behind us. They kept wrecking. It seemed like every 20 laps we would have a caution. That wasn't much fun. "We've just got to keep digging. You've got to keep gaining on them. I was hoping to gain a little bit more than that, but we had a solid day ... just frustrating though." Denny Hamlin echoed Bowyer's frustration sentiment. The 13th-place driver was the only Chaser in the top seven in the standings besides Johnson to finish behind Keselowski. Hamlin, who remained third in the standings, dropped to 20 points behind the leader. Ultimately for Keselowski, he was relieved just to retain the points lead with four races remaining in the Chase. "Everybody has been asking all season long where have all the cautions been? The answer is that they flew to Kansas because there was caution after caution and it seemed like every wreck today seemed to happen in front of me," Keselowski said. "I'm glad to survive the carnage and brought back a decent car in OK shape and dodged a bullet. That's the only way that I can describe it. "I feel like surviving Talladega right here. I said when we finished Talladega that somebody should make, 'I Survived Talladega' T-shirts. Well, I didn't know coming to Kansas it was going to be the same. Just wrecks and accidents and blown tires, everything you can imagine happened today. I felt really lucky to survive it." Numbers game 11: Races since a Chevrolet has won in the Sprint Cup Series. 47.160: Seconds that Jimmie Johnson's No. 48 team spent on pit road to get the car back up to speed. In comparison, the fastest team on pit road - Joey Logano's crew - used just 36.541 seconds in normal pit stops. 26th: Matt Kenseth's position on the all-time win list. Say what? Danica Patrick's day ended early when she grew tired of battling Landon Cassill and simply dumped him on Lap 155. Not only did she wreck Cassill, she took herself out as well. The move drew the ire of both Cassill - and her veteran crew chief Greg Zippadelli. "Bull(crap) right there now," Zipadelli said. "You know better than to do that (crap)." Cassill radioed to his crew, "You got to learn how to wreck somebody without wrecking yourself."
Original Story:
http://msn.foxsports.com/nascar/story...
THE BACKYARD
BEST OF MAXIM
RELATED ARTICLES
Imagine the relief for Brad Keselowski after Jimmie Johnson spun out of control and into the wall on Lap 136. As Johnson's mangled No. 48 Chevrolet limped back to pit road, the Sprint Cup points leader had to believe that Sunday would evolve into a stellar points boon. But that didn't happen. The caution for the accident lasted five laps and enabled the Hendrick Motorsports...
THE MODERATOR:  We'll go ahead and get started with our driver availability for today, and that driver happens to be our points leader, Brad Keselowski, driver of the No. 2 Miller Lite Dodge.  With five wins this year, one victory here at Kansas, also, the 2011 spring race, and you know me, I've got to put in also that you're a 2010 NASCAR Nationwide Series champion, as well...
Brad Keselowski will have a lot of ground to make up over the repaved surface of Kansas Speedway after a lousy qualifying lap left him starting deep in the field on Sunday. The leader in the Chase for the Sprint Cup championship thinks he has a couple of things going for him. He's performed well at Kansas in the past - he won over the 1.5-mile track last year, and his average...
NASCAR Sprint Cup points leader Brad Keselowski will start 25th today…
KANSAS CITY, Kan. – Brad Keselowski, driver of the Penske Racing No. 2 Miller Lite Dodge Charger in the NASCAR Sprint Cup Series (NSCS), finished eighth in the Hollywood Casino 400 – the sixth race in the 2012 Chase for the Championship – at Kansas Speedway on Sunday afternoon. The race on the newly-repaved track featured a season-high 14 caution periods that slowed the competition...
Sprint Cup points leader Brad Keselowski will have a new ride this weekend. The #2 Miller Lite Dodge Charger team will race chassis PRS-831 during Sunday's Tums Fast Relief 500 at Martinsville Speedway. This is a brand-new chassis to the #2 fleet."We have a brand-new Miller Lite Dodge this weekend and I'm excited about its potential. We were able to test at Rockingham and came...
Brad Keselowski stunned by JJ's recovery...
Brad Keselowski is back on top of the FOXSports.com/SPEED.com Power Rankings…
Ryan Blaney, driver of the No. 29 Draw-Tite RAM, will make his sixth career start in the NASCAR Camping World Truck Series season on Saturday afternoon at Martinsville Speedway. This weekend, the No. 29 Brad Keselowski Racing (BKR) RAM will feature Draw-Tite as its primary sponsor. Saturday afternoon will mark Blaney's first career start at Martinsville Speedway in any NASCAR series...
With five races left in this year's Sprint Cup schedule, the time is now for the drivers on the fringe of Chase contention to begin making moves to catch up to points leader Brad Keselowski. That's exactly what Kasey Kahne did during qualifying for Sunday's Hollywood Casino 400 at Kansas Speedway, scoring his fourth pole and second track record of the season. Kansas underwent...
Brad Keselowski managed to maintain his lead in the point standings by 7 points over Jimmie Johnson, with Denny Hamlin (-20), Clint Bowyer (-25), and Kasey Kahne (-30) making up the top five. Following those five are Martin Truex, Jr., Tony Stewart, Jeff Gordon, Matt Kenseth, Kevin Harvick, Greg Biffle, and Dale Earnhardt, Jr. as the Chase for the Sprint Cup motors on. ...
NASCAR News

Delivered to your inbox

You'll also receive Yardbarker's daily Top 10, featuring the best sports stories from around the web. Customize your newsletter to get articles on your favorite sports and teams. And the best part? It's free!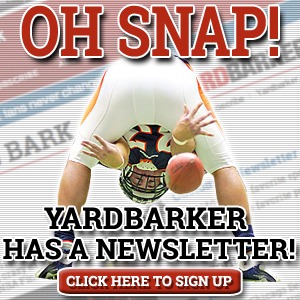 Latest Rumors
The Backyard

Today's Best Stuff

For Bloggers

Join the Yardbarker Network for more promotion, traffic, and money.

Company Info

Help

What is Yardbarker?

Yardbarker is the largest network of sports blogs and pro athlete blogs on the web. This site is the hub of the Yardbarker Network, where our editors and algorithms curate the best sports content from our network and beyond.