Found May 19, 2012 on Start 'N' Park Blog:
Kurt Busch, driver of the #51 Monster Energy Chevrolet, met with members of the media at Charlotte Motor Speedway to discuss last week's incident with Ryan Newman, the additional sponsorship from Monster Energy and other topics. 
CAN YOU TALK US THROUGH HOW THINGS ARE GOING? "I'm just happy that Monster stepped up to sponsor us this weekend here at the All-Star Race.  They have been trying to do some fun things with the Busch brothers with different programs.  To be on a Cup car this weekend it's cool with their involvement.  I'm stoked about it. Hopefully, we have a good run just the way the new format is for the All-Star race.  Our pit crew has been trying really hard to improve their stops and to give us what we need to complete those weekends when things are going tough. 
YOU AND (RYAN) NEWMAN DIDN'T HAVE AN ISSUE ON TRACK (LAST WEEKEND IN DARLINGTON) SO WHY DID YOU BUMP HIM AFTER THE RACE? "That is where everybody checked-up coming in the garage.  I was taking my helmet off so I didn't have a problem with (Ryan) Newman.  I didn't have a problem with his crew guys.  Then things just really got out of control in a hurry."
WHAT HAPPENED WHEN YOU LEFT PIT ROAD? "I was just trying to beat the pace car out.  I didn't think anything of it other than we have put up a good fight this whole year.  Trying to just work as hard as we've worked, trying to complete the day and get those top-10 finishes.  These guys work harder than anybody else in this garage.  This No. 51 Phoenix Racing team, I love them to death.  They have my back, I've got theirs and we just wanted to finish on the lead lap.  I was trying to get off pit road as quick as I could.  Newman, he left his pit, I don't know, a good 10 seconds before us.  I didn't think there was any reason to think that any crew guys were in danger.  One guy has a problem with it and it just escalated from there."
DID YOU FEEL LIKE THE FINE WAS JUSTIFIED? "The fine is what it is.  There was the problem of me not lining-up properly when NASCAR told me to get to be the last car on the track.  You have to do that when you pit too soon.  That is just a normal penalty that you have to adhere to. I was, but everybody kept waving me by.  When everybody is waving you by and NASCAR is yelling in your ear to go to the back.  It's like I'm confused on where I'm supposed to line-up.  Whether it was pit road, whether it was not lining up where I was supposed to be, whether it was the incident on pit road when everybody checked-up and I was taking my helmet off.  Which (Ryan) Newman said that he thought that was a lie, that is the honest truth.  Newman and I were friends.  We were great teammates.  He needs to check his trophy case on the Daytona 500 trophy that I helped him get years ago.  We have always been great friends.  There was no need for his comments afterwards. He knew that his Southern 500 didn't go the way that he wanted it to.  At the end of the nigh everybody is hot, pissed off.  The Daytona 500 is a big race; Darlington is just as big of an event.  A lot of people get excited for it.  I wanted to finish in the top-10 and we didn't get that top-10 finish.  It was a tough night that all went bad in a hurry.  For that I apologize to NASCAR for them to have to make a decision on penalizing me.  It is what it is, I will move on.  Is my strike zone bigger than others?  Yeah, it might be a little bigger than others but I don't have a problem with it.  I've got a great group of guys here that I'm working with on this Phoenix team to go there and put together the results that we can.  We need to get those good solid finishes like we know we are capable of."
HOW DO YOU TAKE RYAN'S (NEWMAN) COMMENTS AFTERWARDS WHERE HE MADE THE COMMENT ABOUT CHEMICAL IMBALANCE? "Yeah, we're friends.  He was agitated just like I was after a good day gone bad.  He was just in the emotion of it.  With him making the comments that he did, he was a little out of line as well for the heat of the moment." 
NO LONGER FRIENDS NOW OR DO YOU NEED TO TALK WITH HIM? "Well I think that we are both looking at the same scenario coming up here in these next few summer months."
SINCE YOU AND RYAN (NEWMAN) ARE BOTH UNSETTLED RIGHT NOW FOR 2013, DO YOU THINK WITH HIS COMMENTS HE CAN DISCREDIT YOU IN THE PUBLIC MARKET? "This is good for our sport.  This is WWE (World Wrestling Entertainment) type action."
ARE THERE THINGS YOU WOULD HAVE DONE DIFFERENTLY? "I would have done my best to keep the car off the wall and not get that flat tire and to bring out car home 10th.  That was a tough race for us to race in the top-five like we did for a little while we were a seventh to eighth place car genuinely all night.  Pit stops put us back to 15th a few times, but I wasn't upset about that when that happened."
WHAT ABOUT POST RACE? "Those things happen because of what happen during the race.  I'm passionate about what I do and I want to complete those days when we are running well.    Just like when we were at Talladega.  To get spun out with just a few laps to go, it's like man what else can happen to us in the last few laps of a race."
DO YOU PERSONALLY PAY THE $50,000 OUT OF YOUR POCKET? "Absolutely, I have all through my career.  I've been fined probably the most out of any driver and I've probably paid it out of my pocket more than any driver."
CAN YOU SPEAK TO TRYING TO GET THE BEST FINISHES YOU CAN OUT OF THESE CARS?  WE ALL KNOW WHAT YOU CAN DO BEHIND THE WHEEL.  WHAT IS IT LIKE TRYING TO SQUEEZE TOP-10'S OUT OF THESE VEHICLES? "It's tough.  A team that runs 12th – 13th all day gets the lucky dog at the end put four fresh tires on then has a good pit stop.  You end up getting paid for fifth place. For us we are running seventh to eighth we come in for a pit stop we go out 15th.  Then we have to work hard to get back into the top-10.  You just can't count on everything going perfect.  We you are behind the eight ball you have to get more creative." 
YOU SAID YOUR STRIKE ZONE IS BIGGER THAN EVERYONE ELSE.  IS THAT SOMETHING THAT IS IN THE BACK OF YOUR MIND CONSTANTLY? "I'm not worried about it.  Especially a week like this where it is fun to go out and race, not for points, but for wins and a million bucks.  This is when you see brothers go at it when there is a million dollars on the line."
WERE YOU SURPRISED AT WHAT HAPPENED WITH THE CREW GUY BECAUSE RYAN (NEWMAN) HAS ALREADY COME OVER TO THE CAR AND WALKED AWAY? "Yeah, it was surprising that guy was just as excited as anybody else.  That is the passion that all of us have in this sport.  Did I mean to drive through their pit box? Heck there could have been 42 other guys pitted next to us, but it just happened to be the guy that spun around in our same incident.  It wasn't anything that I tried to do and he was just excited about things.  I was trying to be the man and get my car back to the garage.  Instead I could have walked away like (Ryan) Newman walked away."
DID YOU FEEL LIKE YOU DROVE THROUGH THEIR PIT BOX RECKLESSLY? THAT IS WHAT NASCAR FINED YOU FOR.  "No, not at all. They fined us for a multitude of things."
WHY IS WWE (WORLD WRESTING ENTERTAINMENT) ACTION GOOD FOR NASCAR?  "I heard the fans cheer louder than when Jimmie Johnson pulled into victory lane for when the crew guy came over and got agitated and knocked an official on top of our hood.  That is when the crowd reacted the most.  You tell me if they want WWE.  This is fun, this is entertainment."
Original Story:
http://startnparkblog.com/?p=6623&utm...
THE BACKYARD
BEST OF MAXIM
RELATED ARTICLES
Kurt Busch felt NASCAR's wrath once again this week - and it wasn't entirely undeserved. Busch was penalized $50,000 and placed on probation until July 25 for "actions detrimental to stock car racing; reckless driving on pit road; involved in an altercation with another competitor after the completion of race" following Saturday night's Southern 500. Certainly...
Kurt Busch doesn't think he endangered anyone last weekend at Darlington Raceway, and he insists he accidentally ran into the back of Ryan Newman's car after the race. And he's baffled as to why Newman has been leveling scathing attacks on Busch's personality in the days since last Saturday night's incident that earned Busch a $50,000 fine from NASCAR. But the...
Kurt Busch doesn't think he endangered anyone last weekend at Darlington Raceway, and he insists he accidentally ran into the back of Ryan Newman's car after the race. And he's baffled as to why Newman has been leveling scathing attacks on Busch's personality in the days since last Saturday night's incident that earned Busch a $50,000 fine from NASCAR. But the...
Kurt Busch has run multiple races without a primary sponsor this season, but that won't be the case tomorrow night. It was announced on Friday that Monster Energy will sponsor Busch and the No. 51 Chevrolet of Phoenix Racing in Saturday night's NASCAR Sprint All-Star Race at Charlotte Motor Speedway. "The association with Monster Energy has been beyond great, and it's...
MOORESVILLE, N.C. – There is no doubt that momentum is building between 2004 Sprint Cup Series Champion Kurt Busch and the NASCAR Nationwide Series team he competes with alongside his brother Kyle. Although disappointed last week at Darlington (S.C.) Raceway with an eighth-place finish achieved despite on-track adversity, Busch and team have proven themselves worthy competitors...
NASCAR driver Kurt Busch told USA Today that a recent blowup that occurred with Ryan Newman after the Southern 500 was "WWE-type action" and was "good for our sport." Busch was fined $50,000 and put on probation for the inciden   Follow me on Twitter: www.twitter.com/therealjeffpeckDownload my wrestling podcast "The Still Real to Us Show" every Thursday at www...
- NASCAR driver Kurt Busch told USA Today that a recent blowup that occurred with Ryan Newman after the Southern 500 was "WWE-type action" and was "good for our sport." Busch was fined $50,000 and put on probation for the incident. - WWEShop.com are offering up to 50% off selected T-shirts for a limited time only by clicking here. T-shirts include Brock Lesnar, The Rock,...
Kyle Busch set the pace for the final practice today at Charlotte, setting a fast time of 28.672 seconds. Greg Biffle followed close behind, with a time of 28.767. Marcos Ambrose showed that 26.845 is Australian for 3rd  fastest, and Carl Edwards and Happy Harvick rounded out the top 5. Pos # Driver Team Time Behind 1 18 Kyle Busch M&M's Toyota 28.672 Leader 2 16...
Start 'N' Park Blog's Greg and Mike take a look at the latest news happening in NASCAR. This weeks topics, we touch on the Kurt Busch Ragequit at Darlington, joke some more about Jeff Gordon's woes, then discuss the Hendrick Motorsports 200th victory and if we think there will ever be another team that matches that mark. We then review the Darlington Bojangles Southern 500...
CONCORD, N.C. 2012 – Ryan Newman was the fastest among nine Team Chevy drivers in today's qualifying session and secured a second-place starting spot for Saturday's NASCAR'S Sprint All-Star race at Charlotte Motor Speedway. Newman powered his No. 39 Tornados Chevrolet around the track with a speed of 135.202 in 119.821 seconds. The Sprint Show Down, which will be held prior...
Could military sponsorships in NASCAR be in danger? An amendment to eliminate such sponsorships from the defense budget could end the trend. Sponsored by US Reps. Jack Kingston (R-Ga.) and Betty McCollum (D-Minn.), the amendment would eliminate military sponsorships in professional sports. The bill has passed the House Appropriations Committee. If adopted, that would impact NASCAR...
NASCAR News

Delivered to your inbox

You'll also receive Yardbarker's daily Top 10, featuring the best sports stories from around the web. Customize your newsletter to get articles on your favorite sports and teams. And the best part? It's free!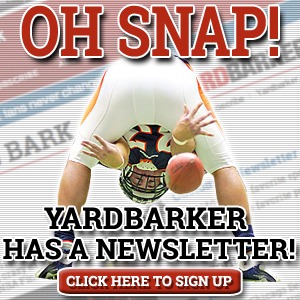 Latest Rumors
The Backyard

Today's Best Stuff

For Bloggers

Join the Yardbarker Network for more promotion, traffic, and money.

Company Info

Help

What is Yardbarker?

Yardbarker is the largest network of sports blogs and pro athlete blogs on the web. This site is the hub of the Yardbarker Network, where our editors and algorithms curate the best sports content from our network and beyond.