Found May 16, 2013 on Start 'N' Park Blog:
HUNTERSVILLE, N.C. – If there was one person who best described the attitude of everyone involved in Saturday night's NASCAR Sprint All-Star Race at Charlotte (N.C.) Motor Speedway, it would be former track President H.A. "Humpy" Wheeler, who once called it a race in which the owner of the car tells the driver, "Bring me back the trophy or the steering wheel." While it's uncertain whether team owner Joe Gibbs has said this to Kyle Busch, driver of the No. 18 SNICKERS Bites Toyota Camry in the NASCAR Sprint Cup Series, the talented young driver certainly would be expected to do just that, even without the urging of the man who cuts his paycheck. Busch locked in his spot for this year's All-Star event – comprised primarily of 2012 and 2013 Sprint Cup race winners, plus past All-Star Race winners and past series champions – via his one series win in 2012 and two wins in NASCAR's top series thus far in 2013. This year's wins came at Auto Club Speedway in Fontana, Calif., in March and Texas Motor Speedway in Fort Worth in April. The Las Vegas native not only has earned the title of All-Star, he's become one of the dominant forces in the elite Sprint Cup Series. His win at Texas last month was the 26th of his Sprint Cup career, and Busch now has 112 career wins in NASCAR's top three divisions – Sprint Cup, Nationwide, and Camping World Truck. Busch was regarded as a potential star when he entered the Sprint Cup ranks full-time in 2005 as a raw 18-year-old, but he's quickly transformed that star potential into bonafide all-star status since joining JGR at the beginning of 2008. And he's continued to shine well into what is now his sixth season with JGR. As a competitor who has tried to focus on racing smart during points-paying events week in and week out, Busch views Saturday's non-points-paying All-Star Race as his annual opportunity to throw patience out the window at his own discretion. Busch will debut a new scheme he hopes to find in victory lane on Saturday night with SNICKERS Bites. The brand new hunger-satisfying innovation that offers the trademark SNICKERS combination of chocolate, peanuts, caramel and nougat shrunk down into small, no fuss, "pop 'em in your mouth" milk chocolate cubes. The unwrapped treats are ideal for sharing, whether while watching a movie, attending a gathering, or for fans cheering Busch to victory lane. So, as fans keep an eye out for the SNICKERS Bites Toyota come Saturday night, there's nothing more than money and pride on the line. Whether Busch brings back the trophy or the steering wheel, it's a safe bet he'll be exciting to watch. KYLE BUSCH, Driver of the No. 18 SNICKERS Bites Toyota Camry for Joe Gibbs Racing: What driving style does it take to succeed in the All-Star race? "I think just being aggressive and knowing when to be aggressive and how to be aggressive is the biggest thing. It's a race where you have to get to the front and you have to get out there and get yourself, more importantly, in clean air in order to keep yourself out front and on your own." What skills have you used to find success in the All-Star race? "I've been aggressive and I've been maybe too aggressive at points and not aggressive enough at other points. Last year, we just ran a clean race and didn't really do much aggressive driving or anything and we ended up fourth. Maybe there was a little bit more that needed to be done but, overall, it was a good week there for us last year and also our second-place run in 2011."  To what do you attribute the early season success for Joe Gibbs Racing? Do you expect much of the same the next two weekends at Charlotte? "It's a combination of a lot of hard work by everyone at JGR. It starts with Joe (Gibbs) and our sponsors being able to give those guys the resources they need to have fast racecars. All three teams have been fast this year and I expect, with Denny (Hamlin) back, we should be strong with communication between the three of us. It really comes down to everyone at the shop working hard and working together and they've given us cars fast off the truck every week. I think it's motivated those guys even more and I'm sure we'll be strong again the next couple of weekends. I've never won a Cup race at Charlotte, so it would be pretty awesome if we could be the guys at JGR to keep our momentum up and win one Saturday night with our SNICKERS Bites Camry." What does it mean to be a part of the All-Star Race in this sport? "It matters, especially with who your fellow competitors are. For us, being an all-star and being in the All-Star Race is one of the most fun things we get to do each year. I'd say the Sprint Unlimited is another one of those and, with the All-Star Race, they are certainly two fun races where we get a chance to go after just a win and bring home the checkered or the wrecker. It's an exciting night and there's a lot of energy there. Charlotte does a great job. I think it's an awesome venue for that race. It gives you the opportunity to run, whether it's a 40-lap segment, 25-lap segment, 10-lap segment – it gives you the opportunity to run that many qualifying laps in a row. That's all you're doing – you're giving it all you've got every single lap. You're definitely up on top of the wheel and your guys do the best they can to give you a good car and to make it as lightweight as possible and throw away the air conditioning unit and keep all the front fans away from you – no radiator fan. All that stuff, just try to lighten that baby up and make it fast." What drivers do you think are best suited for the All-Star Race? "You look at the guys who are really good who qualify well. I think qualifying well can always lend itself to racing the All-Star Race well because you're running however many laps that segment is. You're running that many qualifying laps in a row. You're just trying to get the most you can out of your car there. It's sometimes hard to pass because the guy in front of you is trying to get the most out of his car and so are you, so you just can't get there."
Original Story:
http://startnparkblog.com/?p=26183&ut...
THE BACKYARD
BEST OF MAXIM
RELATED ARTICLES
Kyle Busch will drive the Snickers Bites Toyota Camry during the NASCAR Sprint All-Star race. Busch has previously driven cars with the logos of Snickers but this is the first time that Mars has chosen to display Snickers Bites on the No. 18 car fielded by Joe Gibbs Racing. The biggest problem with this car is the inability to read the word Snickers on the side panels which forces...
The NASCAR Sprint All-Star Race is tailor-made for a racer nicknamed "Rowdy." Traditionally, Kyle Busch approaches every race as if there were no points on the line. For the 28-year-old phenom, it's all about the hardware. On Saturday night, that's exactly the kind of race he'll find. It's not surprising that after leading 265 of 367 laps last Saturday...
MOORESVILLE, N.C. – When the field takes the green flag for Friday night's N.C. Education Lottery 200, Kyle Busch will be looking to cash in on his fifth career NASCAR Camping World Truck Series victory at Charlotte (N.C.) Motor Speedway (CMS). In seven career Truck Series starts at the 1.5-mile oval, Busch has visited victory lane a track record four times, including in the...
Kyle Busch won the North Carolina Education Lottery 200 at Charlotte Motor Speedway for his fifth truck win at the track. The race began with Jeb Burton on the pole but Kyle Busch moved to the front of the field by lap four. A caution for Joey Coulter cutting a right front tire jumbled up the field as some trucks had already began pit stops and were trapped a lap down. Notable drivers...
KYLE BUSCH, No. 18 Snickers Bites Toyota Camry, Joe Gibbs Racing | Starting Position: 4th How was the qualifying run? "Everything was pretty good right there, but felt like I gave up a little bit in the middle of (turns) three and four. Other than that, I felt like our Snickers Bites Camry was really good. Race speed was really good today and the car moved around the race track...
It may have taken awhile, but Kyle Busch is back on top of the Camping World Truck Series. He has been absent from victory lane since New Hampshire in 2011 and this win broke his seven race losing streak in the series. Busch started out running well in the race, but then a pit road mistake left him at the back of the field during the latter part of the event. He battled back to the...
You know, a few weeks ago at Talladega, I was in the garage area and did an interview with Kyle Busch. It was following the incident between him and Kasey Kahne. Sometime later, I also got to talk to Kasey about his reaction. When I was with Kyle, I could definitely see some remorse and actual frustration with himself over what had happened. We all know that Kyle is an aggressive...
NASCAR driver Carl Edwards will honor former driver Dick Trickle in Saturday night's All-Star race when the No. 99 Ford Fusion hits the track. Instead of Edwards' name it will be that of [...]
CONCORD, N.C. – Kurt Busch, No. 78 Furniture Row/Sealy Chevrolet SS, posted the second-fastest time of the 19 drivers who have earned spots in the 29th NASCAR Sprint All-Star Race at Charlotte Motor Speedway. Busch ran a time of 111.297 seconds and average speed of 144.068 mph in the unique qualifying format that included three laps and a four-tire pit stop. With Busch on the front...
Welcome to the inaugural season of the Start 'N' Park Blog Pick 'Em Challenge. This will take place all year long and will feature our esteemed panel of experts who will pick a winner in the series running that weekend. For this weekend it is just the NASCAR Camping World Truck Series running the North Carolina Education Lottery 200 Friday night. Points will be given based...
Carl Edwards won the pole for Saturday night's Sprint All-Star Race from Charlotte with a time of 111.297 seconds. Kurt Busch, Greg Biffle, Kyle Busch, and Joey Logano round out the top five starting positions. The event will be live on SPEEDTV at 9 PM EST. Pos # Driver Team Time 1 99 Carl Edwards Fastenal Ford 111.297 2 78 Kurt Busch Furniture Row/Sealy Chevrolet...
NASCAR News

Delivered to your inbox

You'll also receive Yardbarker's daily Top 10, featuring the best sports stories from around the web. Customize your newsletter to get articles on your favorite sports and teams. And the best part? It's free!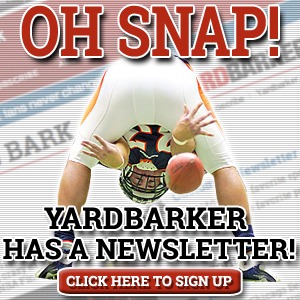 Latest Rumors
The Backyard

Today's Best Stuff

For Bloggers

Join the Yardbarker Network for more promotion, traffic, and money.

Company Info

Help

What is Yardbarker?

Yardbarker is the largest network of sports blogs and pro athlete blogs on the web. This site is the hub of the Yardbarker Network, where our editors and algorithms curate the best sports content from our network and beyond.