Found December 28, 2012 on Wizards Extreme:
After yet another heartbreaking loss late in the game to the Cleveland Cavaliers on Wednesday night, the media gathered as usual in the press room awaiting Randy Wittman's press conference. In a room that has seen a decrease in the number of representatives, I had a side conversation with one of the writers. I mentioned that I could probably tweet Randy Wittman's quotes in advance and just skip that part. I wasn't too far from the truth. "We made too many critical mistakes because we're not alert down the stretch." "[Bradley Beal has] gotta give some more…figure out ways to score when his jump shot's not falling" "It will help to have Nene's minutes go up." It's become the same show with different faces at this point. And in a loss in which the Wizards were in it until the final minute of play, it has just become all too familiar.   But let's talk about the unfamiliar. There were some good and bad new developments with taht game and it's post-game comments. Shelvin Mack: His play was impeccable in the way he set the tone in the first quarter. He ended up with six points, seven assists and six rebounds. Had he not injured his groin in the fourth quarter, he really might have [cue Ice Cube] "messed around and got a triple-double." But the main thing about his play is that he was always pushing the ball, always active on defense, and finding the open man for an easy bucket. Is it any coincidence that in Mack's first game back, Nene and Okafor had possibly their best games yet? Unfortunately, Mack's play did not help Jan Vesely's case at all, as he only picked up two points, six boards and one assist with four fouls to go with it in 20 minutes of play. Yes. 20 minutes of play. Vesely played much of the fourth quarter up until around the three-minutes-to-play mark. Without Wall being on the court himself and having Vesely play a full 48 minutes, this is as close as one can get to see that Wall is not going to help Vesely's play whatsoever. Mack, being a capable point guard, and the rest of the players tried to get Vesely involved, but the guy just cannot produce on the court. Did I mention that Luke Walton was getting the best of him on both sides, as well? As for another unfamiliarity that I noticed after the game, the Wizards seem to be distancing themselves from Wittman. In Wittman's presser, he mentioned that there are too many guys trying to score. However, Martell Webster made note that he didn't think that was the case at all. Wittman said Beal had to figure out new ways to score, yet Beal said he wasn't even paying attention to scoring and was more focused on getting stops. This could gauge some problems. And later that night, Marc Spears reported that John Wall told Y! Sports that he planned on coming back in January. The follwoing morning, Wittman had no idea that was said. "Oh, God I hope so," were his words. There hasn't been any disconnect in the locker room as far as the players amongst themselves, but there seems to be a disconnect with the coach and his team. This isn't to say there's any bad blood or disbelief with their coach, but there is a disconnect; and for a team who's main concern in training camp was staying vocal, this is an issue that needs to be addressed. But for now, it's back to the now season-long drawing board and back to the patience of waiting for the face of the franchise to come back to settle a lot of statements that have been made over the past 26 games.
Original Story:
http://www.wizardsextreme.com/2012-ar...
THE BACKYARD
BEST OF MAXIM
RELATED ARTICLES
As if getting the cover of the latest ESPN The Magazine was not enough, the four-letter network out of Bristol, Connecticut continues to rain praise on Cleveland Cavaliers point guard Kyrie Irving. Within an Insider feature penned by Amin Elhassan, the NBA front office personnel director, we find the opinon that the Cavaliers' star will be the preeminent point guard in all of...
Following last night's win against the Cavaliers, All-Star center Al Horford was very flattering of the opponent's fans. Cleveland fans are great! Very impressed with the way they support their team. — Al Horford (@Al_Horford) December 29, 2012 Horford was teammates at the University of Florida for two seasons with another center in the association who's not quite so fond...
The Cleveland Cavaliers held a "Wild Thing Wig Night" promotion at Quicken Loans Arena for Friday night's game against the Atlanta Hawks as a tribute to center Anderson Varejao. The first 10,000 fans received a wig modeled after Varejao's curly hair, complete with a yellow Cavs headband. The fans seemed to enjoy wearing the wigs, and even guard Daniel Gibson...
Tristan Thompson has a solid chance to obtain a fifth- and sixth-straight double-double as the Cavaliers have ruled Anderson Varejao out for the remainder of the weekend with a bruised knee. The Cavaliers will host the Atlanta Hawks on Friday night before traveling to Brooklyn to face the new-look Nets on Saturday. They have won two-straight games for the first time this season and...
Cleveland guard Daniel Gibson sustained a concussion Friday against Atlanta and will sit out the Cavaliers' game Saturday night in Brooklyn. Gibson was injured when he collided with Atlanta's Anthony Morrow midway through the second quarter. Gibson was on the floor for several minutes before being helped to his feet. He walked to the locker room under his own power, but...
CLEVELAND -- With the game in the balance, Cavaliers rookie guard Dion Waiters dribbled near the top of the key, passed to rookie center Tyler Zeller, who then passed it back. Two rookies. One ball. One outcome to be determined. The results werent likely to be very good. And they werent. Waiters missed an off-balance jumper from the perimeter, a shot that came with enough time...
Cleveland Cavaliers center Anderson Varejao will remain on the sideline for two games this weekend because of a bruised right knee. Varejao already has missed four games with the injury and will not play against Atlanta on Friday in Cleveland or at Brooklyn on Saturday, the Cleveland Plain Dealer reported Friday. He was hurt Dec. 18 in a game against Toronto. The NBA's leading...
2012 was one crazy year in the wild wacky world of Cleveland Sports. Some would tell you 2012 was as bad as it has ever been here. As the year comes to a close, like we have done the last four years, WFNY will take a look at what we view to be the 10 biggest sports stories affecting our local sports scene. Each day through the rest of the year, we will be counting down from ten to...
Tweet   Unfortunately, Cleveland Cavaliers big man Anderson Varejao did not take part in Friday's 102-94 defeat to the Atlanta Hawks due to a bruised right knee. But he was in the building to see a promotion in his honor. The Cavs held "Wild Thing Wig Night", giving away a wig that resembles the hair of [...]
We've seen this episode before: three and a half great quarters and a stinker in the final few minutes. The Cavaliers went cold, quit running their offensive sets, and were unable to stop Jeff Teague as the Hawks came from nine down in the third quarter to get their revenge against the Cavaliers 102-94 in Quicken Loans Arena. The collapse spoiled a good offensive display from Kyrie...
Check out Cleveland Cavaliers Kyrie Irving as he drives the floor and throws up a nasty shot to beat the halftime buzzer against the Atlanta Hawks.
OPENING TIP The Cavs are riding a two-game winning streak for the first time this season, and theyve done it without Anderson Varejao. Thats a good thing, considering Varejaos bruised knee will keep him out of both games this weekend (the Cavs play Saturday at Brooklyn). The Hawks have also won two in a row, including Wednesdays double-overtime thriller vs. Detroit. This is their...
Cavaliers News

Delivered to your inbox

You'll also receive Yardbarker's daily Top 10, featuring the best sports stories from around the web. Customize your newsletter to get articles on your favorite sports and teams. And the best part? It's free!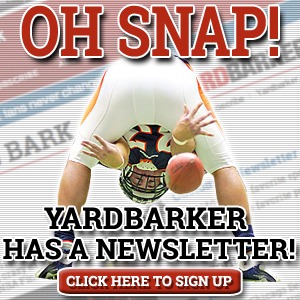 Latest Rumors
Best of Yardbarker

Today's Best Stuff

For Bloggers

Join the Yardbarker Network for more promotion, traffic, and money.

Company Info

Help

What is Yardbarker?

Yardbarker is the largest network of sports blogs and pro athlete blogs on the web. This site is the hub of the Yardbarker Network, where our editors and algorithms curate the best sports content from our network and beyond.