Found June 13, 2012 on Waiting For Next Year:
The Cavaliers reportedly tried to trade up for the first overall pick in the upcoming draft (Thursday, June 28th). They offered every pick they have this year for it. Mike Ditka tried that one time. While running the Saints, Ditka traded all of his 1999 draft picks, and a couple more the following year, to Washington in order to get Ricky Williams. It didn't work out so well for the Saints. The funny thing, is it didn't really make the Redskins a powerhouse either. That's football though. A couple extra picks don't equate to instant success. The NBA is a different animal. Chris Grant was applauded in Cleveland (and rightly so) for being aggressive and going after the player that they believe will be a star. That's where we are at in the NBA these days. You either have three or four star players, or you watch the Finals from home. Is it possible that the Cavaliers could end up with the best player in the draft picking at four? Sure. It's possible that in a few years Michael Kidd-Gilchrist or Bradley Beal or even Harrison Barnes could be the star of the class over Anthony Davis. But Davis is the player the Cavaliers identified as the most like a sure thing. So they went after him. You can't blame them. Watching the Finals a bit last night, it was once again glaringly obvious that the Cavaliers need not just a really good player out of this draft, but a star if they are to begin climbing towards an NBA title. Last year they found a star in Kyrie Irving. I think we are all on the same page with Tristan Thompson. He may end up a good player, but probably not star potential. They need to repeat that formula this year. They need a second star to go along with Irving, and another player with potential to be above average. It doesn't seem like too much to ask. That won't be all though. The Cavaliers will eventually have to add a third all-star type of player, and that will likely need to be a free agent or young player brought in a trade. We know they aren't afraid to pull the trigger on a trade. But in order to get something valuable, nine times out of ten you have to give up something valuable. Other than cap space, the Cavaliers don't have a ton of valuable commodities. They do have Andy Varejao. It seems every draft and start of the season we have the same discussion about Varejao. Are we willing to trade him? Last year the answer in the off-season was 'probably', but as the season got underway, the answer became no. Then he was hurt. Again. So here we sit. Are we willing to trade Varejao? I think the answer the should be yes. What you would get for him is a bit of a mystery though. Perhaps the Cavs could move Varejao and the 24th pick for a pick just outside the top 10? Phoenix has the 13th pick. Portland has the 11th, and would already have selected someone at six. Could they be trade partners for Varejao? Philadelphia owns the 15th pick. We know the Bobcats have been looking at Andy for some time. Could Andy be part of a package deal to move up from four to two? I'm not one to insist I know which players the team should draft or even target in trade talks. Chris Grant certainly knows more about these guys than I do. I just hope for the Cavaliers' sake that maybe some of the luck that we missed out on at the draft lottery will be shining on us when the actual draft takes place.
Original Story:
http://www.waitingfornextyear.com/201...
THE BACKYARD
BEST OF MAXIM
RELATED ARTICLES
To the average eye, it might not appear that Tamir Goodman and Omri Casspi have much in common. But the two men share two very special bonds: basketball and Judaism. Because of these bonds, Goodman, 30, teamed up with the 24-year-old Casspi to create a three-Sunday basketball camp in Beachwood. About 80 kids, grades 1-8, attended the first part of the camp this past Sunday, June...
The Cleveland Cavaliers, one of the 6 charter teams of the NBA Summer League will once again be participating in the NBA's summer exhibition league in Las Vegas. This year, the Summer League is up to a record 24 teams participating (23 NBA teams and 1 D-League Select All-Star team). For those unfamiliar with the D-League, it is a summer showcase for new and recent draft picks as...
Just a few days after reports circulated surrounding interest in Mirza Teletovic, a 6-foot-9-inch power forward out of Bosnia, the agent of the recently bought-out big man has indicates that his client will likely sign with either the Brooklyn Nets or Cleveland Cavaliers for the 2012-13 season. Teletovic,26, was the Euroleague's top regular season scorer, averaging 21.7 points...
I feel like Cleveland Cavaliers fans and Seattle Sonics fans should meet somewhere in the middle (anyone South Dakota know of a really huge sports bar?) and commiserate over the hatred they each feel in this series.  For Sonics fans, it's watching Kevin Durant, Russell Westbrook and James Harden potentially win a title that should have been celebrated in the shadows of the...
The No. 1 pick is easily Anthony Davis and the Cleveland Cavaliers would love to have him, as he is a once-in-a-lifetime prospect. However, the sad thing is that they don't have the No. 1 pick. The New Orleans Hornets currently hold that honor and they won't give it up for anything, even if another team trades their whole draft. That's exactly what Cleveland did, trading all...
Cavaliers News

Delivered to your inbox

You'll also receive Yardbarker's daily Top 10, featuring the best sports stories from around the web. Customize your newsletter to get articles on your favorite sports and teams. And the best part? It's free!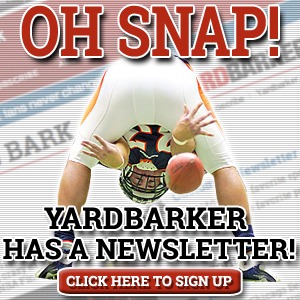 Latest Rumors
Best of Yardbarker

Today's Best Stuff

For Bloggers

Join the Yardbarker Network for more promotion, traffic, and money.

Company Info

Help

What is Yardbarker?

Yardbarker is the largest network of sports blogs and pro athlete blogs on the web. This site is the hub of the Yardbarker Network, where our editors and algorithms curate the best sports content from our network and beyond.