Found June 25, 2012 on Celtics Town:
Shortly after Ray Allen and Kevin Garnett first arrived in Boston, the Celtics took a preseason EuroTrip which was said to help them form a tight bond prior to a season that would eventually yield 66 regular-season wins and one NBA title. The Celtics also benefited that season from having three superstars very close to their absolute primes, a supporting cast that included the shooting of Eddie House, the all-around whatever-it-takes game of James Posey, the dangerous LeGlen DaPowe combination, and the bruising (not to mention clutch-shooting) P.J. Brown. The '08 Celtics' succeess wasn't entirely a result of that EuroTrip, I promise. (Note: that's another thing Scotty doesn't know)Another trip to Europe is in the cards this summer, and the details were announced on Monday. (ESPN Boston)
Oct. 5 – Celtics vs. Fenerbahce Ulker Istanbul – Ulker Sports Arena, Istanbul
Oct. 7 – Celtics vs. EA7 Emporio Armani – Mediolanum Forum, MilanBack in April, Celtics coach Doc Rivers expressed a desire to do the team's full camp overseas, not just the quick two-game trek."I love when we go [away for camp]," said Rivers. "I've always liked it, if it's done right. And we will find that out later — we don't know if we're going to go over there and be our training camp, or if we're going to do the quick trip. I'm not a big fan of the quick trip. I think when you go over there, go over there, and have camp there. I think it's a great team-bonding trip. I'm hoping that's what we do, but that hasn't been clarified yet."
At this point, I don't care where the Celtics hold training camp. I just want Avery Bradley to participate in it, and I want him to have a slew of talented teammates.P.S. — Let the "if Kevin Garnett returns, he's going to be in enraged heaven playing so many Europeans" jokes begin.
Original Story:
http://www.celticstown.com/2012/06/25...
THE BACKYARD
BEST OF MAXIM
RELATED ARTICLES
The general consensus around the NBA is that Ray Allen will sign with Miami. "Barring a change, he'll join the Heat," said a league source.— Alex Kennedy (@AlexKennedyNBA) June 27, 2012 According to Mr. Alex Kennedy anyway. To be honest, who really knows? It is a little concerning that nearly all of the Ray Allen talk has been Miami Heat related. If Allen did join...
Going forward, the Heat may look to add to their wing position to make it easier to have James play more minutes at one of big man spots. There are some veteran point guards like Nash, Miller or even Jason Kidd out there but the Heat likely have more of a need for a shooter. Adding Nash, for example, would create incredible star power but it would also require the Heat to potentially...
The general consensus around the NBA is that Ray Allen will sign with Miami. "Barring a change, he'll join the Heat," said a league source.about 9 hours ago via webReplyRetweetFavorite@AlexKennedyNBAAlex KennedyGood thing teams aren't officially allowed to speak to free agents until July 1, huh?
We've all witnessed the movie scene where the scorned lover runs off and his/her partner, normally after a moment of introspection, chases in pursuit. Rain normally pounds from the sky, for production value, and maybe the two lovers argue once they meet each other on the side of the road, or maybe at an airport, with an airplane awaiting to whisk the scorned lover away. They...
The general consensus around the NBA is that Ray Allen will sign with Miami. "Barring a change, he'll join the Heat," said a league source. — Alex Kennedy (@AlexKennedyNBA) June 27, 2012 I'm still skeptical.  "General consensus" is based on nothing besides what everyone thinks will happen.  And the source doesn't tell you anything besides the scary possibility. ...
Ray Allen has made history in more than one way in Boston. After joining the Celtics in 2006 with Kevin Garnett, the duo paired with Paul Pierce to form the latest version of the Big Three. Allen was sensational in his first year with the team, helping the Celtics win the 2007 NBA championship. He also accomplished personal milestones in Boston, becoming the NBA's all time 3...
Kevin Garnett has been in contact with Danny Ainge since the Celtics were eliminated in the Eastern Conference finals.
Ryan Hollins played 5 1/2 seasons in the NBA and never found a big man he clicked with quite like Kevin Garnett. Hollins showed almost immediate improvement when he landed in Boston on March 23, meshing with Garnett and forming an occasionally impenetrable defensive duo in the post. The 17-year veteran even went to unusual lengths to mentor Hollins, 27, a gesture the younger player...
Boston Celtics The Celtics are really in need of a center. Currently the Celtics don't really have a true center on their roster. During the Celtics playoff run Kevin Garnett mostly played center but he is really a true power forward. Garnett's future with the Celtics is uncertain. The Celtics could also really use an athletic wing player or a shooting guard if Ray...
Last night, a fake Stephen A Smith Twitter account (@stephenasmift, not @stephenasmith) posted that Kevin Garnett would be announcing his retirement today at 1 PM on ESPN: Sad day for the NBA, as the great Kevin Garnett has decided to retire. Press conference scheduled for 1 pm EST tomorrow on ESPN. — Stephen A Smith (@stephenasmifh) June 27, 2012 The tweet was believed...
NBA News

Delivered to your inbox

You'll also receive Yardbarker's daily Top 10, featuring the best sports stories from around the web. Customize your newsletter to get articles on your favorite sports and teams. And the best part? It's free!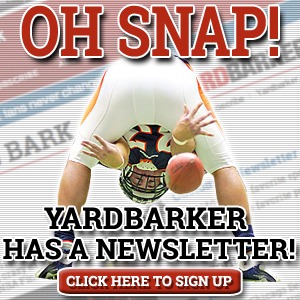 Latest Rumors
Best of Yardbarker

Today's Best Stuff

For Bloggers

Join the Yardbarker Network for more promotion, traffic, and money.

Company Info

Help

What is Yardbarker?

Yardbarker is the largest network of sports blogs and pro athlete blogs on the web. This site is the hub of the Yardbarker Network, where our editors and algorithms curate the best sports content from our network and beyond.