Found March 09, 2012 on PRO HOOPS CENTRAL:
After being beaten up and having their lunch money stolen at the hands of the Philadelphia 76ers in a 103-71 loss on Wednesday night, the Boston Celtics would take out their frustrations on the Portland Trail Blazers Friday night as they won 104-86, in a game that was not nearly as close as the final score indicates. Boston would hold a 43 point lead at one point over their visitors in the third and ended the quarter on top with an 88-54 advantage, before they allowed their opponents to make the final box somewhat more respectable in the final 12 minutes of play.  Ray Allen and Paul Pierce led the Celtics attack as each knocked down 22 points in the victory. Portland All-Star forward LaMarcus Aldridge would also tally 22 points for the game, but he would get far too little support from the rest of the roster for his team to have any hope at a victory in Boston. The game would start and remain close for much of the opening period, however during the last five minutes of action the C...
Original Story:
http://prohoopscentral.com/2012/03/09...
THE BACKYARD
BEST OF MAXIM
RELATED ARTICLES
According to a recent article by Ken Berger of CBSSports.com, the Boston Celtics are taking offers for star forward Paul Pierce. Said Berger: The Celtics are prepared to entertain offers for Paul Pierce, whose subtraction from the Boston core would be the most advantageous to the post-Big Three rebuilding effort given his age (34) and the $32 million he's owed over the next two...
1 more week. 1 more week. 1 more week. Thankfully, we will only have to suffer through trade rumors and speculation for only one more week with the trade deadline on March 15th. The Celtics are prepared to entertain offers for Paul Pierce, whose subtraction from the Boston core would be the most advantageous to the post-Big Three rebuilding effort given his age (34) and the $32...
We're a week away from the NBA trade deadline, so expect to hear several rumors (and denials) in the coming days. Today Chad Ford and Ken Berger threw out trade rumors on Rajon Rondo and Paul Pierce respectively. Chad Ford on Rondo:I know the Celtics are saying Rondo isn't going anywhere. But there are two problems with that. (1) It doesn't jibe with what a number of...
BOSTON (AP) -- Paul Pierce and Ray Allen each scored 22 points and the Boston Celtics rebounded from a lopsided loss and handed one to Portland last night, beating the Trail Blazers, 104-86. The win came after Boston lost by 32 points at Atlantic Division-leading Philadelphia on Wednesday, its worst setback in more than six years. Kevin Garnett grabbed seven defensive rebounds...
Let's see where Paul Pierce's Mr. Pringles dubbed "Horseshoe up his ass" shot comes in. Actually there's a few sick plays this week. Worth a watch.
Well, that wasn't fun. I don't think I've ever seen a team play with less energy than the Celtics did last night. It was funny how the Sixer fans were so down on their team before the game and then were pretty cocky at the end. Hopefully the Celtics will remember this one and it will be fuel to go on a tear. They will see the Sixers two more times and hopefully this...
This week's featured fan is Hector from Providence, Rhode Island. Hector is not-only a fan of the GreenTeam, but he's also an avid collector of C's jerseys. He also has a nice selection of Sox, Patriots & Bruins gear. But don't take my word for it. Let the man himself tell you:   Hector has been a Celtics fan for about 10 years now. His fondest Celtics...
So now we know that all it takes is an embarrassing, ego-crushing, effortless loss in their previous game for the Boston Celtics to come out and play the game of the year. The final score doesn't do this one justice as the Celtics had it wrapped up by halftime. Everything that Boston did (besides rebounding, because I guess they're immune to that) was crisp, clean and...
I often wonder what opposing teams, their beat reporters and bloggers are saying about the Celtics after playing the Celtics. Here's a dose of 'enemy chatter' from Philadelphia. The Celtics have slipped a lot this season. They're still dangerous from night to night, and when you throw in Paul Pierce and Rajon Rondo, they have an elite top four players in their...
Just got back from the big Red'sArmy party which was fantastic-despite watching the C's fall to the Lakers 97-94 at Staples Center today. The Celtics were ice-cold and just could not get things going in the 1st quarter. Things starting looking better towards the end of the 1st half though, and behind a couple of Brandon Bass jumpers, some good defense and a Rondo buzzer-beating...
I really feel for the Blazer fans. All they wanted was a little effort out of their team. Kind of like the Celtics vs the Sixers. Only difference is the Celtics bounced back the next game and the Blazer fans don't seem to have that hope. They are hoping by some miracle to have Rondo after the trade deadline, though. Some great comments here. I was chuckling the whole time...
A week ago I wrote an article about the New York Knicks failing a big test in Boston when they lost an overtime heartbreaker. The reality is that since Paul Pierce hit that ridiculous three pointer, the Knicks have played their worst basketball of the entire season. You can tolerate losing when a team is out there scrapping and playing their hearts out. If you don't have enough...
NBA News

Delivered to your inbox

You'll also receive Yardbarker's daily Top 10, featuring the best sports stories from around the web. Customize your newsletter to get articles on your favorite sports and teams. And the best part? It's free!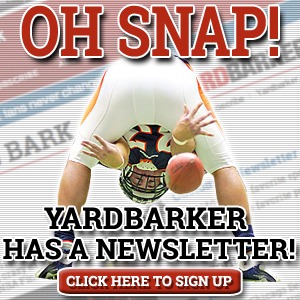 Latest Rumors
Best of Yardbarker

Today's Best Stuff

For Bloggers

Join the Yardbarker Network for more promotion, traffic, and money.

Company Info

Help

What is Yardbarker?

Yardbarker is the largest network of sports blogs and pro athlete blogs on the web. This site is the hub of the Yardbarker Network, where our editors and algorithms curate the best sports content from our network and beyond.