Found December 26, 2012 on Midwest Sports Fans:
PLAYERS:
Joakim Noah
,
LeBron James
,
Derrick Rose
,
Serge Ibaka
,
Marc Gasol
,
Tyson Chandler
,
Chris Bosh
,
Kevin Garnett
,
Luol Deng
,
Carlos Boozer
,
Kirk Hinrich
,
Marco Belinelli
,
Al Horford
TEAMS:
Chicago Bulls
,
Miami Heat
,
Oklahoma City Thunder
,
Memphis Grizzlies
,
New York Knicks
,
Boston Celtics
,
Florida Gators
When putting together a basketball team, unless you're fortunate enough to have a star like LeBron James or Kevin Durant, the most traditional approach to take is to build the team around the two rarest and most valuable pieces a team can have: a great point guard and a great big man. And when you look around the NBA, there's just not many "greats" at either of those positions. Everybody knows the Chicago Bulls have the point guard to build a team around in homegrown superstar and MVP Derrick Rose. However, not many people give them credit for having a top-of-the-line big man, which, they may indeed have currently blossoming in the windy city. Chicago will be looking up at teams in the East upon #TheReturn, but it's a task they're ready to take on. Credit: AP That's right: Joakim Noah. The French-Cameroonian-Swedish-American who helped lead the Florida Gators to back-to-back National Championships in '06 and '07 has been scrappy and solid throughout his career, averaging about 10 points and 10 boards per game since he started to get at least 30 minutes per game a few seasons ago. But now in his 6th season in the NBA and Chicago he's averaging 13.5 PPG, 10.6 RPG, and 2.2 BPG. Those may not be overpowering numbers … so what exactly is it that's got everyone around the league finally buying into Noah? Improved Offense Let's remember that the Bulls' offense will be much more capable once Rose comes back. So I don't think it's over-ambitious to expect to see Noah's scoring numbers increase about 1 PPG once he does, which would put him at about 14-15 PPG. According to HoopData.com, the Bulls are the 24th most efficient team offensively in the NBA, whereas they were ranked 11th a couple seasons ago when Rose won the NBA MVP Award. So I fully expect them to jump into or near the top half of the Association once Rose gets comfortable with the Bulls this season. With that improved offense, if Noah can indeed average 14-t0-15 PPG when D.Rose is back, he'll be right up there with names like Anthony Davis, Serge Ibaka, Marc Gasol, and Greg Monroe; or in other words, big guys that you actually think of as capable scorers. And it's not like his current number of 13.5 PPG is far off. Noah holstering his pistols after a made field goal. Credit: Getty Images Also, while he only averages 2.2 APG, he does have at least 5 assists in 13 of the team's first 16 games while mixing in a monster game (30 points, 23 rebounds, 6 assists) on December 7th and a triple-double against the Celtics on December 17th, showing flashes of his big-game potential that has been held largely under wraps this season due to the Bulls' lackluster offense. But again, it's not these offensive hypotheticals, no matter how realistic they may be, that is finally bringing Joakim Noah so much praise … it's his fierce defense. Top-Notch Defense Among all NBA players who've seen significant minutes this season, HoopData.com ranks Noah as tied for 7th among rebounding and first overall in a defensive rating statistic that takes blocks, steals, and charges taken into account. Noah has proven time and time again that he can defend some of the league's best, including guys like Tyson Chandler, Chris Bosh, Kevin Garnett, Brook Lopez, and others who could stand between the Bulls and the NBA Finals. Outside of the blocks/steals/charges rating that I dug up, my favorite stat is from 82Games.com and states that per 100 possessions, the Bulls allow 12.5 more points with Joakim Noah off the floor (via Bleacher Report). That speaks volumes to just how effective Noah has been defensively this season. And with someone like Noah, you can't forget about the influences you can't measure with statistics … If it weren't for Noah's, there wouldn't be much for fans at the U.C. to cheer about before Rose's return. Credit: Getty Leadership The Rose-less Bulls are led statistically by Luol Deng, who also plays phenomenal defense while averaging almost 18 PPG from the small forward position. But with Deng being a very mild-mannered, quiet, and reserved player on the basketball court, there's no doubt Joakim Noah is the heart and soul of the team that has been the Eastern Conference's #1 seed in back-to-back seasons and currently stands at 15-12. Other current Bulls starters are Carlos Boozer, who Chicago fans are not very fond of; Kirk Hinrich, who like Deng is somewhat quiet; and Marco Belinelli, who's a guy with some fire but who definitely is not an on-the-floor leader. Heck, even Derrick Rose is somewhat reserved. So it's clear: Noah's leadership is extremely valuable for the Bulls. When you pair that with his stout defense and improving offense, you start to realize that he's one of the best big men around. As far as elite big men go, there really aren't that many names you can put above Noah. Don't get me wrong, he's not elite yet … and he may never quite be on that level. But as far as all-around game goes, you've got to rank him up there with the Tyson Chandler, Al Horford, Marc Gasol, etc. class. Speaking of those two, it got rather chippy this past weekend. Credit: ESPN Joakim Noah may be the current leading candidate to win the NBA's Defensive POY Award and in my opinion ranks very similar to past recipient Tyson Chandler – a guy who has recently helped lead the Mavericks to an NBA Championship and the New York Knicks to an elite level. So don't be surprised if you see Noah in his first All-Star game this winter and even if he's hoisting some hardware once the season comes to a close. The man simply deserves it. — Follow Zach on Twitter for more Chicago sports discussion @GropSports! The post Chicago Bulls' Joakim Noah Developing Into Top-Notch Big Man appeared first on Midwest Sports Fans.
Original Story:
http://feedproxy.google.com/~r/Midwes...
THE BACKYARD
BEST OF MAXIM
RELATED ARTICLES
During a break in the action at the United Center during the Chicago Bulls-Houston Rockets game on Christmas Day, the Bulls' Dunk Trampoline Team, known as the "Elevators", put on their high-flying act while wearing Santa Claus costumes. Unfortunately, one of the Santas had a slight miscalculation with his dunk and ended up smashing his face on the rim. Ironically...
Derrick Rose did 'a lot more' during the Bulls Christmas Eve practice than he's ever done during his recovery from a torn ACL according to head coach Tom Thibodeau who says "he's running, he"s shooting, going through all of the offense, a little defense and actually he's feeling pretty good, we'll see how he feels tomorrow".  Thibodeau added that he would like...
Dang. I was looking forward to this one. But the weather gods have not been kind to Indiana, as the Pacers' Boxing Day game against the Chicago Bulls has been canceled due to a monstrous snowstorm. A tough break for the Pacers because they are rested and have been playing relatively well, while the Bulls are coming off two straight blowout losses and were on the second...
OUCH
You wouldn't expect someone who can calculate to perfection how much time it takes to visit the house of every child in the world to miscalculate something as simple as a slam dunk during the halftime show of the of the Houston Rockets and Chicago Bulls game. Watch Santa Claus hit his face on the [...]
When he was a member of the Chicago Bulls, Scottie Pippen wasn't a scrooge with the basketball but recently as a part of the Make-A-Wish by a little girl, he got to share the stage with Scrooge.  Pippen joined with the Illinois chapter of Make-A-Wish to perform in "A Christmas Carol" at Goodman Theatre in Chicago.Pippen was joined on stage by a 7-year-old girl by the...
During a stoppage of play during the Chicago Bulls/Houston Rockets game, some of the Bulls dunk performers were decked out in their Santa gear.Watch as one of them goes face-first into the rim and goes down for the count:
Omer Asik enjoyed his trip back to Chicago. And he received help from James Harden and Jeremy Lin. Asik returned to the United Center and had a double-double with 20 points and 18 rebounds to lead the Houston Rockets to a 120-97 win over the Chicago Bulls on Tuesday night. It was his first trip to Chicago since signing with the Rockets in the offseason. ''Omer is a big...
Last night the Houston Rockets put a hurting on the Chicago Bulls. It was painful. But not as painful as this missed dunk attempt by this Santa Claus at halftime. I don't think it was very merry for Father Christmas here. Watch below: Paul M. Banks is CEO of The Sports Bank.net, a Google News site generating millions of unique visitors. He's also a regular contributor to Chicago...
The Chicago Bulls and Indiana Pacers have finished at the top of the Central Division in each of the past two seasons, largely due to their defensive prowess. Defense continues to be both teams' calling card this year, though one is currently trying to rebound from back-to-back disappointments. Chicago will travel to Indianapolis looking to avoid equaling a season-high three...
NBA News

Delivered to your inbox

You'll also receive Yardbarker's daily Top 10, featuring the best sports stories from around the web. Customize your newsletter to get articles on your favorite sports and teams. And the best part? It's free!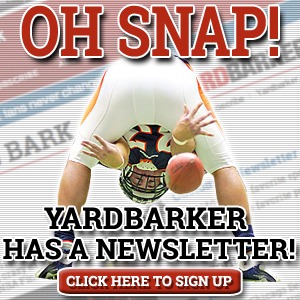 Latest Rumors
Best of Yardbarker

Today's Best Stuff

For Bloggers

Join the Yardbarker Network for more promotion, traffic, and money.

Company Info

Help

What is Yardbarker?

Yardbarker is the largest network of sports blogs and pro athlete blogs on the web. This site is the hub of the Yardbarker Network, where our editors and algorithms curate the best sports content from our network and beyond.