It's amazing how teams that are tanking and want to lose every game still get up for the Celtics.  Maybe it's Byron Scott's Laker hate of the Celtics or years of getting beaten  by them but they all hate the Celtics.  And everyone hates on Tommy.  But I love him, and don't want any announcer but him.  I'm not so upset about this loss.  We didn't have  KG or PP and we are seeing some signs that the new guys are starting to get it with their increased playing time.   And since the Bucks also lost, the Celtics didn't lose anything in the standings.   One thing I agree with is that I'm tired of all these serious injuries.  Seems like there are more every year.  I hate seeing anyone seriously hurt, no matter what team they play for.  Looking forward to some Tommy H, tonight. Always amusing. I don't see Jeff Green going off on us tonight, probably Brandon Bass or Jason Terry will this time I don't feel like being here anymore Yeah…Friday night..but Kyrie is playing so maybe he'll torch Avery Bradley again I really hate the Celtics and would love to snap our losing streak against them. At least we don't have to see Rondo force a triple double Apparently, we only have energy on the road, against bottom half Eastern playoff teams Shavlik Randolph is a thing again. Just point Crawford at the hoop and let him go. He'll probably miss. WILL THIS GAME GET BYRON SCOTT FIRED?!? So a guy who averaged 32 points in China is murdering us Randolphsanity time Why does this always happen to the cavs? A random bench guy on other team just destroys us Where has Terrance Williams been? I forgot all about him, when did he join the Celtics? Why isn't Casspi starting every game? Because Byron hates Israelis. See this is what happens, Conrad Made fun of Jeff Green throughout the season, and now he's making us pay He's been pretty good since KG went down. Tristan finally proving Chris Grant smart for picking him instad of taking Kemba and playing Kyrie at his natural position Joe Dumars is clearly a better GM because he finally put Brandon Knight in his natural position I think DeAndre Jordan put Knight in his most natural position, curled up like a fetus on the ground This Seems like the scorekeepers that pad Rondo's assist are cheating kyrie out of his. He official has 5 but I counted at least 7 or 8 Wow we had a good 3rd quarter. Now will we fall apart in the 4th? This is the type of game that looks like Boston is blowing this on purpose. I think they would rather play NY than Indiana This is why the cavs stink, the refs won't ever call fouls for them Haha. Avery Bradley is a turd. Dance on em Kyrie The Boston commentators are a disgrace to television, apparently gee murdered green to get the fast break going…….. If Tristan poked him in the eye so he won't kill us again, then TT gets doubleMVP for this game. First game in awhile where they were physical and it looked like they actually gave a ****. I knew Crawford was gonna chuck that. Woof. Jordan Crawford, kill yourself while you're ahead. What the hell, JET? THAT'S WHY YOUR HEAD IS LOPSIDED JASON TERRY I love how the Boston announcer says "Quarter". Kwatah. Shavlik with one of the great foul rates I've seen. Like I know we're not super talented or anything but I feel like we should hold a big lead once in a while. Boston is playing a bunch of turds. Terry is complete garbage except for like 20 minutes this year. AWFUL contract. Ha kyrie took out Avery Bradley Boston playing Harlem Shake….I thought they hated NY They hate the letter "r" Screw the tank. Win this game. Zeller's best defense is the flop. That is one thing he has down. Acting. Jeff green is really impressive..Glad he could make it back after a life threatening event It wasn't even enough to call it a touch foul. Tommy is just the absolute worst commentator in all of sports. Him and Hawk Harrelson together on a single broadcast could end the world. Btw, slightly off-topic but is everyone else sick and tired of the injuries decimating pretty much every team not named Miami or Okc? Asterisk year. Again. Yeah it's not fun. It's the shoes, man. It's gotta be the shoes. [Discuss on CG Forums!]
Original Story:
http://celticsgreen.blogspot.com/2013...
MORE FROM YARDBARKER
NBA News

Delivered to your inbox

You'll also receive Yardbarker's daily Top 10, featuring the best sports stories from around the web. Customize your newsletter to get articles on your favorite sports and teams. And the best part? It's free!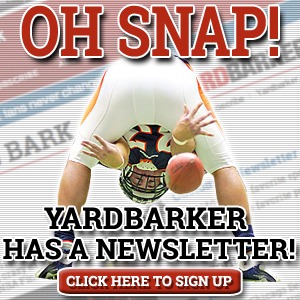 Latest Rumors
Best of Yardbarker

Today's Best Stuff

For Bloggers

Join the Yardbarker Network for more promotion, traffic, and money.

Company Info

Help

What is Yardbarker?

Yardbarker is the largest network of sports blogs and pro athlete blogs on the web. This site is the hub of the Yardbarker Network, where our editors and algorithms curate the best sports content from our network and beyond.