Found April 08, 2013 on Celtics Green ...a boston celtics blog.:
Good win for the Celtics.  It was great to see the long awaited starting line up with KG and Green in it.  Poor Tommy gets at lot of flack just for loving the Celtics.  And he should love them.  They are his team.  Kudos to Wall and the Wizards for actually trying to win games and not tanking.  Enjoy today's comments. Wasn't expecting Crawford to act that way Oh well. He had his moments but we are better without him. I love that Garnett's a center now When he was drafted, he was a SF. You know that line in The Dark Knight about heroes and villains? It's like that with big men in the NBA today. You either retire a forward or you live long enough to see yourself become a center. KG & PP are back tonight with Green also still staying in the starting group. A lot of Boston fans seem to think Bradley will shut Wall down like he does everyone he plays against Of couse they choose this game to come back But if they think they are going to ease their way back against a weak team, then they will be in for a surprise. Want the win, but I also want Crawford to play well KG setting moving picks Boston broadcasters giving Wall a lot of love... Tommy Heinsohn is known for being fair and balanced. Jeff Green more than likely gonna kill us all night From the bench? I would love to knock the Celtics down to the 8 seed. Come on nene, letting scrubs embarrass you lol Wall is punking the C's right now Bradley can't defend Wall. No one can. Jimmy needs to drop 40 on the old a$$ Celtics What's up with all this artificial noise? JCraw not looking like he's about to have a Detroit kind of game See that Wall, Beal laugh after Crawford just went off? LMAO. Looks like Chuckford is gonna light us up tonight lol Someone send Nene a memo. There is a basketball game today. Did JCraw just dap Price during FTs? Yea, lol, muscle memory.... WE need uniforms like Boston's, but in our colors... If they can play Shav Randolph we can play Ves. Every time I watch bass play That jumper seems automatic Good ol Boston Refs Glad that Jeff green is doing well (not today obviously) But seems to be recoverd and playing at his highest level so far. Well this is the first time in some time that Tommy Heinsohn has seemed fairly subdued in his contempt for the Wizards. So I suppose we've arrived then, or something. O man Randolph just burnt Nene... Nene is so frustrating to watch at times..... He's getting outplayed by Shavlik freaking Randolph Wizards get none of the calls. I understand that John needs a rest, but must Randy completely cool him off every time he gets hot? Lets try to win games, but lets not try all out. Tanking has its benefits. I personally want a choice between Len and Burke - this won't be possible if "those meddling kids" (John Wall) screw everything up by continuing to win. Every single fan reaction shot in the garden is pasty and blindingly white. Wee need to start running these old guys... Tommy Heinson is so frustrating to listen to Tommy's just misunderstood. The fake crowd noise is deafening It should be illegal Its just so pathetically sad. Man, I hate everything about playing the Celtics. I hate Kevin Garnett's moving picks. I hate the piped in crowd noise. I hate Tommy Heinsohn. I hate (though respect) Paul Pierce's junk game. Hmm a coach calls a timeout before we go on a run to take the lead yea, he's Doc... Time-outs are overrated - Randy Wittman I don't know how much longer I can take listening to the Celtic's announcers :( This is why AJ Price is a PG, creating easy shots for his teammates with his airball CAN WALL GET A F***ING FOUL CALL PLEASE?!!?!?! Its ridiculous, the refs are retarded Wow. Wall just clobber Randolph. Nice. That's why Wall must have done the Yolo flagrant I can't blame Wall. The lack of calls he's been getting (not getting) is ridiculous. Randolph had just obviously fouled him at the other end. Boston doesn't need the officials help to win this game, but they're getting it. FLAGRANT????? Wow, refs are in the tank for Boston. And flagrant???? NBA is so retarded, he clearly went for the ball But under these Mr. Softy rules it is def. A flagrant Celtics commentators are actually encouraging the C's to deck Wall next time down the court Was a grown man foul Get that flagrant **** out of here Problem is it doesn't look like Wall touches the ball on the replay... Maybe barely This idiot Heinson just said that's a Flagrant 2 And now making up a story that Wall wasn't fouled before this dude needs to be put in a home I like that Wall got his pound of flesh from Randolph after that BS no call. He needed to let Boston and the refs know he won't be punked. Basically tell the refs hey, if you're not going to call it straight then this is the type of physicality you're going to end up with. Wow, now Heinsohn wants a foul for Pierce? Maybe we should just end the game right now and give Boston the W. I'm beginning to think that we get even less calls due to Witt being our coach.... The dude looks clueless half the time and lets be serious, what ref honestly "respects" him? That Terry 3 was from waaayyyyyy downtown above the break. Probably the worst shot you can take other than a half court that made it. These are the types of games where meaningless injuries occur….. Like Shavlik Randolph not even going to be able to stand after this game. Pierce hobbling, Garnett looking like a shell of his former self. Still surreal to me to see Steez in green Bout time they call the illegal KG screen. That's all he does Man these Celtics get away away with murder at home, especially KG. Wtf why is vesly in the game. Do we not want to win? I guess this is how we tank Wall has lost star calls :( it's because he's playing the Celtics on the road? (sigh) KG clearly pushed Wall in the back on that drive. I hate, and always have hated, the Celtics Sure. More Wilcox. Why not? The officiating is so bad this is almost unwatchable. Does KG ever actually set his feet on screens? Vesely would look more intimidating if he didn't have the hair-cut of an 8 year old boy. No kidding. He should let his mom know she doesn't need to fly over to give him his JanCut - that he's old enough to visit a barber now. Why do we not incorporate the d-league is beyond me... it's basically like giving our youngster's game experience, without the negative consequences on the real team. Morey and the Rockets are constantly sending their kids up and down the roster/d-league team. Celtics got Fab Mello tearing up the D league for their Maine team. Why did we not get him instead of Collins smh Doc with smart timeouts like always Sure wish Randy would learn that from his buddy Wow, despite the fact we're still almost for sure gonna lose this game Mad credit to the guys for fighting their way back in it. Never say die. Boston took out their starters, while we kept ours in. Let's come back and then end it with.... A poster dunk by Ves over Garnett and JCraw 10 points with 4 minutes left isn't over Although, if it gets to within 5 or so, I put the odds of the refs taking it up themselves to decide the game around 90% I'm pretty sure the Celtics use fake crowd noise Some of their chants sound… different. And the crowd I can see is just sitting there… Apparently a NBA TV announcer made the accusation in late January, but the C's denied it. Now I'm feeling confident about this game. Tank it, baby! Seems like Doc Rivers is playing with fire leaving his starters in right now. Meh, tough to win against a vet team like the C's on the road in a back-to-back... I don't usually go overboard over the officiating but tonight was disgraceful. It's like the refs had a side bet on Wall shooting zero free throws. I never seen a guy get clobbered time & time again and not get one call. Shavlik Randolph has apparently elevated himself to the rarefied air of not-obviously-undeserving-of-NBA-minutes so mazel tov to him I guess. [Discuss on CG Forums!]
Original Story:
http://celticsgreen.blogspot.com/2013...
THE BACKYARD
BEST OF MAXIM
RELATED ARTICLES
John Wall and Roy Hibbert are two of the brighter young stars in the NBA. So when they start slinging mud people listen. Please click here to read this story. The post John Wall and Roy Hibbert squash their issues appeared first on Players View.
Jeff Green and Paul Pierce have been working well together on offense.Doc Rivers recently told the media that during the playoffs, he is considering using a lineup that includes Paul Pierce and Jeff Green both starting at shooting guard and small forward. This was obviously a revelation, since what would presumably be the playoff starting lineup (Bradley-Pierce-Green-Bass-Garnett...
On a night when the Washington Wizards celebrated the 35th anniversary of the franchise's only championship, John Wall played like someone who might someday carry on that legacy, scoring 37 points in a display of speed and flair Saturday to lead the Washington Wizards to a 104-85 victory over the Indiana Pacers. Wall made 16 of 25 shots, throwing his palms up after making an...
John Wall has started to play like the guy who was drafted first overall in 2010. He's been having huge games and grabbing some wins over playoff teams for the lowly Wizards. Just 24 hours after dropping 37 point on Indiana with 64% shooting, Wall looked like barely an all-star versus the Celtics. Why? Avery Bradley. The Game Changer smothered Wall, covering him the entire length...
  104     85 4/6/2013 - Verizon Center, Washington, DC ESPN Boxscore  -  NBA.com Game Highlights The Wizards had a great start offensively, lead by John Wall who began the game shooting 7-for-8 for 15 points by the end of the 1st quarter and went psycho after that. He finished with 37 points, five assists and four rebounds. And mind you, this was all against...
(Photo by Doug Pensinger/Getty Images) Remember late February? Yeah, well I barely do either. This was When Wall was in one of the worst slumps of his young career. Remember Wall having 5 turnovers in the first quarter of the game vs Detroit and then blaming his teammates for not catching his passes and he complained in the locker room about barely playing in the fourth quarter?...
John Wall covers the latest issue of Modern Luxury DC magazine, which highlights "Men of Style." Seven local sports figures are featured in the publication as it notes that "even after the buzzer, they're still playing to win—in fashion that is." The athletes and sports personalities dressed up in a range of designer duds for the shoot, and each spoke about their individual...
The Celtics try to hold on to the 7th seed with the return of Kevin Garnett and Paul Pierce to the lineup… joined by Jeff Green in what could be a preview of the team's playoff starters.  We'll be talking about it at halftime with you… There are 3 ways to join: Tweet us with the #RedsArmy tag.  You don't even have to mention anyone, we'll see it with the tag. Submit...
The Boston Celtics defeated the Washington Wizards 107 to 96 tonight at the TD Garden. Pierce and Garnett both returned to the lineup, which gave the entire team a nice boost. This win was a full team win, as 5 players scored in double figures and 3 more almost did. Flat-out the Wizards were no match for the Celtics talent. KG was sharp in his return to the court, but the leader...
                            AT                          Sunday, April 7th, 2013 6:00 PM ET TV: Comcast SportsNet HD Steve Buckhantz and Phil Chenier   Radio: 106.7 FM/1500 AM Dave Johnson and Glenn Consor   John Wall Avery Bradley Wizards Projected Starting Lineup      Celtics...
By Kenneth Teape UPDATE: Knicks say Tyson Chandler is out and Kenyon Martin is back and will start. — Al Iannazzone (@Al_Iannazzone) April 9, 2013   Pre-Game News and Notes Wizards vs. Knicks: MSG 7:30PM The Knicks will look to not only extend their 12-game winning streak tonight against the Wizards at Madison Square Garden, but also lock up the division title for the first time...
Celtics News

Delivered to your inbox

You'll also receive Yardbarker's daily Top 10, featuring the best sports stories from around the web. Customize your newsletter to get articles on your favorite sports and teams. And the best part? It's free!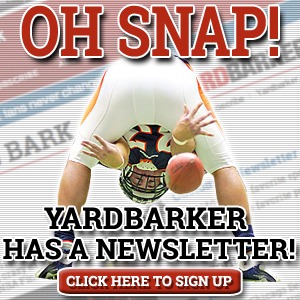 Latest Rumors
Best of Yardbarker

Today's Best Stuff

For Bloggers

Join the Yardbarker Network for more promotion, traffic, and money.

Company Info

Help

What is Yardbarker?

Yardbarker is the largest network of sports blogs and pro athlete blogs on the web. This site is the hub of the Yardbarker Network, where our editors and algorithms curate the best sports content from our network and beyond.