Found June 26, 2012 on Celtics Town:
We've all witnessed the movie scene where the scorned lover runs off and his/her partner, normally after a moment of introspection, chases in pursuit. Rain normally pounds from the sky, for production value, and maybe the two lovers argue once they meet each other on the side of the road, or maybe at an airport, with an airplane awaiting to whisk the scorned lover away. They scream at each other, they cry, they pour their hearts out, they make up, and the scene almost always ends with a kiss to formally reunite the couple.Ray Allen, by almost all accounts, is scampering through rain toward an airplane waiting to whisk him away from Boston. But the Celtics won't let him leave without chasing in pursuit. On Ray Allen/Heat rumors: "Ray is doing what he should do. He's listening to offers. Other teams are interested, but we're interested too."about 2 hours ago via Twitter for BlackBerry®ReplyRetweetFavorite@carolynmannoCarolyn MannoSo many signs point to Allen wanting to leave Boston, but A) he has history in Boston, B) the Celtics can still give him an important role, if not a starting one (don't think they can use a high-scoring, deadly-shooting sixth man?), and C) they can offer him more money than most contenders.Allen may have one foot out the door, but the Celtics should be ready to chase him down.
Original Story:
http://www.celticstown.com/2012/06/26...
THE BACKYARD
BEST OF MAXIM
RELATED ARTICLES
Going forward, the Heat may look to add to their wing position to make it easier to have James play more minutes at one of big man spots. There are some veteran point guards like Nash, Miller or even Jason Kidd out there but the Heat likely have more of a need for a shooter. Adding Nash, for example, would create incredible star power but it would also require the Heat to potentially...
The general consensus around the NBA is that Ray Allen will sign with Miami. "Barring a change, he'll join the Heat," said a league source.about 9 hours ago via webReplyRetweetFavorite@AlexKennedyNBAAlex KennedyGood thing teams aren't officially allowed to speak to free agents until July 1, huh?
Doc on whether KG will be back: "Absolutely ... Let's just say yes. Positive thinking."about 1 hour ago via Twitter for AndroidReplyRetweetFavorite@SteveBHoopSteve Bulpett #CelticsTalk: #Celtics Doc Rivers on KG returning next year. "I think he will. I have no basis for that; I just think that he will."22 minutes ago via Twitter for BlackBerry®ReplyRetweetFavorite...
The general consensus around the NBA is that Ray Allen will sign with Miami. "Barring a change, he'll join the Heat," said a league source. — Alex Kennedy (@AlexKennedyNBA) June 27, 2012 I'm still skeptical.  "General consensus" is based on nothing besides what everyone thinks will happen.  And the source doesn't tell you anything besides the scary possibility. ...
The Heat are currently on the top of the NBA universe, but the frightening thing for the rest of the NBA is that they could be getting significantly better over the offseason. According to a number of reports, Ray Allen is expected to sign with Miami at some point in the near future. In terms of places to close out his Hall of Fame career, Miami has to be the best possible scenario...
Boston Celtics coach Doc Rivers has two jobs at this year's NBA draft. Rivers' son, Austin, is projected to be a lottery pick in Thursday night's draft. Celtics general manager Danny Ainge says Doc Rivers is in New York with his son. But the coach will be available if needed to voice an opinion on the team's draft picks. Boston has the No. 21 and 22 picks in the...
Shortly after Ray Allen and Kevin Garnett first arrived in Boston, the Celtics took a preseason EuroTrip which was said to help them form a tight bond prior to a season that would eventually yield 66 regular-season wins and one NBA title. The Celtics also benefited that season from having three superstars very close to their absolute primes, a supporting cast that included the...
Ray Allen's free agency could mark the end of an era in Boston.  When Ray joined the Celtics, it marked the first time since Dee Brown pumped up his Reeboks that Boston was excited about a Celtic's players shoes.  During his time with the C's Ray dazzled fans with his amazing shooting skills and incredible Air Jordans.  Celtics green when mixed with classic Jordan silhouettes was...
Duke guard Austin Rivers is projected to be drafted in the lottery during the 2012 NBA Draft later this week.Rivers' draft celebration party may be over with by the time the San Antonio Spurs take their pick with the 59th selection, but that doesn't mean Rivers didn't have silver and black dreams growing up.Before he becomes one of the more exciting young NBA prospects...
Celtics News

Delivered to your inbox

You'll also receive Yardbarker's daily Top 10, featuring the best sports stories from around the web. Customize your newsletter to get articles on your favorite sports and teams. And the best part? It's free!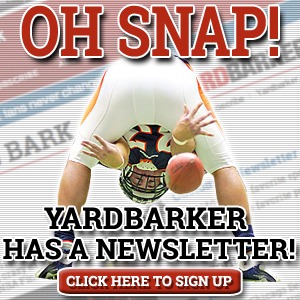 Latest Rumors
Best of Yardbarker

Today's Best Stuff

For Bloggers

Join the Yardbarker Network for more promotion, traffic, and money.

Company Info

Help

What is Yardbarker?

Yardbarker is the largest network of sports blogs and pro athlete blogs on the web. This site is the hub of the Yardbarker Network, where our editors and algorithms curate the best sports content from our network and beyond.