Found February 17, 2012 on Red's Army:
I often wonder what opposing teams, their beat reporters and bloggers are saying about the Celtics after playing the Celtics. Here's a dose of 'enemy chatter' from Chicago. The Celtics are starting their own crucial stretch after having played just 10 road games (20 for the Bulls), the fewest in the East. There seems plenty of tension with the team with Rondo again taking the most shots (he had more than Paul Pierce and Allen combined Sunday), which isn't exactly Boston's plan for success. ... Though he had that brilliant triple double in Sunday's win, it's supposedly a constant battle with his teammates. Pierce and Allen supposedly have been not too happy the way he monopolizes the ball at times, but then will back off late in games because he doesn't always like to shoot free throws, though he was terrific last Sunday. Many who watch the Celtics believe this is a crucial stretch as if they fall well below .500, there's a good chance they could make a major mov...
Original Story:
http://feedproxy.google.com/~r/RedsAr...
THE BACKYARD
BEST OF MAXIM
RELATED ARTICLES
On his offensive outburst Wednesday night RR: "I was just a little bit more aggressive tonight, took the shots that I was able to take when I was open. I made some, I missed some." On consecutive games with high point totals RR: "But the main thing is our record is 1-1 these last two games. We didn't get off to a great start in the fourth quarter, and we...
People (ahem, Chuck) have been getting on Rajon Rondo lately.  Some of it is warranted, some of it isn't.  The latest criticism of him came last night when he either (a) took way too many shots and disrupted the flow of the offense or (b) didn't take enough shots in the 4th quarter and disrupted the flow of the offense.   So went back and looked at every one of his 27...
Last week the Celtics lost at Toronto, nearly causing Doc Rivers to have an ulcer or kill Chris Wilcox and JaJuan Johnson with his bare hands. Nobody on the Celtics played well that night and they fell collectively, 86-74. I repeat that nobody played well, for emphasis, but Jose Calderon especially outplayed Rajon Rondo, pushing internet commenters everywhere to grab their pitchforks...
At some point that turned from this:(.gif from @dombili)to this:I guess it's tough to win games when Kevin Garnett sits out and Paul Pierce and Ray Allen combine to shoot 1 for 3,958 (estimated figure).Chris Wilcox, thumbs up. Big Three, thumbs down (Garnett didn't play, I know). Rajon Rondo, you were everything I hope and dream for during the first three quarters (and still...
The word comes from Sean Grande, meaning there still won't be a Derrick Rose/Rajon Rondo matchup. KG's return was expect, since he was scratched at the last minute last night.  Maybe these guys can wake up tonight.
 Another disappointing loss.   It really is pitiful how much they were complaining about the refs when they were getting way more calls than the Celtics were.   What a whiny bunch of fans!!    I'd say to the guy that wants the Celtics really bad in the playoffs.  If the Celtics are healthy - be careful what you wish for!!   I know it's not as much fun when we lose...
 Another team that is set on tanking and then ends up cheering to beat the Celtics.  It's amazing how much beating the Celtics means to most teams.  There's a lot of Celtics hate out there.  And more fans who hate the players on their own team.  And, of course, more hate for the Celtics announcers.  I know the comments are more fun when we win, but there are still some...
Another slide for the Boston Celtics is in store as they have now lost their second straight game, this time to the Chicago Bulls, 89-80.  The Celtics will be back to .500 with one more loss, something they fought so hard to get away from. The most frustrating aspect about this Celtics team has been their inconsistent showing on the offensive end.  Losing to the Pistons at home...
Kevin Garnett was inactive for the Boston Celtics. Paul Pierce and Ray Allen should have just stayed with him in the locker room. The two remaining members of the Big Three that didn't have hip injuries made a grand total of four field goals between them. They attempted 16 shots. Rajon Rondo played his heart out, scoring a career-high 35 points. Of course, some would say...
Every morning, we compile the links of the day and dump them here... highlighting the big storyline. Because there's nothing quite as satisfying as a good morning dump. "It gets frustrating,'' Allen said. "I've been a scorer my whole career, and scoring in many different ways, so I try not to lock into one way or the other how I am going to put the ball in the...
  at  Boston Celtics (15-13) at Chicago Bulls (24-7) Thursday, February 16 8:00 PM ET Game #29,  Road Game #10 TV:  TNT, TSN2 Radio:   WEEI,  WMVP United Center Referees:  Eddie F. Rush,  Eric Dalen,  Eric Lewis After playing 20 of their first 29 games at home, the Celtics are about to venture out on the road for a 5 game road trip that starts in Chicago.  The Bulls...
NBA News

Delivered to your inbox

You'll also receive Yardbarker's daily Top 10, featuring the best sports stories from around the web. Customize your newsletter to get articles on your favorite sports and teams. And the best part? It's free!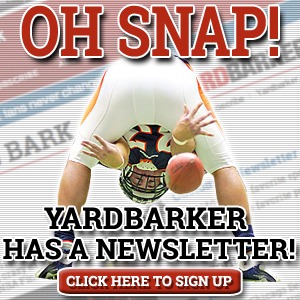 Latest Rumors
Best of Yardbarker

Today's Best Stuff

For Bloggers

Join the Yardbarker Network for more promotion, traffic, and money.

Company Info

Help

What is Yardbarker?

Yardbarker is the largest network of sports blogs and pro athlete blogs on the web. This site is the hub of the Yardbarker Network, where our editors and algorithms curate the best sports content from our network and beyond.