Found November 28, 2012 on Celtics Green ...a boston celtics blog.:
PLAYERS:
Doc Rivers
,
Kevin Garnett
,
Rajon Rondo
,
LeBron James
,
Jared Sullinger
,
Kris Joseph
,
Paul Pierce
,
Avery Bradley
,
Phil Jackson
TEAMS:
Boston Celtics
,
Miami Heat
,
Brooklyn Nets
Herald  Celtics looking to matchup with NetsPosting Up blog: A whole new world Doc Rivers' post-it note: Get ball into Kevin Garnett Rajon Rondo right on target LeBron James, Knicks top NBA jersey-sale listsGlobe   Watch: Washburn on state of Celtics Defense the emphasis as Celtics prepare for Nets Chat with Brian ScalabrineDoc Rivers sees Nets' move to Brooklyn as a net win Celtics Green  Preview and Official Report - Nets (9-4) at Celtics (8-6) 11/28 Who Are Celtics Mistaken For?Rockets Support Kevin McHaleJoey Crawford - You Gotta See ThisPosting Up With SullyThe Key to Making the Finals is DefensePractice Update 11/27Celtics Minute for 11/27CelticsBlog  The education of Avery BradleyRules changes allow quick guards advantages Leandro "the Microwave" Barbosa Jared Sullinger has a blogDoc's plan: Get the ball to Kevin Garnett in the post more ESPN   Mailbag: Ready for takeoff?Practice notes: Pick-and-roll D the focus Rondo the 6th most popular jersey W2W4: Celtics vs. Nets (Game 15 of 82)Celtics rookie Kris Joseph gets best of both worldsLex Nihil Novi  Garnett (24, 8, 5, 4 & 3) Leads Wolves to Another Road Win (03-04)Pistol Drops 35, as Jazz Hand Walton Gang 3rd Straight Loss (76-77)Down 1 with a Minute to Go, Lakers Miss Four Straight Freebies, Lose AgainWEEI  Paul Pierce with Grande and Maxceltics - Should we care about Rajon Rondo's assist streak?Doc: Bradley still doing 'nothing' in practiceGreen Street  Doc Rivers tells Kevin Garnett to remind the team: 'Hey, I'm here' on offenseBrazilian legend Leandro Barbosa gets his kicks with CelticsLeandro Barbosa understands when you play defense 'everything comes automatic'Celtic Nation  What to Make of Melo Ball Hard: Kris Joseph Super Charged 11/28/12: Celtics vs. Nets Stat Pack CLNS Radio   Why Must People Hate On Rondo?Boston Celtics News from Around the Web: Daily Links for Wednesday, 11/28 Celtics Post Game Show vs Brooklyn Nets, immediately following the game Red's Army   A dose of new perspective could raise Avery Bradley's gameCeltkicks: Anta KG "Beat the Heat" shirt Your Morning Dump…where Avery Bradley continues to impress, even off the courtCeltics.com  Are the Celts Experiencing an Identity Crisis? NBA's Evolution Gives Rondo the PowerCSNNE   Has Rondo run with the torch?Rondo, Williams ready to face off in guard-driven leagueThe 'A' List: Top 5 in the EastCeltics Now: Who are the Celtics often mistaken for?Celtics Now: Get Rich?Celtics Talk TV: What changes are in store for CelticsGrab Bag: What's at the top of your Christmas list?Nets Daily  Celtics Next Up for Soaring NetsCeltics Hub  Practice Report: Pick-and Roll Practice, Waiting on Avery BradleyCeltics Town Bradley continues to grow off the court Is Rajon Rondo's assist streak driving his productive start?Mass Live  The Fantasy 413: Kevin Garnett puts the D in Celtics (you know what we mean) Celtics Title Town  Question of the day: Who's been the best player off the bench?"Rajon Rondo - Hall of fame" Celtics Morning Joe: Pick-and-roll defense a major focusKG intense to the coreHangtime Blogs  Phil Jackson Says His Peace (Video) Wizards Fall To 0-12 … And Counting Rockets Pay Tribute To Sasha McHale Enterprise News  Celtics face improved Brooklyn Nets SI.com Rockets wear jersey patch to honor coach McHale's daughter Video: Kevin Love and DeMarcus Cousins are called for blocking and charging fouls on the same playMetro West Daily News   Celtics still finding their closers Celtics pick apart pick-and-roll on practice courtSentinel  Red Claws' Cusworth hoping patience pays offKing James Gospel  10 Early Candidates For 6th Man Of The Year [Discuss on CG Forums!]
Original Story:
http://celticsgreen.blogspot.com/2012...
THE BACKYARD
BEST OF MAXIM
RELATED ARTICLES
The NBA released its newest list of best-selling jerseys, and Rajon Rondo has moved further up the list.   After cracking the top 10 last season, Rajon has moved in to the #6 spot. Here's their list of the top 15: LeBron James, Miami Heat Kevin Durant, Oklahoma City Thunder Kobe Bryant, Los Angeles Lakers Carmelo Anthony, New York Knicks Derrick Rose, Chicago Bulls Rajon Rondo...
Rajon Rondo Banned Two Games by League Office   Rajon Rondo has been suspended two games for last night's altercation with Kris Humphries that spilled into the stands. Danny Ainge broke the news during his weekly segment wih 'The Big Show' on WEEI. Earlier today, Rondo defended himself by saying that he was responding to [...]
At 6 foot 1, 186 pounds, Rajon Rondo isn't the biggest player in the NBA, but he just might be one of the toughest. In tonight's game vs. the Brooklyn Nets, Rondo got into a scuffle with Nets forward Kris Humphries after he Kevin Garnett in the post. The result was a bench-clearing brawl for the ages. Okay maybe it wasn't that wild of a brawl, but if you're the type of person...
Things got physical in Boston Wednesday night when Kris Humphries committed a hard foul on Kevin Garnett. In response to the foul, Rajon Rondo pushed Humphries which led to a NBA style shoving match. Both Rondo and Humphries were ejected as was Gerald Wallace after receiving his 2nd technical foul of the night. Kevin Garnett also received a technical but remained in the game. After...
Wow, just, wow. I thought we were heading toward the right direction then this happens. Sigh, I am just getting frustrated with our team. Anyways, here is the next installment of Celtics Life 5 on 5. 1. Another loss to the Nets. Where are we? Terry P: Not at all where we should be. I know we have nine new players, but our defense is so bad its just very disappointing. If we lose...
The Boston Celtics and the Brooklyn Nets got into a scuffle Wednesday night right before halftime at the Garden. The fight started after Rajon Rondo took offense to a foul by Kris Humphries on Kevin Garnett. Rondo then pushed Humphries into the stands and the fight proceeded in the lapse of the fans. Not sure what the repercussions will be but this certainly cause suspension similar...
A brawl broke out in Boston on Wednesday night during a game pitting the Celtics versus the Brooklyn Nets.The incident was sparked when Brooklyn's Kris Humphries committed a hard foul on Boston's Kevin Garnett late in the second quarter. Celtics point guard Rajon Rondo took offense and gave Humphries a spirited shove in retaliation. A brief moment of chaos ensued.Both Rondo...
WALTHAM, Mass. — Rajon Rondo was mostly subdued on the day after his dust-up with Kris Humphries, but he did crack one smile. Rondo, who spoke with an NBA representative about an hour before practice began on Thursday afternoon, was asked if he worried that he might be issued a longer suspension or fine in light of two earlier ejections for run-ins with officials. In the league's...
Boston Celtics point guard Rajon Rondo was ejected in the second quarter of Wednesday night's game against Brooklyn when he shoved Kris Humphries after the Nets forward knocked Kevin Garnett to the ground with a hard foul. Humphries was given two technical fouls and ejected. Nets forward Gerald Wallace, who joined the fray under the Boston basket, was given one technical, but...
Tip: 7:30 PM     Court: TD Garden    Watch it: CSN  Hear it: WEEI Referees: James Capers, Kevin Fehr, Kane Fitzgerald Get your tickets here:  Boston Celtics Tickets The Matchup Record: 8-6 Record: 9-4 At Home: 4-3 On Road: 2-3 Streak: Won 2 Streak: Won 3 Leaders Leaders Buckets: Pierce (20.1 ppg) Buckets: Brook Lopez (19.2 ppg) Boards: Garnett (7.4 rpg...
Today, the USA Today released the list of top selling jerseys and the list goes as followed: 1. Miami Heat LeBron James Photo by espnshop.com 2. Oklahoma City Thunder Kevin Durant Photo by nysportsjournalism.com 3. Los Angeles Lakers Kobe Bryant Photo by amazon.com 4. New York Knicks Carmelo Anthony Photo by knicksproshop 5. Chicago Bulls Derrick Rose Photo by nbajerseyssale...
NBA News

Delivered to your inbox

You'll also receive Yardbarker's daily Top 10, featuring the best sports stories from around the web. Customize your newsletter to get articles on your favorite sports and teams. And the best part? It's free!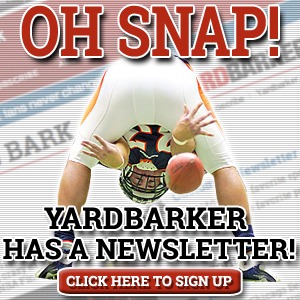 Latest Rumors
Best of Yardbarker

Today's Best Stuff

For Bloggers

Join the Yardbarker Network for more promotion, traffic, and money.

Company Info

Help

What is Yardbarker?

Yardbarker is the largest network of sports blogs and pro athlete blogs on the web. This site is the hub of the Yardbarker Network, where our editors and algorithms curate the best sports content from our network and beyond.