Found October 23, 2012 on Fox Sports Arizona:
PLAYERS:
Alvin Gentry
,
Luis Scola
,
Michael Beasley
,
Goran Dragic
,
Marcin Gortat
,
Steve Nash
,
Jared Dudley
,
Shannon Brown
,
DeMarcus Cousins
,
Sebastian Telfair
,
Kendall Marshall
,
Diante Garrett
,
Ike Diogu
,
Luke Zeller
,
Markieff Morris
,
P.J. Tucker
,
Wesley Johnson
TEAMS:
Phoenix Suns
,
Los Angeles Lakers
,
Sacramento Kings
,
Iowa State Cyclones
,
Arizona State Sun Devils
PHOENIX The Suns are pretty close to set. Coach Alvin Gentry not only named his starters on Monday no surprises there but also identified his reserve rotation before an exhibition victory over Sacramento. It makes sense to give a new brand-new group a degree of continuity early on. Do not be fooled. The Sunswill be a work in progress, even into the early season. Three-fifths of the starting lineup is new, forwards Luis Scola and Michael Beasley and point guard Goran Dragic. Scola and Dragic have some familiarity after playing together in Houston the last two seasons, but that is about as far as it goes. Holdover center Marcin Gortat, who benefitted so greatly from Steve Nash's magicianship at the high pick-and-roll game, must find new ways to score. If there was a position up in the air when training camp opened, it was the off guard, where Jared Dudley and Shannon Brown were in competition. Dudley, who has improved his scoring average in each of his last two seasons with the Suns, will open there, although Gentry said there will be nights when Brown plays as much if not more . Dudley was the headliner in the Suns' 103-88 victory over the Kings at the US Airways Center, scoring 25 points and making 4-of-6 three-point attempts in 26 minutes as the Suns become more comfortable with their new offense, which has more structure than in the Nash days. They use flare screens. They look to the back door. Dudley got a lot of his points Monday on pin-downs, when his man was caught behind a screen. "We don't know where the ball is going, and if we don't know, the defense doesn't know. I'm not going to call it Princeton, but it's how they defend you (that determines) who gets the ball. The better picks you have, the better cuts you have, your chances go up," Dudley said. "It definitely takes time. You have to learn people. What do they like to do? You have to know that. I would say we are ahead of the curve right now. The offense looks better than I think most people expected without Steve being here." That is what this preseason is about. The Suns were displeased with their early turnovers and the way Sacramento dominated the boards early in the game, but they recovered for a 58-46 rebounding, helped when DeMarcus Cousins played only eight minutes. "For us to be successful, we have to come out with a lot more energy. We can't come out too cool. This is not a too cool team," Dudley said. The Suns' most surprising preseason decision, at least until the games started, may have come at backup point guard, where Sebastian Telfair won the job. Telfair clearly has a better grasp of the pro game than rookie Kendall Marshall, the 13th player taken in the 2012 draft. If the Suns really believe they can get some help from the Nash trade that will bring them four draft picks, two firsts and two seconds, they will have to do better than that. Telfair, who is in his second season with the Suns, is a good on-ball defender with a tough streak. "He fears no one. I like his competitiveness. I think he is a little bit of a pest, which is always good," Gentry said. Marshall, who did not play Monday, has one basket and 11 assists in 70 minutes in three preseason games. Gentry did not judge him harshly, understanding that position has perhaps the largest learning curve of any from college to the NBA. "He's a typical rookie. He's had some good moments. He's struggled. It's one of those deals where nothing is going to replace experience. It's just like anybody else. Everybody sees the polished version or Rondo or Steve Nash, some of these other point guards. If you go back and look early on, all of them had to struggle. It's just the way it is," Gentry said. Rookie point guard Diante Garrett, a free agent from Iowa State, appears to be closer to Marshall than Marshall is to Telfair, and it is likely the Suns will keep Garrett, who played in France and Croatia last season. Garrett's father, Dick, played five seasons in the NBA. The Suns also are likely to keep one of three free agent big men, Arizona State's Ike Diogu, Luke Zeller or Solomon Jones, none of whom played Monday. Both Dudley and Brown had their best scoring seasons in 2011-12, when Dudley averaged 12.7 points and Brown averaged 11.0 in his first year with the Suns. The playing time between those two might be the most fluid "I think both of those guys realize that they are going to play. Just like anything else, there are going to be nights where J.D.' gets the majority of the minutes, and there are going to be nights where Shannon gets the majority of the minutes," Gentry said. Jermaine O'Neal and Markieff Morris will back up Gortat and Scola, while P.J. Tucker and Wesley Johnson will see time at small forward. Morris had a double-double, 14 points and 10 rebounds, O'Neill had nine rebounds and four blocked shots and Brown had 12 points as the Suns' bench had 40 points and 27 rebounds Monday. Gentry called Tucker his best perimeter defender, and Johnson's contributions could come primarily at the offensive end. Johnson and Tucker also could be on the floor at the same time when opponents play small. O'Neill, Tucker and Johnson are in their first season with the Suns, learning their way and filling their roles. "We'll be a good team when guys continue to push each other, but we'll also be a good team when it is not a factor as to who is out there playing where somebody is doing a better job than the other guy," Gentry said.
Original Story:
http://www.foxsportsarizona.com/10/23...
THE BACKYARD
BEST OF MAXIM
RELATED ARTICLES
Meet the Phoenix Suns. Introductions certainly are necessary. This team has undergone an extreme personnel makeover in the aftermath of Steve Nash's departure to the hated Lakers. Five players return from last year, and only two - center Marcin Gortat and guard Jared Dudley - figure to start. The newcomers include a pair of former high draft picks, Michael Beasley and Wesley...
PHOENIX (AP) -- Jared Dudley scored 25 points to lead five players in double figures and the Phoenix Suns beat the Sacramento Kings 103-88 in preseason action Monday night. Michael Beasley had 15 points, Markieff Morris added 14, Shannon Brown scored 12 and Luis Scola finished with 11 for the Suns, who have won three of their past four, including both home contests. Tyler Honeycutt...
Jared Dudley scored 25 points to lead five players in double figures and the Phoenix Suns beat the Sacramento Kings 103-88 in preseason action Monday night. Michael Beasley had 15 points, Markieff Morris added 14, Shannon Brown scored 12 and Luis Scola finished with 11 for the Suns, who have won three of their past four, including both home contests. Tyler Honeycutt scored 17 points...
Just in case Suns fans were worried about their team getting overwhelmed by unreasonable expectation (cough), ESPN The Magazine -- assisted by the analytics sharpies at basketballprospectus.com -- has taken care of that worry. Based on their crunching of applicable numbers related to personnel and other tricky concerns, the Suns are predicted to stagger home at 14th in the 15-team...
NBA News

Delivered to your inbox

You'll also receive Yardbarker's daily Top 10, featuring the best sports stories from around the web. Customize your newsletter to get articles on your favorite sports and teams. And the best part? It's free!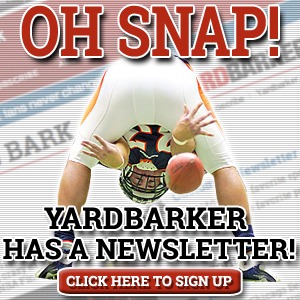 Latest Rumors
The Backyard

Today's Best Stuff

For Bloggers

Join the Yardbarker Network for more promotion, traffic, and money.

Company Info

Help

What is Yardbarker?

Yardbarker is the largest network of sports blogs and pro athlete blogs on the web. This site is the hub of the Yardbarker Network, where our editors and algorithms curate the best sports content from our network and beyond.