Found November 21, 2012 on Waiting For Next Year:
"Tonight, we talk about opportunities, and he took advantage of it." That was Cavaliers coach Byron Scott, talking about his point guard, his recently third-string point guard Jeremy Pargo, he of eight total points over three games this season. Pargo got the start tonight, and 39 minutes later, Jeremy had turned in a career-high 28 points on 11-of-19 shooting, 5 rebounds, and 4 assists as the Cavaliers defended, got key bench contributions, and led by the unexpected showing of Pargo, beat the Sixers 92-83 in Quicken Loans Arena. The 26-year-old second-year player made the most of his opportunity from the outset, attacking the bucket and leaving Jrue Holiday in his wake. Instead of forcing anything, Pargo really only took open shots with the exception of a couple of deep balls with the shot clock winding down. Pargo set the tone early in the game as Dion Waiters attacked the bucket as well with Alonzo Gee posting up in the corner and knocking down a pair of key threes early. Twelve of Pargo's points came in the fourth quarter, with the best being a 26-footer that seemingly dropped out of the sky and put the game out of reach with two minutes remaining. Pargo did an admirable job on the defensive end as well, holding Holiday to 16 points on 16 shots. It's impossible to ask Pargo to consistently fill Kyrie's scoring output as he did tonight, but if he continues to take what the defense gives him and attack the basket, perhaps we could have the second coming of Lester Hudson that sweeps the city for the month the Cavs will be without #2. Dion Waiters bounced back from another cold shooting start to have an effect on the game as well with 16 points on 7-of-22 shooting. Waiters played nearly 39 minutes as well with Byron shortening the rotation due to the losses of Irving and Daniel Gibson, who was a late scratch with his lingering elbow issue. "He's got to do a better job of getting to the basket," said Scott of his rookie shooting guard. "You're a rookie, you're not going to get calls. Live with it, deal with it." Likewise, it was a frustrating game from the viewpoint of Anderson Varejao who had both a dust-up with an official and his own teammate. Andy shouted at Tristan Thompson for coming over his back in an attempt to secure a rebound that Varejao firmly had. The ball was consequently knocked out of bounds with Philly regaining possession and scoring thereafter. The conversation continued to the bench, where the telecast showed Tristan avoiding eye contact with Andy and appearing to tune him out a bit. As for the officiating, it was exhaustingly bad, culminating when Varejao and Evan Turner wrestled underneath the bucket with Andy trying to shoot the ball. A jump ball was called, and Varejao was called for a technical due to his demonstrative reaction to the call. Meanwhile, while Andy protested the call, Evan Turner slapped the official's arm on purpose as if to high-five him. What happened to no contact with the officials? The former Buckeye did have 12 points, 10 rebounds, and 7 assists on the night. As for Varejao, he nonchalantly logged another double-double with 10 points and 19 rebounds. "Andy is the edge," said the most popular man in Cleveland on this night. While Pargo led the offensive effort, Varejao helped hold the Sixers to sub-40% shooting for the second straight game (36%). With the exception of a string of second quarter layups, the wine and gold really clamped down, contested every shot, and hit the defensive boards hard, winning the rebounding battle 55-39. The defensive has improved each of the last three games, and it will need to get even better heading out on a tough three-game road trip against Orlando, Miami, and Memphis that begins Friday. As for the bench, it actually showed up tonight. C.J. Miles posted his Cavalier high with 13 points on 5-of-9 shooting. Scott had mentioned that Miles had some good practices this week, and he only asked that Miles take shots going toward the basket or set jumpers to get into a flow. Miles did just that, and it helped the Cavaliers avoid the standard dropoff when Byron goes to the bench. Granted, Scott played just eight guys with Omri Casspi and Tyler Zeller combining for 7 more points from the bench bunch. It did, however, not prevent Scott from going small at the end of the game even with different personnel. With Thaddeus Young playing the 4, Byron sent a lineup of Pargo, Waiters, Miles, Gee, and Varejao out there down the stretch, and it worked out very well. As we all sit down to turkey and the rest tomorrow with our family and friends, we can all agree to be thankful for Jeremy Pargo's unexpected starring role on this night that ended a two-week losing streak. (Photo: Mark Duncan/AP)
Original Story:
http://www.waitingfornextyear.com/201...
THE BACKYARD
BEST OF MAXIM
RELATED ARTICLES
#Pargonanza, #Pargosanity, #Pargomania, or whatever else you want to call it. Jeremy Pargo took over this game and Twitter a la Jeremy Lin or Lester Hudson as the Cavaliers fended off a few late Philadelphia rallies for their third win of the season, 92-83. Pargo scored 28, Dion Waiters had 16, Alonzo Gee added 14 and C.J. Miles poured in 13, as the four combined to shoot 13-for...
CLEVELAND -- If the Cavaliers have to play without Kyrie Irving for a month, well, this is probably the way to go. Defend, hustle your buns off, and get some scoring from unlikely sources. And not just scoring. This was a once-in-a-lifetime show for Jeremy Pargo, who started at point guard in Irvings place. Pargo scored 28 points. He made 11 of 19 shots. He buried some threes from...
Yesterday, we received word that Jeremy Pargo will be the new starter at the point for the Cleveland Cavaliers in the absence of star Kyrie Irving. Today, we're learning more about how exactly Byron Scott plans to manage Irving's lost minutes. Scott said that rookie guard Dion Waiters, who already has averaged 29.2 minutes per night in the first 10 games, will probably receive...
The Cavaliers are faced with a cold reality as they get prepared to take on the Sixers tonight at home after two days off. They're a 2-8 basketball team on a six-game losing streak that just got considerably worse for the foreseeable future. With Kyrie Irving sidelined for the next four weeks, the Cavaliers lose not only their most important offensive player, but their only consistent...
OPENING TIP Without Kyrie Irving, the Cavaliers will have to well, theres no easy answer that to that one. Truth is, without Irving, we have no idea what the Cavs can do. With Irving, they won just two of their first 10 games. Some of that has to do with their brutal schedule, in which the Cavs played just three home games (and even that was a followed by a game the next night...
INDEPENDENCE, Ohio -- Kyrie Irving has a broken finger, but could probably play. Like everyone else in the NBA, he really wants to play. So why dont let the Cavaliers just let him do it? After all, its only a hairline fracture in his left index finger. Thats not even on his shooting hand. Right? "Yeah, but if he gets this thing hit again, then it requires surgery and then...
Cavaliers guard Kyrie Irving is determined to stay positive despite a broken finger that will keep him off the court for a month. Irving broke his left index finger on Saturday against Dallas and he played the next night in Philadelphia before an MRI revealed a crack in the bone. Irving could keep playing with the injury, but he would risk doing more damage and be sidelined even...
CLEVELAND – Point guard Jeremy Pargo turned the ball over so much in the preseason, he almost found himself on the unemployment line. Eleven games into the regular season, however, he found himself in the Cavaliers' starting lineup. Pargo responded with a career-high 28 points in the Cavs' 92-83 victory over the Philadelphia 76ers on Wednesday at Quicken Loans Arena....
Jeremy Pargo, filling in for the injured Kyrie Irving, scored a career-high 28 points and the Cleveland Cavaliers broke a six-game losing streak with a 92-83 win over the Philadelphia 76ers on Wednesday night. The Cavaliers came into the game with a 2-8 record, but stopped the Sixers' three-game winning streak despite not having Irving. The NBA's reigning rookie of the year...
Kyrie Irving produces infinitely more smiles than he shares. It's undeniably a tough number to top, but what the affable and accommodating Irving does on the basketball court makes the jaws of bystanders do unforeseen things. The twisting and turning, bouncing of the basketball before his body bounces off of a would-be defender, all of the sake of an attempts at two additional...
Game time: Friday at 7 p.m. ET TV: FOX Sports Florida However unlikely, Jeremy Pargo is trying to continue softening the blow of a major absence for the Cleveland Cavaliers. The Orlando Magic are just looking for some consistency. Pargo looks to build on the best performance of his career and help the visiting Cavaliers beat the Magic for the first time in 10 tries Friday night...
Cavaliers News

Delivered to your inbox

You'll also receive Yardbarker's daily Top 10, featuring the best sports stories from around the web. Customize your newsletter to get articles on your favorite sports and teams. And the best part? It's free!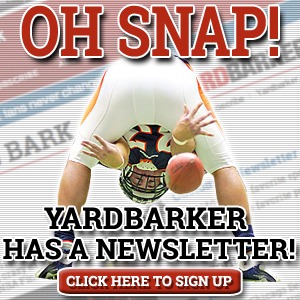 Latest Rumors
Best of Yardbarker

Today's Best Stuff

For Bloggers

Join the Yardbarker Network for more promotion, traffic, and money.

Company Info

Help

What is Yardbarker?

Yardbarker is the largest network of sports blogs and pro athlete blogs on the web. This site is the hub of the Yardbarker Network, where our editors and algorithms curate the best sports content from our network and beyond.