Found March 13, 2012 on NorthWest Sports Beat:
PLAYERS:
Raymond Felton
,
LaMarcus Aldridge
,
Randy Wittman
,
Flip Saunders
,
Jamal Crawford
,
Gerald Green
,
Gerald Wallace
,
Nate McMillan
TEAMS:
Portland Trail Blazers
,
Washington Wizards
,
Brooklyn Nets
,
New Orleans Pelicans
Top Blazers – Last 7 Days
In a season riddled with disappointments, wins have been more of a luxury this year than the standard for the Trailblazers. Now while Bobcats (5-34) and Wizards (9-30) fans scream at their computer and call us privileged,  Portland fans know how much of a disappointing season this has been for a team that was supposed to do so much.
Granted, the Trailblazers sit at 20-21, only 5 games back from the 3rd spot in the West, but the way they have been trending lately, that 8th playoff spot seems like an impossible feat to accomplish.
The Blazers hosted the New Orleans Hornets this past Monday night, in what would be their last home game for two weeks, before embarking on a grueling seven game road trip.
Once the week was finished, Portland had played four games, three of which on the road, and ended the week at 2-2 (a microcosm of their season).
With four games to comb over and find the best performances, you'd think I'd have a decent sample size, right? Well, it was a little harder than that.
Any time Raymond Felton makes the list, you know it's been a bit of an off week for Portland. Anyway, here are the three best performances by a Trail Blazer this past week.
First Star: LaMarcus Aldridge (3/10: W @ Washington)
Entering Saturday's match-up against the Wizards, Portland was coming off of two horrible road losses at the hands of Minnesota and Boston. With Washington getting the best of Portland at home nearly a month earlier, the thought of Washington getting their tenth win of the season wasn't that far-fetched.
However, LaMarcus Aldridge played like Washington owed him money, and no matter who coach Randy Wittman threw at him, Aldridge always seemed to have the upper hand.
Quick side-note: Five dollars to whoever knew Wittman was the coach of Washington by the way, or how about just a nice slow clap, because I certainly expected to see Flip Saunders' name on the roster when I looked it up.
Anyway, I digress.
Aldridge put up 30 points, on 12-15 from the floor and a perfect 6-6 from the free throw line, while grabbing 10 boards, dishing three assists, blocking two shots and recording one steal. What's even more impressive is that LaMarcus finished the game with zero turnovers while playing 40 minutes.
This performance proved that he would have been the difference maker had he not gone down in the first quarter of the Valentine's Day game Portland dropped to the Wizards.
Second Star: Raymond Felton (3/7: L @ Minnesota)
He's alive!
Raymond Felton gets a bit of special recognition this week for not only making this list for the first time (only the 3rd time I've done this so he gets a bit of a pass), but also because contrary to what most Blazer fans think, Felton can actually play a little basketball here and there.
During his 34 minutes on the court, Felton recorded 23 points, on 11-18 shooting, 9 assists and 4 rebounds. Yes, he still only went 1-4 from beyond the arc, but this is the kind of performance Portland thought they'd be getting out of Felton on a nightly basis.
Felton gets a bit of special recognition this week from Rick!
Arguably Felton's best game as a Blazer, it did, however, come in a loss to the Timberwolves.
So Felton plays well, and Portland still loses, is he still this season's scapegoat? Probably.
Until we see him string together two, maybe three, outings like this in a row, can the blame for lackluster play be aimed elsewhere. Until then, Felton's name will always come up when anybody brings up the trade deadline, and Portland, in the same sentence.
Third Star: Jamal Crawford (3/10: W @ Washington)
Is this the last week I'll be writing about Jamal Crawford as a Blazer? I certainly hope not, but with the rumors I've seen circulating cyberspace, the answer to that question is creeping towards yes.
Crawford has been one of Portland's bright spots, and continues to be as the season wears on. Ya he may not put up 26 a night, but Portland brought him in to provide a spark off the bench, and to show a bit of the Jamal Crawford that one the 6th Man of the Year award.
You don't have to go far to see the guy loves being in Portland, and has embraced the city and it's fans, just check out his twitter page.
This past Saturday, in a redemption win over Washington, Crawford tallied 23 points, on 7-13 from the field, 3-6 from beyond the three point line and a perfect 6-6 from the free throw line.
He also added five assists in the game, and is seemingly doing all he can to remain a Trail Blazer.
Dunk of the Week: Nic Batum (Portland vs. New Orleans)
This week's best dunk comes, yet again, from the Frenchman, Nic Batum. In the game against the Hornets this past Monday, Batum skies for a put back jam after a Wesley Matthews missed three. Enjoy.
Dunk of the Week (Part 2): Gerald Green (New Jersey vs. Houston)
I had to put this dunk in here this week, it's just too ridiculous to miss out on. Gerald Green with what is arguably the dunk of the year.
Videos Courtesy of: The Blazers Videos YouTube channel.
CLICK HERE CHECK OUT THE BLAZERS BLOG IN OUR CLUBHOUSE TODAY AT NWSB!
© Rick Stella for North West Sports Beat, 2012. | Permalink | No comment |
Follow NWSB on Twitter or join US on Facebook for real-time updates OR... | Share This on Twitter | Share NWSportsBeat.com on Facebook
Post tags:
Dunk Of The Week
,
Gerald Wallace
,
Headlines
,
LaMarcus Aldridge
,
Nate McMillan
,
News
,
Players Of The Week
,
Portland NBA Blog
,
Portland Trail Blazers
,
Raymond Felton
,
Three All Stars
,
trail blazers blog
,
Trail Blazers HD
,
Trail Blazers highlights
,
Trail Blazers Three Stars
,
Trail Blazers Video
,
Videos
Original Story:
http://www.nwsportsbeat.com/trailblaz...
THE BACKYARD
BEST OF MAXIM
RELATED ARTICLES
HIP CHECK
Marcus Camby was slightly frustrated after watching Raymond Felton commit yet another turnover.  In great tackling form he took out his frustrations on poor Landry Fields.  Being down by 30 points early in the third probably didn't make matters any better. Click here to view the embedded video. via @blazersedge Article found on: Cosby Sweaters
Dear Hubie Brown, As a professional announcer, longtime contributor, and close observer of the game of basketball, I'm fairly certain you're aware of the struggles of our Portland Trail Blazers this season. In the event that you haven't paid as close of attention, allow me to re-cap: after a 7-2 start that featured energetic and cohesive play, the Blazers have stumbled their...
A SportsCenter highlight made Portland Trail Blazers forward Luke Babbitt look like a baby. A WTF tag would be too easy on the wwl for this stupidity, no? Every time you check your email, think --... Full story at Bob's Blitz ~ http://www.bobsblitz.com
Another Dreadful Performance It has become almost commonplace of late, but the Portland TrailBlazers put up another dreadful performance last night. The Indiana Pacers led by as many as 30 points in the fourth quarter before clearing the bench and letting the Blazers cut the final margin to 17. BOXSCORE | RECAP Indiana 92, Portland Trailblazers 75 When: 7:00 PM ET, Tuesday, March...
NBA Matchup Insight The Trail Blazers are coming off a rare road win, but it was against the weak Wizards' team and things do not get any easier on this road trip, as after the Pacers they face the Knicks, Bulls, and Thunder. While the Pacers have been a surprise this season and sit in the 5th spot in the East they have lost 4 in a row. CLICK HERE TO CHECK OUT THE BLAZERS BLOG...
Jason Jones of the Sacramento Bee reports that the Sacramento Kings are interested in Portland Trail Blazers forward Nicolas Batum.
UCAM Murcia is reportedly interested in signing free agent guard Patty Mills.
NBA Matchup Insight Something has got to give in this game, as the Blazers have stunk it up on the road all season while the Knicks are reeling losers of 6 straight games. With the Knicks losing eight of the last 10 games, coinciding with the return of  Carmelo Anthony, and the unhappiness from players coach Mike D'Antoni  resigned Wednesday. CLICK HERE TO CHECK OUT THE BLAZERS...
Jamal Crawford's preference ahead of the deadline is a trade to the Magic.
The Lakers, Wolves and Blazers are close to a trade involving Michael Beasley, Jamal Crawford and Steve Blake.
Jamal Crawford is on the trade block and a source says he could be dealt to the Bobcats for D.J. Augustin.
The Blazers are looking to rebuild around LaMarcus Aldridge and Nicolas Batum.
NBA News

Delivered to your inbox

You'll also receive Yardbarker's daily Top 10, featuring the best sports stories from around the web. Customize your newsletter to get articles on your favorite sports and teams. And the best part? It's free!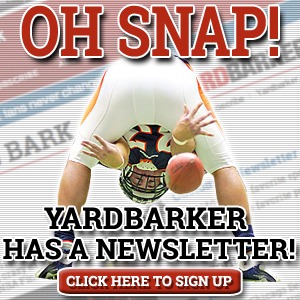 Latest Rumors
Best of Yardbarker

Today's Best Stuff

For Bloggers

Join the Yardbarker Network for more promotion, traffic, and money.

Company Info

Help

What is Yardbarker?

Yardbarker is the largest network of sports blogs and pro athlete blogs on the web. This site is the hub of the Yardbarker Network, where our editors and algorithms curate the best sports content from our network and beyond.