Found January 26, 2013 on BlackSportsOnline:
Kyrie Irving in his second season has amassed high critical acclaim. Rookie of the year award, MVP in the rookie vs sophomore game, and now his first all star appearance. Irving is a special talent no doubt, if he can avoid the injury bug, his ceiling is as high as any young star with potential. However, what does this mean for the Cavs and their rebuilding strategy. The Cavs are one of the youngest teams in the league. Two second year players and a rookie comprise 60% of their starting lineup. Their bench consists of very few players that could crack an 8 man rotation on another NBA team and their roster as a whole lacks the presence of veterans needed to be successful. So what is the Cavaliers plan? How long is losing to be accepted? When is the time to make a move towards being just average? These are questions only Cavs top men can answer, nonetheless, the reality of the situation is, whatever it is that you want to see from the Cavs, right now they're a bad team with a lot of young players shouldering the burden. Growing pains are to be expected, but is it fair to ask fans to sit through a third season of 30 or less wins? The Cavs were thrown into a rebuilding situation when the best player in their history left without warning, and watching the way they're building now, growing sentiment is they're placing all their eggs in the basketball of one player again and run the risk of staying in this whirlwind of mediocrity for years to come. In their defense, there is no 'quick' way to build an NBA team. While you can have a no tolerance policy when it comes to them and winning, with most situations there's a gray area and the Cavs are living on its property with a mansion and a butler. Their draft picks are unable to be judged at this point because Tristan Thompson has played just barely 100 games and the other two rookies, Tyler Zeller and Dion Waiters, have no veteran at their position to teach them some of the tricks of the trade. Two of those three players are big men (Thompson and Zeller), and big men usually take 3 years to develop and become what they will for their career. The other is a guard (Waiters) who is a streaky scorer who will run hot in cold, and with time you can only hope he becomes more consistent. The mantra of patience, while tiresome on the ears of fans, is something that is needed when it comes to those three players. No concrete decision can be made on them just because there simply isn't enough tape on them to determine that they will be productive or bust. Where the Cavs can improve is in their activity in free agency. CJ Miles type of players isn't going to get it done. While the pickings are quite slim, they have to find a way to get a guy to come to Cleveland that can be of impact. Perhaps they're waiting for the right moment and player. Plausible, but where is the calculated risk move, when do you do something that is risque for the sake of trying to speed up the process by adding some talent to a team that is severely malnourished. Kyrie Irving making the all star team shows that he can shine even though the pieces around him aren't the greatest. However, if they hope to keep him, and make this team an attractive one, they're going to have to make some additions that show you're doing all you can to win. Because from the outside looking in, the view is 'we're going to wait for lightening to strike'.
Original Story:
http://feedproxy.google.com/~r/blacks...
THE BACKYARD
BEST OF MAXIM
RELATED ARTICLES
When we last got together, I was pretty hard on Tyler Zeller for his poor defensive rebounding. This week, given the performance and news last night, it's a must to further break down All-Star point guard Kyrie Irving's second 40-point performance of the season. Kyrie scored 40 while taking just 24 shots as he willed the young Cavaliers to victory over the veteran Celtics, a...
Kyrie Irving hits his 5th career game-winner to give the Cavaliers a 99-98 win over the Raptors Saturday night:
Kyrie Irving received something on Thursday night that he thought he'd never get in his life. No, it wasn't his selection as an All-Star reserve for the Eastern Conference, an inevitable stepping-stone for the reigning NBA Rookie of the Year 1 . Nor was it the designation as Pro Athlete of the Year at the 2012 Greater Cleveland Sports Awards, the first for a Cavalier since LeBron...
CLEVELAND (AP) -- Kyrie Irving scored 35 points and the Cleveland Cavaliers rallied from a 20-point deficit in the third quarter to defeat the Milwaukee Bucks 113-108 on Friday night. Irving, voted an Eastern Conference reserve for next month's All-Star Game in Houston on Thursday, scored 16 points in the third quarter to help Cleveland get back in the game. He added eight points...
The Rajon Rondo ACL injury was a major disappointment on Sunday.  The NBA—especially its postseason—is a markedly better product with Rondo involved. When healthy, his unique skill-set has the ability to change the outcome of not only playoff games but also an entire series on a moment's notice. Something we are certainly well aware of as Cavaliers' fans. ...
I was old enough to remember how rare it actually is to employ an NBA All-Star in Cleveland. Otherwise, maybe he would've been right. Maybe I would have been spoiled by the last great All-Star to wear Cleveland across his chest. I appreciated his brilliance then, though, just as much as I appreciate Kyrie Irving's now. Irving's inclusion on the 2013 All-Star team...
The Milwaukee Bucks just gave their general manager a three-year extension, they're 6-2 under an interim coach and they're about to face a team they have mostly beaten of late. If Kyrie Irving plays near the level he did his last time out, though, the Cleveland Cavaliers can hardly be overlooked. The Bucks look to match their longest winning streak of the season at four...
TORONTO -- Kyrie Irving scored 32 points, including the winning 3-pointer in the final second, as the Cleveland Cavaliers came back to defeat the Toronto Raptors 99-98 Saturday before a crowd of 18,820 at Air Canada Centre. The Cavaliers, who trailed by as many as 11 points in the game, got 17 points off the bench by Marreese Speights and 14 points from Toronto native Tristan...
Jennings had the best chance of breaking the streak, but the fourth-year point guard won't be making his first All-Star appearance. The 23-year-old is averaging 18.7 points, 3.5 rebounds, a career-best 5.8 assists and career-best 2.0 steals per game. Instead, Eastern Conference coaches chose Philadelphia point guard Jrue Holiday and Cleveland point guard Kyrie Irving as the reserve...
    In the post decision era Cavs fans have had to endure a lot of terrible weeks.  Weeks where key players sustain injuries, losses mount, and the growing pains of rebuilding an entire franchise takes its toll.  I could go out on a limb and say this past week was the best in our new "Post-Decision" era and hopefully is the sign of many more to come.   We...
Cavaliers 99, Raptors 98 ***It wasn't looking good for the Cavs with less than 50 seconds to go.  Kyrie Irving had turned the ball over, missed a layup, and displayed his frustration by putting his hands on his knees and watching as Dion Waiters bricked a long jumper.  Meanwhile, the Raptors exploited a defensive breakdown to take a two-point lead on an Amir Johnson dunk.  Following...
Cavaliers News

Delivered to your inbox

You'll also receive Yardbarker's daily Top 10, featuring the best sports stories from around the web. Customize your newsletter to get articles on your favorite sports and teams. And the best part? It's free!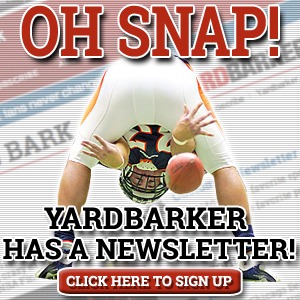 Latest Rumors
Best of Yardbarker

Today's Best Stuff

For Bloggers

Join the Yardbarker Network for more promotion, traffic, and money.

Company Info

Help

What is Yardbarker?

Yardbarker is the largest network of sports blogs and pro athlete blogs on the web. This site is the hub of the Yardbarker Network, where our editors and algorithms curate the best sports content from our network and beyond.