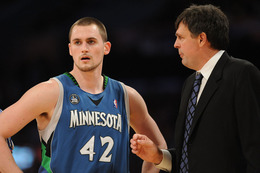 MINNEAPOLIS December is a hot word around the Timberwolves locker room.It's a pretty empty place right now, in the bowels of the Target Center, with six Minnesota players currently injured. But the mere mention of December is enough to spark some hope. For months, we've known it as a vague target for Ricky Rubio's return, but now, it's about Kevin Love, too.The All-Star power forward broke his right hand on Oct. 17, and now, exactly four weeks later, he's talking return dates and doctor's appointments. He's sticking with early December as his target he won't be any more specific than that which falls within the six- to eight-week recovery initially prescribed. That window goes from Nov. 28 to Dec. 12 and corresponds to him missing between 13 and 18 games.Love also said Wednesday that he'll get some feedback next week from his doctor in New York. Love will have an X-ray taken and sent to New York on Tuesday, and afterward, he hopes to get clearance to begin first strengthening the hand and then working on flexibility. The last step will be to begin dribbling and other basketball activities.Love has been doing extensive conditioning since his injury, and he's been present with the team on the road, on the bench and at practices and shootarounds. He has gone without his cast at times, and he's switched from a larger one that encased part of his arm to a smaller, black glove-like cast.With about three or four weeks remaining in his rehab process, Love appears remarkably upbeat. It's far easier, of course, to watch a team that's improbably winning than one devastated by his injury, so that helps, but you know he's itching to get back as soon as possible, probably in better shape than he would have been had he begun the season on time and exhausted after a busy summer.Follow Joan Niesen on Twitter.
Read the rest of this story...
MORE FROM YARDBARKER
Timberwolves News

Delivered to your inbox

You'll also receive Yardbarker's daily Top 10, featuring the best sports stories from around the web. Customize your newsletter to get articles on your favorite sports and teams. And the best part? It's free!