Found September 23, 2012 on Fox Sports Southwest:
ARLINGTON, Texas Before Sunday, the last time Cowboys cornerback Brandon Carr played safety was in 2002. That was for Carman-Ainsworth High School in Carr's hometown of Flint, Michigan. Even then, Carr's tenure at safety was brief. "Probably about 10 snaps," Carr said. "In life." Yet there was Carr starting at free safety in an NFL game. He played much of the game against Tampa Bay at safety while Mike Jenkins took most of his snaps at corner. And that was just fine with Carr because the final score was Dallas 16, Tampa Bay 10. "I can see myself doing whatever it takes, as long as at the end of the game we've got the most points," Carr said. "Whatever position they try to put me at or whatever my role is, it's fine with me as long as we've got the best 11 players on the field and as long as we're winning football games." The "whatever it takes" attitude was infectious on a Dallas defense that was run over by Seattle in last week's 27-7 loss. When the Cowboys' offense continued to sputter and spit up the football against the Buccaneers, this time the defense responded. Tampa Bay produced just 166 yards of offense and couldn't take full advantage of three turnovers provided by the Dallas offense. "The defense bailed us out," Cowboys owner Jerry Jones said. "Our defense was just outstanding all day and arguably won the game for us." The defense didn't save the day every time. The Cowboys' first possession ended in an interception at their own 29. Tampa Bay eventually found the end zone in six plays, but that merely stoked the fire in the Cowboys' defense that had been smoldering since Seattle. "We were disappointed early on that we weren't able to stop them on that first drive after the sudden change," linebacker Sean Lee said. "So we took it personally on the sidelines and said hey, we're going to stop them the next time they have a shot." Lee really took it personally. He came up with an interception on Tampa Bay's next drive. When Cowboys quarterback Tony Romo, under siege most of the day, coughed up the ball twice in the third quarter, the Dallas defense was a stone wall. The first fumble came at the Tampa Bay 19 and resulted in a punt. The next fumble was more treacherous at the Dallas 31, but again the defense pushed back and the Bucs were forced to punt from the 41. "We were put into some tough situations and we were able to overcome it," Carr said. "Last week we were pretty much sick. I mean, the whole locker room, everybody was disappointed in our performance. Today was all about starting fast and playing the whole 60 minutes, keeping the pedal down as a defense." Starting Carr at safety was a big key to keeping the Bucs' passing game in check. The Cowboys gave Carr a lot of money in free agency in the offseason to shore up the problems at corner, but injury problems at safety created an even more pressing need Sunday. During the week, it was speculated that Jenkins, relegated to a third cornerback role with the addition of Carr and first round pick Morris Claiborne, might see some snaps at safety. Jenkins played just eight snaps the previous week since coming back from a shoulder injury that caused him to sit out offseason drills and training camp. With Carr playing center field and Jenkins lined up on the dangerous Vincent Jackson most of the game, the Bucs managed just 91 yards on 10-of-28 passing by Freeman. Jackson finished with one catch for 29 yards. "The secondary was unbelievable today, guys moving around, being able to play, you know guys like Brandon Carr moving to safety," Lee said. "Guys like Mike Jenkins who haven't played a lot. He didn't play in camp and came in and played unbelievable for us." Defensive coordinator Rob Ryan cooked up the scheme of playing Carr at safety and was pleased with the results. "He did a great job," Ryan said. "He did what he was supposed to do. He's such a talented guy, you can put him anywhere." Carr said he wouldn't mind seeing more time at safety, even though that would mean more work for him in practice. "That's fine. I like to work," Carr said. "They pay me enough to work." Follow Keith Whitmire on Twitter: @Keith_Whitmire
Original Story:
http://www.foxsportssouthwest.com/09/...
THE BACKYARD
BEST OF MAXIM
RELATED ARTICLES
ARLINGTON, Texas As the Sunday sun was setting on Cowboys Stadium, two old Dallas quarterbacks compared notes on the deeper meaning of the home team's 16-10 win over Tampa Bay, a victory that moves Dallas to 2-1 but also keeps the club perilously close to being "just another .500 team.'' "Over the years, we've score a lot of points in games and done it with...
ARLINGTON The Cowboys offensive line didn't do Tony Romo many favors in Sunday's home opener. Romo was sacked four times and hit hard after several throws. After the game, Romo said the 16-10 win over the Tampa Bay Buccaneers was one of the "most physically tough" games he's played in. He then joked that he'd probably be using some ice packs tonight....
NFL wins are not Maxim girls, meaning appearances do not matter quite as much when judging them. The virtues of the ugly ones are praised sometimes more so than the pretty ones, given attributes like determination and pluck when, in actuality, luck may be more apropos. So it was Sunday at JerryWorld. The aftermath of the Dallas Cowboys' 16-10 victory against Tampa Bay was filled...
As they were last week, the Cowboys will be without the middle of their offensive line and defensive line once again this week as center Phil Costa will miss with back problems and nose tackle Jay Ratliff will miss with an ankle problem. Costa left during their week 1 game against the Giants, while Ratliff has yet to play a snap this season after injuring himself in the preseason...
The Cowboys made a stir earlier this year when they announced that wide receiver Dez Bryant would be playing under a different set of team rules this season. Bryant had a curfew set up and his off-field entertainment choices curtailed by the team, which has been trying to find a way to keep Bryant from inhibiting himself in his free time so he can go back to being a downfield threat...
Dallas Cowboys wide receiver Kevin Ogletree was tripped up in the end zone during today's game against the Tampa Bay Buccaneers by an odd object. That object: a referee's hat. (GIF courtesy of Big Lead Sports) Yes, a replacement referee's hat thrown right into Ogletree's route slipped him up. Luckily for the Cowboys, Ogletree got right up and was unharmed, but...
Poor Tony Romo, not only did he get destroyed on this sack by the Tampa Bay Buccaneers Gerald McCoy but he didn't even get a penalty for a helmet-to-helmet hit from the replacement officials:
The Tampa Bay Buccaneers showed that their defense means business, even if the other team is in their victory formation.During the Buccaneers game against the Dallas Cowboys Sunday afternoon, the Bucs defense once again tried to blitz during the Cowboys victory formation stance.With only a few seconds left on the clock and with the Cowboys with the 16-10 lead, Buccaneers head coach...
The replacement refs have been under incredible scrutiny for their performance in the first few games of this NFL season, and this latest incident won't help anything. Kevin Ogletree of the Dallas Cowboys slipped during a play on a replacement refs cap, which was thrown in order to mark the fact that a WR has gone out of bounds. Just when you think it can't get worse… via...
I drafted me for my fantasy team Juan… After lighting up the Giants in week one, Romo has looked abysmal in his last 2 outings.  Playing at home vs the Bucs D that Eli Manning turned into Swiss cheese last week, has me thinking Romo is ready to go for 300/3 and get back on track.  Not so much. In his last 2 games Romo has failed to throw for 300 yards, has only 1 TD, and has...
ARLINGTON, Texas -- Tony Romo was satisfied even after being sacked four times and turning the ball over three times in the Dallas Cowboys' home opener.
The Bucs confirmed today what was feared and speculated after yesterday's loss to the Cowboys. Defensive end Adrian Clayborn will be out for the remainder of the season after tearing ligaments in his right knee after his leg got caught between an offensive lineman and a Tony Romo sack. Though not specified, Clayborn may have injured multiple ligaments on Sunday. Multiple reports...
NFL News

Delivered to your inbox

You'll also receive Yardbarker's daily Top 10, featuring the best sports stories from around the web. Customize your newsletter to get articles on your favorite sports and teams. And the best part? It's free!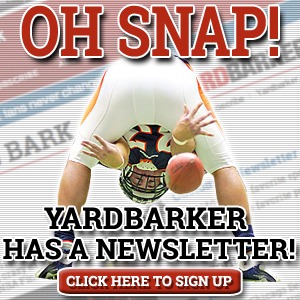 Latest Rumors
The Backyard

Today's Best Stuff

For Bloggers

Join the Yardbarker Network for more promotion, traffic, and money.

Company Info

Help

What is Yardbarker?

Yardbarker is the largest network of sports blogs and pro athlete blogs on the web. This site is the hub of the Yardbarker Network, where our editors and algorithms curate the best sports content from our network and beyond.