Found April 03, 2013 on The Sports Headquarters:
The trade is completed; and Carson Palmer and the Arizona Cardinals seem to both be happy with the match. While I am not keen on the idea of Palmer in Cardinal red, the price was cheap, the risk is low, and the reward is… well to be determined. What Carson Palmer brings to Arizona is a guy who is comfortable dropping back deep in the pocket, hitting his last step in the drop and getting the ball out. He can play with trash around his feet, but he isn't a guy that is going to make people miss in or out of the pocket, so getting through his reads quickly and getting the ball out is imperative for him to have any success. The Good Vertical Fit- We all know that Bruce Arians wants to get the ball down the field in a vertical passing game, well Carson Palmer is a guy that can do that in spades. Palmer is comfortable attacking down field in the vertical game and showed the ability to still spot the ball well even when attacking deep. The stats aren't very telling in 2012, as the Raiders were implementing a new offense that didn't necessarily play towards the strength of Palmer, the Raiders brought in noted West Coast aficionado Greg Knapp to run the offense, going away from the high octane Al Saunders attack. In only ten 2011 games Palmer put up some insane numbers: 2753 yards  13 TDs 16 INTs and completed 60.7% . I know, those numbers don't look spectacular, but remember that Palmer was AWFUL in his first two games in Oakland, if you take those games out his numbers become: 2305 yards 10 TDs 10 INTs while completing 63% of his passes. That's not bad considering Palmer was playing with a new team and coming into a tough situation having not taken a snap yet in the season. The reason those 2011 numbers are so important is because that offense is similar in style to what the Cardinals will be running in 2013. The Raiders finished ninth in total yards per game, and despite only playing in ten games, Palmer accounted for nearly 70% of the passing yards the Raiders had that season. Going Deep- Arians has talked about attacking deep, leaving no tricks in the bag, and being able to go for the home run from any spot on the field, well Palmer can do that. In 2011, in only those ten games, Palmer went deep, 20 yards or more through the air, 50 times.  The Cardinals as a team in 2012 went deep 58 times. Of those 50 deep attempts Palmer completed 20, for 7 TDs, meanwhile in 2012 the Cardinals as a team completed 11 for 3 TDs. Arians will have this team looking to get the ball deep, and making plays downfield, the only question I have is who is going to be catching those passes, but that's for another day. The Bad Arm isn't what it used to be- When Palmer came into the league he was one of the guys who had an elite arm, someone who could "make all the throws" and was able to put the ball in spots few other quarterbacks could. Well he's played for nine seasons, and had numerous bumps and bruises that have sapped some of that arm strength from him. I said it yesterday on Twitter, but the reality is many of the interceptions that Palmer threw over the last two seasons, 30 for those not counting, are not a result of errant throws like Cardinals fans are used too, not they are because Palmer still plays like has that elite arm. Palmer tries to fit too many balls into tight windows, resulting in an opportunity for the opponent to make a play on the ball. Palmer, much like Kurt Warner, is about timing and reads, and he'll throw the ball to where a receiver is supposed to be, not where they are. Well, that can get him in trouble at times now because that extra zip he had on the ball isn't there consistently anymore. In Palmer's defense, the wide receivers in Oakland were none too enthusiastic about coming back to and fighting for the ball.  They were more comfortable looking to run under the ball, or wait for the ball to get to them so they could turn and run after the catch. Overall- There is a lot too be excited about as a Cardinals fan when it comes to Palmer. No, Palmer isn't the elite thrower that he was in 2005 and 2006 when he was going to Pro Bowls and taking the Bengals to the playoffs, but he isn't nearly as bad as he is being made out to be on the internet. Palmer can come in and take the Cardinals offense to another level, even with the offensive line as assembled. Palmer is a quarterback that gets the ball out quickly, in 2011 his time to attempt average, as calculated by the guys over at ProFootballFocus.com, was 2.47seconds, compared to Kevin Kolb at 2.76 seconds and John Skelton at 2.7 seconds. Palmer above the shoulders is still a special quarterback, and maybe a change of scenery and playing with a group of strong, big bodied wide receivers, back in a vertical attacking offense will play to his physical strengths again as a passer. The reality is that the Cardinals can't go anywhere but up from a positional standpoint at quarterback, despite the steady play of Kolb in 2012 he can't be trusted to stay healthy, and Palmer is the perfect bridge to the future… Now about that future.
Original Story:
http://feedproxy.google.com/~r/TheSpo...
THE BACKYARD
BEST OF MAXIM
RELATED ARTICLES
The Arizona Cardinals and head coach Bruce Arians got their man, and for next to nothing.  NFL.com's Ian Rapoport is reporting that the Raiders traded Carson Palmer to Arizona for a late round pick. Palmer will take a slight pay cut from the $13 million he was due, but will still make over $20 million the next two seasons. Pundits may shun the move, but Larry Fitzgerald finally...
With the announcement of the trade to Seattle for QB Matt Flynn this comes as really no surprise. Oakland announced on Tuesday that they have traded QB Carson Palmer to the Arizona Cardinals. The deal includes switching 2013 draft picks … Continue reading → This has been read 1 times
Earlier this offseason the Cardinals released Kevin Kolb and were looking to find a quarterback with some veteran leadership. Earlier today the Cardinals found their man in Carson Palmer. Arizona gets Palmer and the Oakland Raiders get some draft picks for this year and 2014. Sources are saying that Palmer's contract is for two years and is worth $16 million. The contract does...
Reggie McKenzie was been a busy man on Monday. The Raiders GM pulled the trigger on a previously speculated Matt Flynn trade with Seattle, surrendering just a 2014 fifth-round pick and a 2015 condition pick. Reports, led by Yahoo's Mike Silver, also say the Raiders are close to sending Carson Palmer to the Cardinals for a late-round choice in this year's draft. That deal is...
How bad were the Arizona Cardinals last season? Larry Fitzgerald, the Cardinals star wide receiver called it the worst season of his career. What spurned this confession, the introduction of Carson Palmer as his new quarterback. Palmer will be Fitzgerald's eight QB since Kurt Warner left in 2009.   .@larryfitzgerald on Carson Palmer: "I'm coming off the most disappointing...
In episode 8 of the Raiders Blog Podcast, Christopher Hansen (@ChrisHansenNFL) and Taylor Armosino (@tarmosino) discuss all impacts of the Matt Flynn/Carson Palmer saga and the signing of Tracy Porter. or other podcast clients: http://raidersblog.com/feed/podcast
Carson Palmer is just one of the quarterbacks on this year's Bad QB Carousel (csnbayarea.com) Have you ever seen that episode of "The Simpsons" where Bart gets placed in the remedial class? There's a very funny scene in which they play musical chairs, but there are far more seats available than players. In essence, every round the same people stayed in the game while...
NFL News

Delivered to your inbox

You'll also receive Yardbarker's daily Top 10, featuring the best sports stories from around the web. Customize your newsletter to get articles on your favorite sports and teams. And the best part? It's free!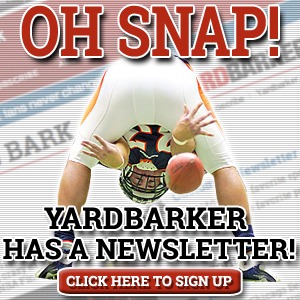 Latest Rumors
Best of Yardbarker

Today's Best Stuff

For Bloggers

Join the Yardbarker Network for more promotion, traffic, and money.

Company Info

Help

What is Yardbarker?

Yardbarker is the largest network of sports blogs and pro athlete blogs on the web. This site is the hub of the Yardbarker Network, where our editors and algorithms curate the best sports content from our network and beyond.