Found October 10, 2012 on Fox Sports Southwest:
PLAYERS:
DeMarco Murray
,
Tony Romo
,
Nate Livings
,
Ryan Cook
,
Stephen Paea
,
Lawrence Vickers
,
Julius Peppers
,
Nick Roach
,
Tyron Smith
,
Jason Witten
,
Miles Austin
TEAMS:
Dallas Cowboys
,
Chicago Bears
Until further notice, the Cowboys main concern for their offense is to solve their issue in running the ball out of base-offense situations. That means, with a QB under center, can they run the ball on 1st and 10 and 2nd and 5-9 to a point where they are not "falling behind the chains" as the coach likes to say.
It is vital to figure this issue out, and since so many of you seemed to enjoy the Tampa Bay report for the running plays that were destroyed, I thought I would continue to try to identify what is going wrong.
The Cowboys feel like they have an elite RB, and frankly, I agree with them based on what we saw in 2011 and even opening night of 2012. However, DeMarco Murray is not having any success in these last 3 weeks, and finally the inevitable is starting to happen - it is affecting his performance in that he is not the same confident running back who knew where to run and how quickly to make his decisions. In other words, he is now becoming part of the problem on some plays.
Offensive line coach Bill Callahan has stated repeatedly that he is looking to eliminate the "TFL's" or the tackles for loss. They are willing to live with anything that gains even a little. They just have to stop having running plays that result in 0 yards or less. Those are not only drive-killers, but now, because of the high volume of such plays, they are morale-killers. From Murray to Tony Romo to the offensive line, you can tell frustration is beginning to boil over. Negative runs are absolutely zapping this team of any momentum and good vibes.
This situation must be sorted immediately, and their next test in Baltimore is where they want it to start.
Last week, we looked at 7 runs against Tampa and attempted to review each of them and find out who "busted" on the play to see if we can see trends or players who are dragging down the group. The larger our sample size grows, the more we will be able to see who is not part of the solution.
Sadly, we have 6 more runs to digest one week later - after Dallas had talked the talk all week before playing the Bears, they were unable to do any better on game day. Because of the 5 interceptions, this isn't getting a whole lot of coverage, but let's look at these anyway.
I have heard all sorts of theories of what they might try next. I have heard that they are possibly considering eliminating most, if not all, fullback groupings as the Larwence Vickers era is not going that well. I have heard they might consider just not running the ball at all, and the idea of staying in a shotgun offense at all times. But, that causes even more issues, including the elimination of your fine, young runner, Murray.
The truth is that if they wish to salvage 2012, they need to run well. Let's take a look at the 6 TFL's from last Monday night.
RUN 1
This first run is likely the ugliest of them all, so at least they got it out of the way on their 4th play from scrimmage. This follows up 2 runs for 14 yards to start the game, so this is right when they are starting to wonder if they have things a bit more figured out this week.
The play is all based on a combo block on the inside tackle that shades over the center. The combo block will be Nate Livings and Ryan Cook on big 92-Stephen Paea. Then from there, Cook is supposed to get the MLB 54-Urlacher, while the FB is needing to find the WLB, 55-Briggs. This assumes that the RG Bernadeau is on the 3-technique 91-Okoye, and the RT Free has 71-Idonije.
This all goes to Hades in a hand-basket as the Bears are running an inside slant to their right. As you can see in the picture above, Idonije and Okoye are lined up to the outside shoulder of the tackle and guard, but at the snap they head to the inside shoulder gap.
This causes all manner of chaos, and both Bernadeau and Free lose their blocks horribly. In fact, as you see below, Murray doesn't even have the ball from Romo and both 91 and 71 have completely lost their blocks are are home free. The FB Vickers is supposed to be finding 55-Briggs, but he quickly sees that he has more pressing matters as two giant defensive lineman are getting ready to ruin his moment.
To their credit, both Bernadeau and Free recovered to push both of their men past the ball path of the ball and kept Murray from being crushed initially. However, Vickers finding Briggs doesn't happen either as the path of Free and Bernadeau with their men easily throw Vickers off his path.
Also, please look above at the double team block we discussed at the start of this. It is Cook and Livings on 92-Paea. The play is for Cook to get the block and then to release to go get a piece of 54-Urlacher. Occasionally, depending on leverage, Livings would be the guy to release, but this time it is surely Cook. However, you see that Paea is not letting Cook release by extending his left arm and possibly even holding Cook. That is what any double-teamed lineman wants to do; to occupy both players and let his linebacker run free. If Cook doesn't get Urlacher, nobody will.
So, below, if Vickers is supposed to get to Briggs and Cook is supposed to get to Urlacher, it is easy to identify that neither of those assignments were kept, and Murray is cooked for a 3-yard loss.
BUSTS: On Run 1, you could identify as many as 4 of the blockers. Free and Bernadeau losing so quickly did not doom the play, but it certainly didn't help. Vickers missed his guy and Cook never came close to Urlacher. If you wish to look at plays where nobody won, thus giving Murray no chance, this is a good example of that.
===
RUN 2
Now, 4 plays later, the Cowboys go back to a similar play. Although, despite the formation looking like Run 1, this play is designed to be a stretch play to the right (side opposite the double tight-ends).
This looks to be a good example of your running back losing faith in your blockers. When this happens, he doesn't trust or run what's blocked, but rather he is looking for an early cut-back lane that is just not there.
Check below, as you imagine his path wide to the right. Vickers, his fullback, is right in front of him with nobody to block, where Witten (who came over in motion) as well as Free have done their job. Bernadeau, again, is less than impressive and you can see that Murray is getting a bit spooked by 69-Melton who is getting some penetration. But, because this is a stretch run, they are looking to simply out-number the Bears to the flank and then the rest is on Murray.
I have looked at this play several times and I am convinced if Murray goes for the Corner, he gets there and perhaps has a big gain.
Here, below, is the view from the end zone camera, and you can see Urlacher waiting on Murray to cut back. He does, and Urlacher welcomes him into his outstretched arms for a 1-yard loss.
Beyond, Urlacher sitting in the cutback lane, it honestly seems like everyone is accounted for if he just stays on the path.
BUSTS: Everyone certainly acknowledges that the cutback is a huge part of the zone blocking offense. But, there are rare occasions where the initial path of the blocks open up an alley to the flank and no cut-back is needed. I put this on Murray, while understanding what is going on in his head, he still has to try to forget all of the blocking problems and keep running the play that he is asked to run. If he goes off on his own very often, this thing is really in trouble.
===
RUN 3
2nd drive, 2nd snap. It is the old, FB lead, runpass option that we see multiple times every week.
Let's review responsibilities again for the FB and the Center. The DT that shades the center must be doubled by Cook and Livings, and then Cook must get to Urlacher. Just like in Run 1, this is the only way this play can work or Urlacher is running free.
Meanwhile, Briggs is again the responsibility of Vickers. If both get their man, then this play has gone for a touchdown in the past, because Murray versus a safety is a dream scenario for the Cowboys.
In the frame below, we see Romo still selling his pass fake, keeping everyone at home. The C-LG have their combo-block on Paea, and Cook is getting ready to go the 2nd level. Bernadeau vs Melton is an issue again, but Vickers reads the hole based on how that is going and picks the RGRT hole for his path to find Briggs and for Murray to follow.
And below, in the moment of truth, we see Cook does not get to Urlacher. I don't mean to make that sound easy, because Urlacher is a player of great regard and certainly studies film long enough to know who is coming to get him and where the play is headed, etc. But, nevertheless, Cook doesn't come close to cutting off the MLB and Lawrence Vickers arrives at the line of scrimmage staring at 54 and 55. He can only block one of them, and the other linebacker is going to have Murray in a real bind.
He decides to take his assignment, Briggs, which leaves Urlacher to clean up the play and wait for Julius Peppers to arrive and put the Cowboys in another 2nd and 10.
BUSTS: This one is on Ryan Cook. Nobody said combo-blocks are easy, but, the play depends on you cutting off the MLB. If you don't even make contact with him, then the play is doomed.
===
RUN 4
I will give the Cowboys this much: they are not giving up on calling plays that are giving them problems. They realize with 12 games to go, the only way to fix this is to fix this.
Here is another FB lead with the fake end around to hopefully distract a player or two on defense.
On this particular TFL, I think the bust is going to be a bit more difficult to assign. It appears that we have another combo block with Bernadeau and Cook on the big, strong Paea, but since Bernadeau runs right past Paea to appear to block Urlacher, I am guessing here.
But, if Bernadeau wasn't trying to get a piece of Paea, then this is a real bad concept from your coaches. Your center is not strong enough to win a 1-on-1 with a guy who benched 225 48 times at the rookie combine 2 years ago. If he was, and if Vickers could win a head on collision with SLB Nick Roach, then this could have been a big play.
Unfortunately, that is not the case. As you see below, Vickers and Cook are losing, and Roach and Paea are pinching the hole on Murray and eventually closing it right off for a loss of 1 yard. Look how nicely the rest of the play has been blocked.
BUSTS: Again, I am assuming everyone did their job - that Bernadeau was not supposed to help Cook. Under that assumption, the busts go to Cook (again) and Vickers for both losing their blocks so badly that Murray's path was destroyed.
===
RUN 5
Here is a shotgun run that went for a TFL. This one surely lives in the nightmares of the coaching staff.
This will be a quick pitch left with the outside flanker (85-Ogletree), Witten, and Tyron Smith all setting the left edge and trapping everyone inside but the corner. The corner will be following Ogletree inside and if he is not paying attention, Murray will run right past him.
And look below! It worked perfectly. Ogletree is getting the safety 47-Conte, while the corner is completely out to lunch.
Tyron Smith, Jason Witten, and Nate Livings have all got their seals. Ryan Cook is free on Urlacher.
Everything is been sprung perfectly. This could be a huge run....
Until Murray fumbles the pitch. And the whole play crumbles into a 4 yard loss. Not sure it goes all the way, but it sure has a chance when no Bears are unblocked and Murray has everything from the numbers out with which to work with.
BUSTS: Again, as we make excuses for a running back who has had no chance this year, we see how his eyes could have become pretty big with excitement as the ball is headed his way. This is on Murray and this might be the way football is going right now. Even when you run the play right, something bad happens.
It should be noted that the very next play - now 3rd and 9 - was the pick 6 to Tillman. These are problems that create bigger problems.
===
RUN 6
Finally, the naked pitch where all the blocking is going right and you send a naked to the left. This is either a great change-up idea or a full fledged desperation call, depending on the perspective of the observer.
What you are hoping for is that the SAM LB, 53-Roach, will follow the play and get sucked inside. Of course, the Bears are such a strong defense that they don't need guys "eating the cheese" and anticipating plays. Rather, they are great at staying home and doing their job.
Roach's job on this play is to have outside contain and spill everything back inside. Meanwhile, since this is a naked pitch, Murray is on his own to get outside the contain man in a simple foot-race.
As you can see below, Roach never let's that happen. What a fantastic job by a LB who never gets mentioned with Briggs and Urlacher in his position group, but he showed in this game that he is no weak link. In the picture above and below, you see Miles Austin who had position to block Roach, but then seemed to know that he was supposed to go get the safety.
This is where we should discuss the concept of "1st threat". This usually applies to a full back or lineman, but in this case it is Austin who has an assignment, but now that the play is being run you see that your assignment is not going to destroy the play like the threat that is in your path.
They expected Roach to run himself out of the play, but he didn't. When that happens, if Miles can at least throw a shoulder into that guy, maybe it gives Murray a chance, but when Austin runs past him and down field to get his responsibility, he ignored the "1st threat" and the play lost 2 yards as Roach devoured Murray.
BUSTS: More than anything, the bust was that Roach didn't buy what you were selling him. But, you can see how Austin might have helped this play get positive yardage.
===
Overall, another humbling run experience day. 6 TFLs and again by the 2nd half they just stopped trying to do this and decided to go Shotgun the rest of the way with "11" personnel.
The role of the FB and the 2nd Tight End appears to be in jeopardy. Also, interior spots seem to be up for grabs as Cook did not nail down center nor has Bernadeau solidified Right Guard. If the team wants to try Costa and Dockery or something similar to that idea soon, it would be difficult to argue changing things up.
Baltimore is not what they once were, but it is hard to imagine getting your running game healthy in that spot on Sunday at noon.
Original Story:
http://www.foxsportssouthwest.com/10/...
THE BACKYARD
BEST OF MAXIM
RELATED ARTICLES
Well, we've been waiting for some roster changes, and the only significant one was the activation of RB Lance Dunbar to the 53-man squad. We all know this is to see if Dunbar can be more productive than 1st round bust Felix Jones. What we really wanted to see was a change at RG. Mackenzy Bernadeau has been a free agent bust, you can mark this up as the same category as Marcellus...
When Dallas Cowboys owner Jerry Jones built his billion dollar plus playpen, many skeptics felt it would ruin the team's home field advantage. Well according to Cowboy legend and Hall of Famer Troy Aikman, the fans might be the blame for lack of a stadium advantage. Aikman told the Dallas Morning News that now and when he played, there was no home field advantage.  don't think...
The 2nd in our two-part series, working to assign grades to each respective unit. Make sure to check out the offensive grades here  and let us know how we did! Defensive Line: B These guys have looked good so far, and that's without all-pro NT Jay Ratliff. Players like Jason Hatcher, Tyrone Crawford, Sean Lissemore, and Josh Brent have all made a name for themselves throughout...
Jerry Jones must be getting to a point where his patience runs out. His hot and cold Cowboys can't get untracked from inconsistency. However, Jones still has a lot of confidence in his team. The Cowboys are coming off their bye and know they have to start making noise. Falling behind New York or Philadelphia doesn't bode well going down the stretch. Jones spoke to Elf &amp...
Here's a look at LestersLegends sit and start advice as you set your lineups for the sixth week of the 2012 NFL season..QuarterbacksStart: Ben Roethlisberger, Pittsburgh Steelers: He's coming off a win in which he threw for 207 yards without a touchdown. He threw multiple touchdown passes in the first three games. Mendenhall (knee) is back so it should be a more balanced attack...
.Fortunately for DeMarco Murray owners, he has 105 receiving yards over his past three games because he sadly has just one more rushing yards over that same time frame. He has just one touchdown on the year and is averaging 87.8 total yards per game (70.3 over his past three)..He's too talented to drop, but should his owners be looking to move him or leave him on their benches...
It's on the record that Players View feels that Terrell Owens can still play. There is also the feeling that he creates these weird stumbling blocks for himself that for instance kept him from making the grade in Seattle. In looking at the film that he generated as a Seahawk he had no problem getting open which is why he was targeted so much. He just dropped crucial catches.When...
(Eds: With AP Photos.) DeMarco Murray and the Dallas Cowboys' running game have been stuck in neutral since an impressive start. The unit that ran for 143 yards in a season-opening victory is now 29th in the NFL, averaging just 68 yards per game. And the only reason the Cowboys (2-2) are even that high is because of what they did against the New York Giants in that first game...
Dallas Cowboys fullback Lawrence Vickers told the media that he isn't scared of Ravens linebacker Ray Lewis, or any team in the NFL for that matter."You see me. I stay ready for whoever," Vickers said, per the Fort Worth Star-Telegram. "Names don't scare me, man. Teams don't scare me. I'm a man before anything. So I let other men just talk. See me in between those lines...
According to Clarence Hill of the Fort Worth Star-Telegram, Baltimore Ravens linebacker Ray Lewis plans on reaching out to Dallas Cowboys wide receiver Dez Bryant to possibly offer him some leadership and advice.There's no doubt that Bryant has a ton of talent. The only problem is that it seems like the Cowboys can't get him to tap into it the way he needs to so he can fulfill...
For the Cowboys: Did not participate: C/G Ryan Cook (hamstring), P Chris Jones (left knee), P Brian Moorman (right groin) and LB Anthony Spencer (shoulder) Full participation: LB Alex Albright (neck), WR Miles Austin (hamstring), DT Kenyon Coleman (knee), C Phil Costa (back), S Matt Johnson (hamstring), NT Jay Ratliff (ankle) and DT Marcus Spears (knee) For the Ravens: Limited participation...
It's a tough matchup because both teams are coming off games which left them questioning just how good is the sum of their parts...Questions of faith abound for both the 'Boys and the Ravens...not of a spiritual nature, of course, but of a tactical and personnel nature.The last time the Dallas Cowboys took the field, quarterback Tony Romo threw five interceptions and they...
NFL News

Delivered to your inbox

You'll also receive Yardbarker's daily Top 10, featuring the best sports stories from around the web. Customize your newsletter to get articles on your favorite sports and teams. And the best part? It's free!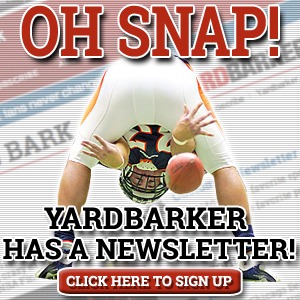 Latest Rumors
The Backyard

Today's Best Stuff

For Bloggers

Join the Yardbarker Network for more promotion, traffic, and money.

Company Info

Help

What is Yardbarker?

Yardbarker is the largest network of sports blogs and pro athlete blogs on the web. This site is the hub of the Yardbarker Network, where our editors and algorithms curate the best sports content from our network and beyond.