Found May 31, 2012 on NorthWest Sports Beat:
We learned today via Mike Sando's ESPN NFC West blog that WR Golden Tate has a broken hand and is not practicing.
The team said they expect Tate to return for training camp.
The Hawks brass have high expectations for Tate in 2012, the missed time is costly in the short term, especially since the lockout prevented him from practicing last offseason as well.
Per PFT
he's the tentative favorite to open the season as Seattle's No. 2 wideout, opposite Sidney Rice.
Rice is also missing OTAs due to offseason surgery on both shoulders.
It's tough being Golden. I tell ya. Most of us here at NWSB think he hurt his hand while being slapped by the baker at TOP pot donuts.
We're still trying to confirm this story.
Golden-Tate-Seahawks.jpg
Original Story:
http://www.nwsportsbeat.com/forums/se...
THE BACKYARD
BEST OF MAXIM
RELATED ARTICLES
Four in camp…who wins? The Seattle Seahawks went all out in hopes for a legitimate starting quarterback this off-season. Picking up the talented Matt Flynn in free agency, and drafting hopeful stud Russell Wilson in the 3rd round of this years draft. Both were brought in to challenge incumbent starter Tarvaris Jackson for his job. Which I think will ultimately result in Jackson's...
Northwest Sports – Seattle Offense Taking Shape In OTAs While readers of NHL blogs (which you can find here) are getting ready for the Stanley Cup finals between Los Angeles and New Jersey, teams in the NFL are starting their OTAs when players get together for the first team and new guys are meeting their teammates for the first time officially as well. The Seattle offense...
The Seattle Seahawks have confirmed they will hold a tryout for Brain Banks, the former California high school football star who was freed from prison after serving five years for a rape case in which he was falsely accused. The former Long Beach Poly linebacker had a verbal agreement for a full scholarship to USC before a childhood friend falsely accused Banks, now 26, of attacking...
Getty Images Seattle Seahawks head coach Pete Carroll was on  710 ESPN in Seattle with Bob and Groz and addressed the status of wide receiver Mike Williams, who's recovering from a leg injury he suffered in 2011. "He's not ready yet to be on a practice field. He has not had a chance to work with us at all. He's still recovering from the break he had. He had a significant...
Getty Images With a new season and a feeling of being revived, Seattle Seahawks linebacker Leroy Hill has admitted that he's ready to take on the role of being a leader so the younger guys have someone to look up to. "I've never really had to do that; I usually just came in and played my position since there was always a leader," Hill said. "This year, the guys are looking...
We read on the Seahawks.com blog yesterday that there was an "invasion" of sorts. While practice was going on at the VMAC suddenly AC / DC's "For those about to rock, we salute you" came on blasting over the field's loudspeaker. "For those about to rock. We salute you."@ Virginia Mason Athletic Center instagr.am/p/LQyOydNu0_/— Seattle Seahawks...
Ever wonder how Pete Carroll really got USC back "on top"? Porn shoot for film called "******** Girl 32" shot at USC's home field. latimes.com/news/local/la-…— Scott Enyeart (@ScottEnyeart) May 30, 2012 "The video also shows the stadium's signature tunnel, which the Trojan team charges through at the start of games"— Scott Enyeart...
The Seattle Seahawks have confirmed they will hold a tryout for former high school football star Brian Banks, who was exonerated in a California rape case in which he was falsely accused. Seahawks coach Pete Carroll did not speak following the Seahawks' offseason workout on Wednesday, but the team confirmed that Banks will work out for the team on June 7. The 26-year-old Banks...
Brian Banks will get a crack at the NFL, even if it's simply a tryout. The Seattle Seahawks confirmed Wednesday they will hold a tryout for Banks, a former high school football star who was exonerated last week in a California rape case in which he was falsely accused. Seattle coach Pete Carroll did not speak following the Seahawks' offseason workout on Wednesday, but the...
Per a tweet from Adam Schefter at ESPN Redskins, Chiefs, Seahawks amongst the teams interested in recently-exonerated LB Brian Banks, via @ReillyRickis.gd/uSWMYi— Adam Schefter (@AdamSchefter) May 30, 2012 We've learned that Pete Carroll and John Schneider are trying to bring in troubled Brian Banks. Don't know his story? Click here. (Redemption of Brian Banks...
During this MLB season, fans have witnessed several rather rare feats on the field, including a perfect game and a 4-homer game.  Either of these accomplishments, and many more (a triple play or four stolen bases in a game, etc.), have the potential to occur during any given game.  The possibility is there, but it's difficult to achieve.   Football has many rare accomplishments...
SEATTLE – The University of Washington announced the inductees to the 2012 Husky Hall of Fame class today. Inductees include Chet Crile (men's tennis, 1990-'93), Dave Hoffmann (football, 1989-'92), Giuliana Mendiola (women's basketball, 2001-'04), Lawyer Milloy (football and baseball, 1993-'95), Tiffany Simpson (women's gymnastics, 1996-'98, 2000), and O.D. Vincent...
Seahawks News

Delivered to your inbox

You'll also receive Yardbarker's daily Top 10, featuring the best sports stories from around the web. Customize your newsletter to get articles on your favorite sports and teams. And the best part? It's free!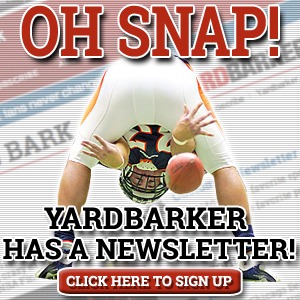 Latest Rumors
Best of Yardbarker

Today's Best Stuff

For Bloggers

Join the Yardbarker Network for more promotion, traffic, and money.

Company Info

Help

What is Yardbarker?

Yardbarker is the largest network of sports blogs and pro athlete blogs on the web. This site is the hub of the Yardbarker Network, where our editors and algorithms curate the best sports content from our network and beyond.