Found August 29, 2012 on Kissing Suzy Kolber:
Backwards hat takes focus.
While it's true Tony Romo does take the most grief, fair or unfair, among current starting quarterbacks for being a choketastic ringless playoff clownfraud, let's hope it stays that way, because the next person in line for that cruel treatment once Romo is off the hook is Matt Ryan, and laughing at Matt Ryan isn't even that fun. Nowhere close to laughing at Romo, at least.
Since Starter is for the moment done with making Romo pose with his newborn son in their ads, the brand would like to emphasize that there's more to their pitchman's playing career than losing hilariously on the big stage. There's… pushing tires over, I guess? Anyway, this isn't regular chill bromo, this is INTENSE ROMO, who is acutely aware of his shortcomings and is working hard to show his doubters that he has what it takes to finally win them over and make the cut at the U.S. Open. Oh, does he mean in football? Aww, that's adorable.
PEOPLE FOCUS ON WHAT WE HAVEN'T ACCOMPLISHED

THEY FOCUS ON MISTAKES
C'mon, we don't care that much. It's not really a focus so much as a passing mockery.
THE NEAR-MISSES
THE HEARTBREAKS
Don't forget the nut punches and curbstompings. We delighted in those as well.
PEOPLE SAY WE HAVEN'T SUCCEEDED
The nerve! Just look at these November stats!
PEOPLE SAY WE HAVEN'T WON A CHAMPIONSHIP
It's like you don't even get a trophy for leading the league in smiles.
PEOPLE CRITIQUE OUR LIVES

PEOPLE SAY WE GET TOO MUCH PRAISE
They hate me for who I am! They hate me for other people loving me? There's just no winning with people. Or football.
PEOPLE ARE FOCUSED ON WHAT WE HAVEN'T DONE

THAT'S WHAT I'M FOCUSED ON, TOO
Well, that and pumping Starter.
The post We Are Focusing On The Wrong Tony Romo Things, You Guys appeared first on Kissing Suzy Kolber.
Original Story:
http://kissingsuzykolber.uproxx.com/2...
THE BACKYARD
BEST OF MAXIM
RELATED ARTICLES
The NFL Regular Season is about to begin with Tony Romo and the Dallas Cowboys playing opening night. We are finally moving away from these awful preseason games. Here's a look at the winners for week 1. WED, SEP 5 Dallas at NY Giants - Eli and the Giants open the season as Superbowl Champs. Their defense is too much for Tony Romo and the Cowboys. Giants Win...
BELIEVER
Tony Romo is pretty criticized as an NFL quarterback, but former Cowboys coach Jimmy Johnson has his back.
DALLAS Jimmy Johnson believes the Dallas Cowboys have a championship-level quarterback in Tony Romo. That's what the coach who won two Super Bowls in Dallas told a luncheon audience Wednesday. "The guy is a great quarterback," said Johnson, in comments reported on dallasnews.com. "You've got to win a ring to get it done. I think Romo can get it done. I love...
Getty Dallas Cowboys quarterback Tony Romo took advantage of an opportunity to fire back at his critics during a new Starter ad campaign that he's been featured in. "People focus on what we haven't accomplished," Romo says in the video below. "They focus on mistakes, the near misses, the heartbreaks. People say we haven't succeeded. People say we haven't won a championship...
Over the past 9 days, the Dallas Cowboys have played two preseason games. Both games truned out to be wins, a 20-19 nail-biter against the St. Louis Rams, and a 30-13 thrashing of the Miami Dolphins in the preseason finale. Against the Rams, the first team offense finally found the endzone. And they did it twice, as Tony Romo hit Dwayne Harris for 2 TDs in the victory, and the second...
Getty Former Dallas Cowboys head coach and current FOX Sports analyst Jimmy Johnson believes that current Cowboys quarterback Tony Romo is great. "The guy is a great quarterback," Johnson said, per ESPN.com. "You've got to win the ring to get it done. I think Romo can get it done. I love Tony Romo." I agree with Johnson, I think the only thing that's keeping Romo from...
This week I look at the conference that has held the last three Super Bowl Champions, the NFC conference. Can the NFC continue their trend of holding onto the Vince Lombardi trophy at the end of this season?
Sorry, Mom! Forget Tony Romo and the sometimes ill-timed interception that seems to offset super-athletic flashes of utter brilliance. When it comes to off-the-charts, untapped athletic—and football—prowess, Dez Bryant is the most frustrating Dallas Cowboy of them all. Writing his column, Shutdown Corner, for Yahoo! Sports, Doug Farrar puts it quite well: The Dallas Cowboys have...
The Dallas Cowboys can now completely focus on what they've already been thinking about for a long time. Their three-win preseason is done, and next is their unprecedented midweek season opener at the New York Giants. They return to the same stadium where they played last year's finale, with a loss that kept them out of the playoffs. What was a Thursday for everybody else...
From oddsmakers to experts, people aren't giving the New York Giants the respect a Super Bowl champion deserves. Eli Manning and Co. sneaked into the playoffs last year and then played their best football in January and February. For the second time in five years, they beat the favored New England Patriots to claim the Vince Lombardi Trophy. With nearly all their starters on...
Cowboys News

Delivered to your inbox

You'll also receive Yardbarker's daily Top 10, featuring the best sports stories from around the web. Customize your newsletter to get articles on your favorite sports and teams. And the best part? It's free!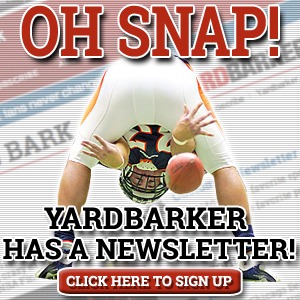 Latest Rumors
Best of Yardbarker

Today's Best Stuff

For Bloggers

Join the Yardbarker Network for more promotion, traffic, and money.

Company Info

Help

What is Yardbarker?

Yardbarker is the largest network of sports blogs and pro athlete blogs on the web. This site is the hub of the Yardbarker Network, where our editors and algorithms curate the best sports content from our network and beyond.