Found October 03, 2012 on Rams Herd:
PLAYERS:
Jeff Fisher
,
Steven Jackson
,
Steve Jackson
,
Wayne Hunter
,
Quinn Ojinnaka
,
Tom Brady
,
Sam Bradford
,
Jason Smith
,
Brandon Gibson
,
Lance Kendricks
TEAMS:
St. Louis Rams
,
New England Patriots
  The 2012 St. Louis Rams are work in progress. They had their worst tackling game of the season, a good first half of rushing, a horrendous second half of rushing, and way too many 3rd and longs against a pass rushing defense. Yet, they won. They won this game on coaching. Jeff Fisher outcoached Pete Carol in many ways. Some of his play calls were better (ex. fake field goal). However, Fisher's coaching can also be noticed in the team's personality. They never get down because they believe in themselves. They have confidence. Look no further than Greg Zuerline, who doesn't even flinch when he is asked to kick a 50 plus yard field goal in his rookie season. I would dig a little deeper into the game, but Will already has a good game review article posted to the web site. Also, this is a short week, and I need to do another preview already.  Let's review the preview and see whether the factors I highlighted made any difference: 1.  RUN MORE AND RUN MORE EFFECTIVELY Running right up the middle and gaining two yards or less is not going to help the Rams, no matter how often they do it. I agree with the proposition that early failure in the run does not suggest game long ineptitude. Yes, the Rams need to keep trying to run if they do not have early success.  At the same time, I want to see diversity. If Steven Jackson and his bad groin can't find space between the tackles, I want to see more of Richardson and Pead. Both have superior speed. One of the ways to create doubt in the running game is to run counter plays. You need a healthy groin and great speed to run counter plays.  I want to see 25 total runs, with an average of at least 4.0 yards a carry (I will not include quarterback scrambles in these totals). REVIEW - The Rams ran exactly 25 times, if we exclude the two runs by Bradford.  Again, excluding the Bradford runs, the Rams averaged 3.08 per carry.  The average did not matter as much because the Rams had early success, so Seattle had to respect the run.  The running game in the second half was an embarrassment from a productivity stand point. For those of you that do not know, Steve Jackson had 9 rushes for 54 yards in the first half. He ended the game with 18 rushes for 55 yards. Nevertheless, the running game accomplished one goal.  It forced Seattle to respect the run.  .   2.  BLOCK, BLOCK, AND BLOCK SOME MORE There is no way around it. Our offensive line has to be better. If Wayne Hunter is literally thrown to the ground with a left hand shove, Quinn Ojinnaka lets someone go right by him, and Richardson lets someone go right over him, we have no chance. Fans will not want to hear this, but it is extremely difficult to game plan around a bad line. The short drop/quick throw plan works for Tom Brady as a consistent game plan. However, he is nearly perfect on almost every throw. If our receivers can't get open quickly, Sam Bradford will have to throw into coverage, place it nearly perfectly and the receivers have to consistently catch it. Perfection is not something Rams fan should rest their hopes on for a victory.  REVIEW - Wayne Hunter and Richardson were much better this game. Quinn Ojinnaka is still a turnstile. Turner and Dahl had their moments and their negatives. The tremendous number of runs for a loss in the 2nd half is on the line, but when the Rams needed it most (3rd and long) the line stood strong. We must keep in mind that this is a replacement line. Richardson should have been a back up, but became a starter through the futility of Jason Smith. The left side contains all backups right now. Thus, we can't expect perfection. These replacements were certainly not perfect, but no one can dispute that they did their job.  3.  IF 1 AND 2 WORK, GO MARTZIAN Going Martzian does not mean throwing 50 yard bombs.  I am talking about timing throws.  Martz was amazing at planning routes where the ball is thrown to a spot, not necessarily to a receiver. In other words, Martz wanted the throw made before the QB knew if the receiver was open.  Most of these routes were deeper than 10 yards. Why? If you throw to a spot before the CB turns his back to the quarterback, the CB has the advantage because he can see the QB's eyes. Once the CB turns his back to the QB, the receiver has the advantage because only the receiver knows when he is breaking off his route and when the ball is going to be thrown. In three games, I have seen very few timing throws. Maybe this is Bradford's fault. Maybe it is coaching. Maybe the receivers can't be trusted to make it to the spot in time. Whatever the explanation, almost every Bradford throw is designed to be thrown at the first sign that someone is getting open.  (This may explain why he lasers in on receivers). If the line is bad, you can't run deeper routes and wait for the receiver to be open. You have to throw before they are actually open. This requires trust in the receivers to make a play.  The only play that I can say for certain was a timing play was the interception. This may answer my question above why we do not have many timing plays. Sam threw the ball before the break, and Gibson wasn't where he was supposed to be. At the same time, many of Sam's best throws were thrown right when the break was being made. The slants to Amendola and the bomb to Givens were all thrown with some trust. Neither player had proven they were going to be open at the spot where the ball was thrown when Sam threw it. Thus, we saw a growth in Sam Bradford in this game. On the bomb to Givens, he did everything that his critics say he can not do. He looked off the safety. He threw it quickly. He threw it deep.  4.  CATCH THE DAMN BALL – MAKE A PLAY Catch the damn ball. If Brandon Gibson wants to continue to be starter, he has to show that he can consistently get open and consistently catch the ball.  If Lance Kendricks wants to be a pass catching threat, he has to catch every ball thrown at his chest. I don't care if there is tight coverage. Your only job is run a route and catch a ball. Do your job.  Oh, and for all the wide receivers, when Sam Bradford doesn't't make a perfect throw, can you try to make an adjustment, position yourself, and make a play? REVIEW - Great. The receivers did a much better job of catching the ball. Last year, the throw to Gives would have been dropped. 5.  STOP THE RUN Many talking heads are raving about Seattle's new quarterback, Russell Wilson.  Will you mind if I ask why? The "incredible" Mr. Wilson was 18 for 34 for 153 yards in game one, 15 for 29 for 151 yards in game two and 10 for 21 for 130 yards and 2 TDs in game three (remember the last TD, yards and the completion were not legitimate). I have no fear of Russell Wilson. This team's offense is based on the running game.  Take it away and you will not have to worry about their offense.  Including Wilson's scrambles, I want to hold Seattle to less than 125 total yards rushing.   REVIEW -  I could not have been more wrong. Seattle had 34 rushed for 179 yards with a 5.3 average. Nevertheless, the Rams won. How? Look to Howard Balzer for the answer. He used to annoy fans when he would claim a loss was the result of the inability to "make a play". In this game, the Rams defense made plays when they needed to. They got off the field on 3rd down. Seattle converted only 2 of 9 third downs. Fans may not love this style of defense, but there is no doubt it works. If the defense can get off the field on third down, the team can win many games.       
Original Story:
http://www.ramsherd.com/2012-articles...
THE BACKYARD
BEST OF MAXIM
RELATED ARTICLES
Could Steven Jackson's time with the St. Louis Rams be coming to a close? Perhaps so. The Rams' all-time leading rusher will be allowed to void the final year of his contract and become an unrestricted free agent after this season, according to CBSSports.com. Jackson, drafted 24th overall by St. Louis in 2004, has led the Rams in rushing each year since 2005. He has 9,288...
Entering the 2012 season, the St. Louis Rams looked only to start the rebuilding of a team that went 2-14 in 2011.  They started at the top with replacing General Manager Billy Devaney, and replaced him with the Atlanta Falcons Head of Player Personnel Director Les Snead.  Snead immediately looked for a Head Coach and was able to lure long time Tennessee Titan Head Coach Jeff Fisher...
While St. Louis Rams running back Stephen Jackson is listed as questionable for tonight's game against the Arizona Cardinals, a team source has told Stacey Dales of NFL.com that the 29-year-old "is a go." Jackson has been listed as questionable for the last three games, and his production's been lacking on the season. He has yet to carry the ball more than 21...
The St. Louis Rams' adjustment to a short workweek has started pretty smoothly. They come off a 19-13 victory over Seattle on Sunday relatively healthy and get a second consecutive home game for their Thursday night matchup with Arizona. Coach Jeff Fisher said while there were obvious adjustments to the schedule - Monday's practice was more typical of a Wednesday workout...
Apologies from the start if these sentences are as slow as Quinn Ojinnaka. Like the St. Louis Rams, this space has coped with the whiplash of two games in five days. One fowl foe lifted off Sunday, and a bird of a different NFC West feather will land at the Edward Jones Dome on Thursday. It's enough to make Gregg Williams crack open another cold one from his suite. Let'...
Situation:  1st and 10 from the St. Louis 20 yard line, with 0:40 left in the first quarter, trailing by 4 Personnel: 12 Play: Deuce Right Jam 989 Out, Givens on a 9 route  Defense: Cover 1 Pre-Snap The Rams come out in 12 personnel (1 back, 2 tight ends) in a Trips right...
Through a quarter of the young 2012 season, many NFL teams have either fulfilled or sabotaged the predictions of experts and fans alike. The New Orleans Saints are 0-4, while the Arizona Cardinals of the lowly NFC West are undefeated. 10 of the 32 NFL franchises currently sit at .500, and no franchise has made a clear case for Super Bowl contender. With the league's teams growing...
Photo by Chantal Overton (@OhhMyOnlineNet). One quarter of the way through the 2012 season, the Rams are already ahead of schedule. We were supposed to be the young team that learned how to fight, but would have a hard time closing games and putting wins in the standings. We were supposed to be in the "rebuilding" year - an NFL euphemism for "acceptable losing...
As I predicted, the Rams did beat the Seahawks. It was a tough game, but the Rams were able to pull through and win 19-13. It was a close game that couldn't have got much closer. Many of the points scored were from field goals by the rookie kicker Greg Zuerlein. Zuerlein had four field goals including a 60-yard field goal. If you haven't learned how to spell "Zuerlein...
For the first time this season, two NFC West teams will face off in primetime. This is the first of three games that features multiple teams from this division. Seattle will take on San Francisco in a couple of weeks and the Cardinals and 49ers will play on Monday night in Week 8.Week 5 is rapidly approaching, so let's take a look at how each team will fare in their respective...
Face it, the Thursday Night games have been pretty boring this year, with few reasons to watch other than fantasy and gambling implications. Every week I'm going to profile one sparsely-owned player from Thursday's game, that you can (notice I'm not saying should) pick up and start. Ya know, get your Thursday night fantasy fix if you don't have a stud player going...
NFC West rivals will clash tonight when the St. Louis Rams host the Arizona Cardinals at 8:20 pm EST on the NFL Network. The Cardinals have been...
NFL News

Delivered to your inbox

You'll also receive Yardbarker's daily Top 10, featuring the best sports stories from around the web. Customize your newsletter to get articles on your favorite sports and teams. And the best part? It's free!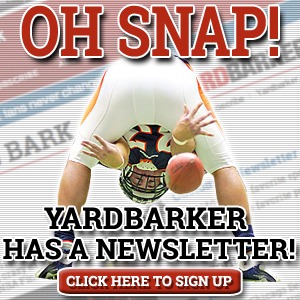 Latest Rumors
Best of Yardbarker

Today's Best Stuff

For Bloggers

Join the Yardbarker Network for more promotion, traffic, and money.

Company Info

Help

What is Yardbarker?

Yardbarker is the largest network of sports blogs and pro athlete blogs on the web. This site is the hub of the Yardbarker Network, where our editors and algorithms curate the best sports content from our network and beyond.