Found November 25, 2012 on Fox Sports Arizona:
GLENDALE, Ariz. The starting quarterback cant stay healthy, the backup quarterback cant hit a wide-open freight car and the third-string QB is astonishingly adept at hitting opposing defenders. Sounds like the trailer to an awful cable TV series, no? Unfortunately, its not fantasy. Its macabre reality for the Cardinals. And the grisly addendum is that there are no backups left to whom the Cardinals fan base can hitch its pathetic dreams. Theres no great solution coming through that door. Theres no great players that are going to come in here and fix this, veteran Vonnie Holliday said. Weve got to fix this from within. We dont know if the Ryan Lindley experiment will last beyond this week. Given the way coach Ken Whisenhunt unceremoniously yanked John Skelton after one quarter last week with the Cards leading 13-0 in Atlanta, it is hard to imagine Whisenhunt dusting off that hopeless script. Maybe the Cards will decide to give Lindley another crack despite his four-interception, two-pick-six performance in the Rams 31-17 win Sunday at University of Phoenix Stadium. Or maybe Kevin Kolb will be healthy enough to play when the Cardinals travel to face the Jets next weekend. Whatever that decision may be, its time to examine the bigger picture, because the immediate picture the 2012 season is over except for the five games required to play out the string. Its evaluation time, and the Cards have to take a long, hard look at several key areas, even if Whisenhunt is contractually constrained from admitting it. Were going to put the best guys in there that give us a chance to win games, Whisenhunt said. Were not going to evaluate personnel over trying to win games. Among the things the Cardinals must ponder over the final five weeks of the season: If they cant put together two or three wins down the stretch, has Whisenhunt done enough to keep his job for at least one more season? Should they pick up running back Beanie Wells option in 2013 because hes the best option available, or should they cut ties because of the concerns over his durability? Can the offensive lines shortcomings be addressed through free agency, or is it finally time to make a concerted effort on that front through the draft, even if that process is slow? And finally, what the heck should the Cardinals do about their quarterback situation? Should they keep Kolb, whose salary increases from 1 million to 9 million next season along with a small, additional bonus that puts him in the neighborhood of 10 million? It is obvious now that Kolb gives this team its best chance to win, but he has missed about half the 27 games the Cards have played since he arrived due to injuries. Should they keep Skelton as a backup for the final year of his contract, knowing now that he is not starting material in the NFL? If Kolb cant go next week, should they keep moving forward with Lindley for the rest of the season to see if he can progress enough to assume greater duties, or should they re-insert Kolb at the first opportunity to build some momentum for next season -- and maybe to save Whisenhunts job? The early returns on Lindley were not good. We were told he made good decisions in practice when the staff gave him more opportunities to play with the first team over the bye week. We were told he could make the throws necessary to win a game. Yet on Sunday, and with the giant caveat that he was a rookie making his first NFL start, Lindley showed neither ability. On the Cards opening scoring drive on which he went 7 for 8 passes for 80 yards, Lindley benefited from a game plan that allowed him to throw simple, safe passes underneath and in the middle of the field as the Cards took a 7-0 lead. But then the Rams adjusted their pressure and their coverage. When Lindley was forced to throw outside the numbers, either because of the Rams alignment or because of play calls that had to keep the defense honest, he threw a pair of pick-sixes, one on a bad decision on which LaRod Stephens-Howling was covered, the other on a badly underthrown ball to Larry Fitzgerald. Overall, he threw four interceptions and displayed an inability to consistently throw accurately or with enough velocity on balls outside the numbers on the field. Lindley completed 31 of 52 passes for 312 yards, but those stats were inflated, just like Skeltons were early in this losing streak. The bottom line: Lindley made crucial mistakes, both on the interceptions and on missed plays, like an overthrow to a wide-open Fitzgerald. Youve got to roll with the punches in this league, Lindley said. I think I punched myself pretty good today. So did the Cards, who got a less-than-stellar effort from their defense and nothing from their offense in the second half. Sundays loss gave the Cards their second seven-game losing streak in the past three seasons, and they also had a six-game skid last season. No matter what progress you see in the finer details, progress can not be claimed in the final analysis. This league is about wins and losses, and we havent been winning, Holliday said. Nobody cares about anything else. Follow Craig Morgan on Twitter
Original Story:
http://www.foxsportsarizona.com/11/25...
THE BACKYARD
BEST OF MAXIM
RELATED ARTICLES
The Arizona Cardinals have announced that quarterback Ryan Lindley will make his first start this weekend against the St. Louis Rams due to Kevin Kolb's lingering rib injury and John Skelton's ineffective play. The Cardinals listed Kolb as questionable to play Sunday, as he's been limited at practice all week due to his rib injury. It's not clear if he'll be available...
This quote from Arizona Cardinals head coach Ken Whisenhunt certainly makes it look pretty bad for Lions HC Jim Schwartz. "They make a point of telling you before the game, on turnovers and scoring plays, you can't throw the flag," Whisenhunt said, via Kent Somers of the Arizona Republic. Good ole Schwartzee must have been blinded by rage at what he saw on the field. He...
Cardinals rookie QB Ryan Lindley was disastrous in his first NFL start Sunday, completing 31-of-52 for 312 yards but throwing four interceptions with zero touchdowns.Fantasy Spin:Larry Fitzgerald only had three catches on 12 targets and probably can't wait for the season to end.
GLENDALE, Ariz. When Cardinals training camp opened in Flagstaff in late July, coach Ken Whisenhunt did his best to diffuse the notion that he was on the hot seat after a pair of disappointing seasons. By the time he addressed the media Sunday evening and Monday morning, he seemed resigned to this persistent storyline. Thats part of the business, he said following the Cardinals...
Janoris Jenkins became the first player in Rams history and the first NFL rookie since 1960 to return two interceptions for touchdowns in the same game and St. Louis dominated the second half to hand the Arizona Cardinals their seventh loss in a row, 31-17 on Sunday. Arizona rookie Ryan Lindley was intercepted four times in his first NFL start. Jenkins' returns of 36 and 39...
By BOB BAUM AP Sports Writer TEMPE, Ariz. -- The Arizona Cardinals are sticking with Ryan Lindley at quarterback, at least until Kevin Kolb is healthy enough to play. Coach Ken Whisenhunt says that while Lindley had three bad throws that resulted in interceptions, two of them returned for touchdowns, in his first NFL start on Sunday, the rookie did have other times when he was...
Either Janoris Jenkins was really good on Sunday, or the Cardinals' quarterback situation has reached an all-time low. It looked like it was actually a little bit of both. The Rams' rookie cornerback intercepted Cardinals rookie quarterback Ryan Lindley twice, and he took both picks back for touchdowns. The first appeared to be a good read by Jenkins — jumping LaRod Stephens...
GLENDALE, Az. -- A season that started with so much promise has completely disintegrated for the Arizona Cardinals. That's how Sunday's 31-17 loss to the St. Louis Rams began and ended, too. The Cardinals flexed their muscles early behind rookie quarterback Ryan Lindley in his first NFL start, but when things began to unravel, it was too much to overcome as Arizona dropped...
Arizona will roll the dice this week with rookie Ryan Lindley at quarterback, a decision that may just about finish off their playoff hopes if it backfires.Not that they have a lot of choice in the matter with Kevin Kolb still recovering and John Skelton looking lost behind an offensive line that has given up a league-leading 44 sacks.Jeff Fisher and the Rams will be looking to forget...
When the Rams last met the Arizona Cardinals, the birds stood atop the NFC West with a surprising 4-0 record. However, when we talked to Seth Cox of TSHQ at the time, he was not yet ready to start opening champagne bottles. As it turns out, he was right to put the celebrations on hold. Since that Thursday night primetime matchup, the Cardinals have lost six games and two quarterbacks...
GLENDALE, Ariz. -- The Cardinals' game against the St. Louis Rams represented a microcosm of Arizona's season. Something that started with so much promise completely disintegrated. The Cardinals flexed their muscles early Sunday behind rookie quarterback Ryan Lindley, making his first NFL start, but when things began to unravel, it was too much to overcome. Arizona lost...
Cardinals News

Delivered to your inbox

You'll also receive Yardbarker's daily Top 10, featuring the best sports stories from around the web. Customize your newsletter to get articles on your favorite sports and teams. And the best part? It's free!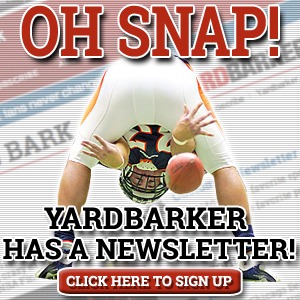 Latest Rumors
The Backyard

Today's Best Stuff

For Bloggers

Join the Yardbarker Network for more promotion, traffic, and money.

Company Info

Help

What is Yardbarker?

Yardbarker is the largest network of sports blogs and pro athlete blogs on the web. This site is the hub of the Yardbarker Network, where our editors and algorithms curate the best sports content from our network and beyond.