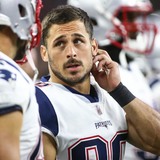 The New England Patriots really missed Julian Edelman in Week 1 against the Kansas City Chiefs, and they can ill afford to lose another member of their wide receiver corps. Unfortunately, there's a chance Danny Amendola could be held out in Week 2.Amendola did not practice on Wednesday after he suffered a concussion in the first half of last Thursday's loss. Amendola, who has built...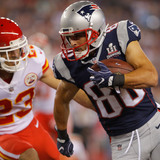 Danny Amendola left Thursday night's season-opening game between his Patriots and the Chiefs with a head injury.NBC's Michele Tafoya provided details saying that Amendola left the game about five minutes into the fourth quarter and was followed by a neuro-trauma official into the locker room. He was later ruled out of the game, indicating he was in concussion protocol.NBC speculated...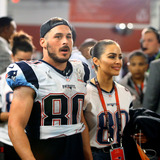 New England Patriots wide receiver Danny Amendola is, without a doubt, a handsome guy who dresses with impeccable style.So, it does not come as too much of a surprise that he landed a modeling gig with Ford Models, based out of New York City."We are thrilled to represent Danny Amendola, not only one of the top athletes in his field, but also a man of great character," Sam Doerfler...
While some NFL players might be vacationing or kicking back after a long Fourth of July weekend, the New England Patriots are hard at work.Intensely training in the high altitude air of Montana, Tom Brady (the soon-to-be 40 year-old quarterback), brought along receivers Julian Edelman and Danny Amendola to work on their chemistry. No rest for the weary here. It is difficult enough...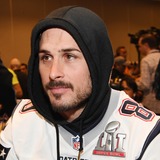 Danny Amendola recently agreed to take a pay cut with the New England Patriots for a third straight year, but that does not make him a lock to make the 53-man roster.With the Patriots having signed veteran wide receiver Andrew Hawkins last week, Mike Reiss of ESPN.com speculates the battle for the final receiver spot in training camp will come down to Hawkins and Amendola. New England...
Two-time Super Bowl champ Danny Amendola is reportedly going to need to take a pay cut to remain with the New England Patriots in 2017.ESPN's Mike Reiss, discussing how the Patriots have decisions to make in free agency about receivers, wrote it "technically should also include receiver Danny Amendola, who won't be back on his current contract, which calls for a base salary of $6...
Patriots receiver Danny Amendola installed a temporary carport outside of his Providence, Rhode Island home, and it's causing controversy in the neighborhood. New England winters can be unforgiving, and Amendola doesn't want to be late for a Bill Belichick practice, so he applied to the city so he could erect the metal carport until February. However, Amendola lives in the College...
MORE STORIES >>
Patriots News

Delivered to your inbox

You'll also receive Yardbarker's daily Top 10, featuring the best sports stories from around the web. Customize your newsletter to get articles on your favorite sports and teams. And the best part? It's free!