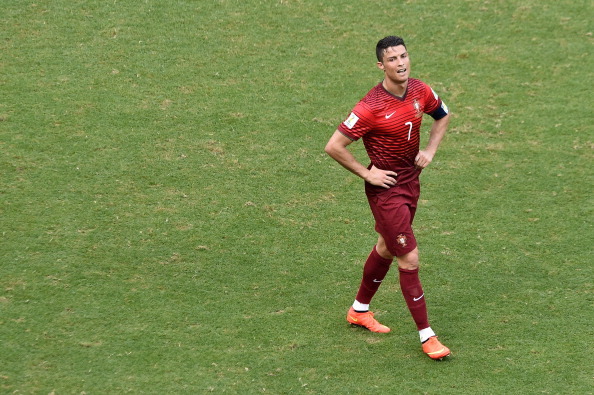 Cristiano Ronaldo limped out of a Portugal training session 30 minutes early Wednesday with ice strapped to his left knee.The Portuguese captain and holder of the Ballon D'Or, was expected to lead his team at this World Cup but, after playing an ineffective 90 minutes in Portugal's  4-0 loss to Germany on Monday, the soccer superstar was warned by his doctor that he risks threatening his career by playing on at the World Cup, reported the Daily Mail.The Real Madrid superstar is struggling with a knee injury but is under pressure to lead his team into Sunday's crucial clash with the USA after the embarrassing loss to Germany.According to Spanish online newspaper El Confidencial, Portuguese surgeon Jose Carlos Noronha told the 29-year-old: "Let your knee rest, or your future is in danger," to which Ronaldo reportedly replied: "I'm the one that says whether I'm playing or not."There had been serious doubts over the Real Madrid superstar's injuries ahead of the tournament, after a thigh...
Read the rest of this story...
MORE FROM YARDBARKER:
The Worst - NFL Week 3: Steve Smith, Odell Beckham & of course the Browns
MORE FROM YARDBARKER
Soccer News

Delivered to your inbox

You'll also receive Yardbarker's daily Top 10, featuring the best sports stories from around the web. Customize your newsletter to get articles on your favorite sports and teams. And the best part? It's free!