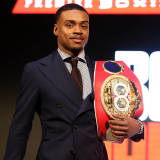 Errol Spence might be the IBF Welterweight champion right now, but that's not stopping the 27-year-old boxer from making news for all the wrong reasons.He might not have committed a crime in the true sense of the word, but we're putting Spence on probation for a lack of respect.Speaking exclusively to TMZ Sports, Spence was asked about the worst boxing movie of all-time. Instead...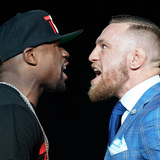 Floyd Mayweather Jr.'s victory over with MMA champion — and boxing rookie — Conor McGregor captivated audiences due to its novelty, gambling, trash-talking and relentless hype. While boxing promoters are the masters of over-hype, here's a look at some of the most over-hyped events in sports history. Hyped events that lived up to the billing are excluded — this is for the events that...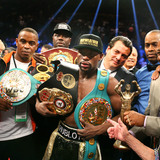 In addition to being the most hyped event in combat sports history, Saturday's boxing fight between Conor McGregor and Floyd Mayweather Jr. is poised to be the most purchased event in pay-per-view history. That's what happens when you have stars in two separate sports — MMA for McGregor, boxing for Mayweather — going head to head. Oh yes, it also helps when the two participants are...
Former world heavyweight champion Lennox Lewis and actor Will Smith will be among eight pallbearers for Muhammad Ali's funeral this week in Louisville.Smith portrayed Ali in the 2001 movie "Ali," and was nominated for an Oscar for his performance.Lewis, who was the last undisputed heavyweight champ, expressed his sorrow when he heard of Ali's death."Words cannot begin to describe...
Superstar heavyweight Lennox Lewis, an undisputed heavyweight champion who won an Olympic gold medal with a victory over Riddick Bowe and scored professional victories over boxing legends such as Mike Tyson, Evander Holyfield and Vitali Klitschko, confirmed earlier this week that he will return to Las Vegas this weekend to attend the Nevada Boxing Hall of Fame's third annual induction...
  The boxing promoter behind Lennox Lewis' rise to becoming world heavyweight champion is returning to the sport after undergoing a sex change. Kellie Maloney announced Thursday she is resuming her career as a promoter and has taken on two unheralded British fighters. Under her previous name, Frank, Maloney was Lewis' promoter as the British fighter won heavyweight titles in the...
As a former WBO title challenger big Scott Welch knows heavyweight boxing. 'The Brighton Rock' is now working with 2013 ABA super-heavyweight finalist Nick Webb. The 6'6″, 250 lbs Chertsey giant debuts against Croatia's Hrvoje Kisicek over four rounds at the York Hall, Bethnal Green this Friday. Welch gives the low down on this exciting addition to boxing's blue ribbon division...
Promoter Frank Maloney has been around a long time and has seen it all. This past February 23rd, he watched with the rest of the boxing world, the shocking upset of his prized fighter David Price (15-1, 13 KO's) getting stopped in the second round with former two-time world title challenger Tony Thompson'(37-3, 25 KO's) in Liverpool, England. Maloney who has been in boxing for over...
ROPE-A-DOPES
Ladies and gentlemen, it looks like we may have to set up a fight date for Shaq and Jason Whitlock. Matters between the two got started on NBA opening night Tuesday when Whitlock, a columnist for FOXSports.com, said Shaq was out of shape. The former All-NBA center and current TNT NBA analyst responded by challenging Whitlock to a fight. Not only did Whitlock not back down, but...
10 Year Anniversary of Mike Tyson vs. Lennox Lewis; Manny Pacquiao Appeared on Undercard Ten years ago on this day, June 8, 2002, Mike Tyson met Lennox Lewis in their hugely anticipated heavyweight showdown in Memphis, Tennessee. Little did we know at the time that Lewis would only fight once more after that, and that his thorough thrashing of Tyson would mark the official end...
MORE STORIES >>
Boxing News

Delivered to your inbox

You'll also receive Yardbarker's daily Top 10, featuring the best sports stories from around the web. Customize your newsletter to get articles on your favorite sports and teams. And the best part? It's free!