We've updated our Privacy Policy.
By continuing to use this site, you are agreeing to the new Privacy Policy.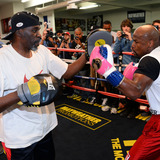 Roger Mayweather, the uncle of Floyd Mayweather Jr., was reported missing in Las Vegas Saturday night. According to a report from KTNV, Roger Mayweather was last seen a 3 p.m. on Saturday afternoon. Police say he could be suffering from a number of medical conditions and does not have his medication. Roger Mayweather, 55, is also a former boxer. He was Floyd's trainer for years...
When most people think about Syracuse; they think of S.U. Basketball. This time Central New Yorkers got to enjoy athletes from a different sport. Arguably the greatest boxing family on the planet, the legendary Mayweathers a.k.a "The Money Team" made a stop in Syracuse, New York from January 16th through January 19th. Floyd Mayweather Sr., along with his two younger brothers Jeff...
Adrien Broner openly admits he is trying to model himself after Floyd Mayweather Jr. Like Floyd, Broner tries to be flashy and talks as much trash as possible so people are aware of him and will pay to watch him fight. As we saw from Broner's loss over the weekend during which he humped Marcos […]
LIKE WHAT YOU SEE?
GET THE DAILY NEWSLETTER:
Legendary boxing greats generally seem untouchable in their primes, but they all lose to a common opponent, their true worst enemy -- time. One can only wonder how long Floyd "Money" Mayweather can continue to take long breaks off and still perform at the elite level we have been accustomed to seeing from him. Is Robert "The Ghost" Guerrero the one to finally put that first blemish...
Floyd Mayweather recently held court with a crew of media and reporters from across the globe for a pre-fight conference call. Right here, you can find the complete conference call, and take a look at what Mayweather had to say on everything from facing Miguel Cotto, to dealing with the spotlight and the media, to the rest of his plans for 2012 and much more. Take a look. Floyd Mayweather...
Yesterday evening, Floyd Mayweather held a media training session at his Las Vegas gym. The Mayweather workout was streamed live online, for free, to the fans. But right here, you can find a collection of quotes from the media day event from Floyd Mayweather, trainer Uncle Roger, and the rest of the Money Team, including two fighters taking part on the undercard of the May 5th pay...
The loose-lipped uncle of boxer Floyd Mayweather Jr. is making accusations once again. Roger Mayweather, who trains his nephew Floyd, told Las Vegas Boxing Examiner Chris Robinson that the only reason Amir Khan has become successful is because he's on stuff just like Manny Pacquiao. The Pacquiao accusations are nothing new (Manny has actually sued [...]
MORE STORIES >>
Boxing News

Delivered to your inbox

You'll also receive Yardbarker's daily Top 10, featuring the best sports stories from around the web. Customize your newsletter to get articles on your favorite sports and teams. And the best part? It's free!