The Denver Broncos used their final draft pick in the 2016 NFL Draft to once again add depth at a area of upcoming need. With the 228th overall pick in round seven of the draft, the Broncos selected Riley Dixon, a punter formerly of Syracuse University. "I couldn't be more excited to be a Bronco," Dixon said moments after being selected by Denver. "Its been a long time coming....
You probably weren't aware of this because, sadly, it gets next to no publicity, but the NFL Draft starts tonight. Syracuse didn't have anyone drafted last year, and is looking to avoid duplicating that and could have multiple players picked before the end of the day on Saturday. Ron Thompson, Riley Dixon, and Rob Trudo […]
Punters can be a very important part of a team's success. Teams don't like to have to punt, but when they do, it's nice to know you have a guy that can pin a team deep in their own territory to let their defense make a play. One of the better punters in the nation right now is Syracuse's Riley Dixon. He is a different kind of player as he not only averages 43.8 yards per punt, but...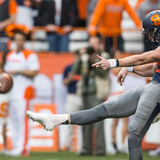 Syracuse punter and local favorite Riley Dixon got to run a fake field goal on Saturday. While headed for the first down marker, he was squared up by LSU defender Donte Jackson. With the first down marker in sight, Dixon did the logical thing – he hurdled right over Jackson. Almost as good as the hurdle is Dixon's enthusiastic fist pump at the end of it. His enthusiasm was such...
Punters are not know for making big plays. Occasionally they nail a deep punt that stops at the one or something like that, but otherwise you don't expect much out of these guys. Well--Syracuse certainly got much more than just good punting out of their guy, Riley Dixon.Dixon took off running on a fake field goal attempt during the first half of play, and rather than get tackled...
Looking take some momentum into halftime against superstar running back Leonard Fournette and the No. 8 LSU Tigers, Syracuse attempted a fake 48-yard field goal with :38 remaining in second quarter, trailing 7-3. The attempt worked, as Riley Dixon took a pitch from the holder and hurdled an LSU defender for the first down. After the play, Dixon was a little too pumped up, as his...
The Syracuse Orange have been hanging around with the LSU Tigers up in the Carrier Dome. The Orange were on the move late in the first half and they were faced with a fourth down and short. The Orange lined up for a field goal from nearly 45 yards out. That is when the holder, Syracuse punter Riley Dixon, perfected an amazing fake field goal. He did his best Knowshon Moreno impression...
SYRACUSE, N.Y. (AP) Syracuse opens its season in the Carrier Dome on Friday night against Rhode Island of the Football Championship Subdivision. Same scenario as a year ago, when the Orange beat Villanova by one point - in double overtime - on a touchdown pass from punter Riley Dixon. Senior quarterback Terrel Hunt was ejected in the second quarter of that game and also missed the...
MORE STORIES >>
College Football News

Delivered to your inbox

You'll also receive Yardbarker's daily Top 10, featuring the best sports stories from around the web. Customize your newsletter to get articles on your favorite sports and teams. And the best part? It's free!
THE COLLEGE FOOTBALL HOT 10