The Temple Owls came through with a huge win on Thursday by upsetting the Wichita State shockers. For the most part, this season has been a lot of back and fourth for the Temple Owls, although it has been frustrating at times to see them fail to come through when it matters the most...
2017 has been a great year for Temple Owls football, with Geoff Collins' team finishing the season at 7-6 and as bowl champions, but who is the program MVP? Of all of the players and coaches associated with the Temple Owls in 2017, no player did more to elevate the team's football...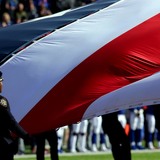 One day before he helped the Temple Owls beat Florida International in the Gasparilla Bowl, linebacker William Kwenkeu became a citizen of the United States.Originally from Cameroon, Kwenkeu came to America in 2012, two years after his mother had arrived. He taught himself English, having no knowledge of the language prior to arriving, he told Philly.com.Four years later, he enrolled...
PHILADELPHIA (AP) Shizz Alston scored 22 points and Temple ended a three-game losing streak with a 77-66 win over Memphis on Wednesday night. Daniel Dingle added 16 points and Mark Williams had 15 for the Owls (11-10, 2-6 American), who had lost six of their previous seven. Alston scored eight-straight points to put Temple up 40-32 early in the second half after the teams were...
PHILADELPHIA (AP) Daniel Dingle scored 19 points, Ernest Aflakpui had a career-high 13 points with 10 rebounds and Temple beat East Carolina 81-62 on Saturday. Aflakpui scored five straight points to start a 10-2 Temple run for a 62-48 lead midway through the second half and the Owls led by double digits the rest of the way. Quinton Rose added 14 points and Mark Williams scored...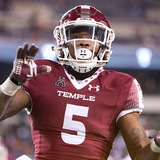 Okay, listen, we get it. Most likely, you think bowl season starts on New Year's Eve. Maybe slightly earlier depending on when your team is playing. But regardless of whether or not you're aware of them, the bowls have already started, and there's plenty of college football action to get you through to the main event around New Year's. The Temple Owls and Wake Forest Demon Deacons...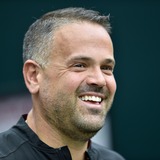 Matt Rhule is leaving the Temple Owls football program behind after accepting the head coaching position with the Baylor Bears. But Rhule made sure to express his gratitude for all the support he's received during his tenure before his professional departure from the Philadelphia area. Rhule took out a full-page ad in the sports section of Wednesday's Philadelphia Inquirer to...
NEW YORK (AP) Obi Enechionyia had 22 points and 12 rebounds to lead Temple to an 81-77 upset of No. 19 West Virginia in the championship game of the NIT Season Tip-Off on Friday. Enechionyia scored 18 of his 22 in the first half for Temple (4-2), but it was his free throw with one second left that sealed the early season tournament championship. Alani Moore II added 18 points for...
PHILADELPHIA (AP) Daniel Dingle scored a career-high 22 points and Obi Enechionyia and Shizz Alston Jr. had 17 points apiece and Temple defeated Manhattan 88-67 on Sunday in the NIT Season Tip-Off. Quinton Rose hit all five of his shots and scored 14 points for the Owls (2-2), who shot 53.4 percent (31 for 58). Enechionyia had seven rebounds, Alston had five assists and Dingle...
Whatever your opinion may be on Joe Paterno today, there is no denying he is one of the greatest football coaches in the history of the sport. Since he walked out of Beaver Stadium for the final time in 2011, he has not be officially recognized by Penn State, until this year. Sept. 17 marks the 50th anniversary of Paterno's first game with the Nittany Lions. The school announced...
The Temple Owls were a big-time competitor in the AAC last season as they won the AAC East and just barely missed winning the conference. Now, it looks like athletic director Patrick Kraft and head coach Matt Rhule are looking to get their team a shot at joining the Big 12 in the next few weeks. Kraft talked about how the Owls wold be very worthy of joining the Big 12 in the future...
The Oklahoma football program announced a three-game series with the Temple Owls on Wednesday afternoon. As part of the series, which begins in the 2024 season, the Sooners will travel to Philadelphia once while hosting the Owls in Norman on two occasions. The series was not take place in consecutive years. Oklahoma will host Temple in 2024 and 2028, while hitting the road in 2025...
WHITE PLAINS, N.Y. (AP) Hal Lear, the sweet-shooting guard who starred for the Temple Owls in the 1950s and still holds the school record for points in a season, has died. He was 81. Lear died at his home in White Plains, New York, on Saturday from a recurrence of prostate cancer and the effects of spinal stenosis, according to his wife, Maggie. He had been retired following a...
MORE STORIES >>
Temple News

Delivered to your inbox

You'll also receive Yardbarker's daily Top 10, featuring the best sports stories from around the web. Customize your newsletter to get articles on your favorite sports and teams. And the best part? It's free!
THE HOT 10: Who's Trending