We've updated our Privacy Policy.
By continuing to use this site, you are agreeing to the new Privacy Policy.
Nobody ever said the world was fair... especially when it comes to the world of film, which requires an incredible amount of skill, timing and luck in order to find both success and recognition. While veteran actors like Tom Cruise, John Travolta and Glenn Close are still waiting for their first Academy Award win alongside directors like Quentin Tarantino, Brian De Palma, and Spike...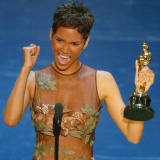 Winning an Academy Award is the moment every film industry professional dreams of, and when it arrives, winners have to quickly compose themselves and deliver their acceptance speech. Some are humble, some are funny, some are political, some are embarrassing and some manage to be all of those things at once. Just don't be boring! The following speeches, stretching from 1940 to the...
MORE STORIES >>
Entertainment News

Delivered to your inbox

You'll also receive Yardbarker's daily Top 10, featuring the best sports stories from around the web. Customize your newsletter to get articles on your favorite sports and teams. And the best part? It's free!