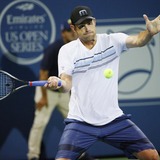 Andy Roddick, who retired from tennis in 2012, is one of the most successful U.S. tennis competitors of all-time. During his 12-year pro career, he won 32 titles, including the 2003 U.S. Open.Roddick, however, threw away his tennis trophies because they didn't define success to him. He didn't seem to care much about them. His wife, model/actress Brooklyn Decker, was not happy with...
MORE STORIES >>
Entertainment News

Delivered to your inbox

You'll also receive Yardbarker's daily Top 10, featuring the best sports stories from around the web. Customize your newsletter to get articles on your favorite sports and teams. And the best part? It's free!