Just battle-rapping some Notre Dame football haikus. The Notre Dame Fighting Irish are days away from burying the 4-8 season of last year when it hosts the Temple Owls. There is an awful lot riding on this game. I know, I know... it's Temple, but the first game is crucial. SO LET'S NOTRE DAME FOOTBALL HAIKU IT! If you've been around these parts before, the game haiku is your...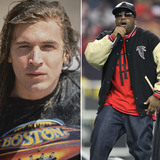 If you're anything like me, you woke up this morning remembering that the Super Bowl is only a week and a half away, and that you're already probably too late to reserve delivery pizza, rent folding chairs, or even invite people over because by this point, everyone's already probably made plans.On the plus side, that means that instead of hosting a party yourself, you can mooch off...
MORE STORIES >>
Entertainment News

Delivered to your inbox

You'll also receive Yardbarker's daily Top 10, featuring the best sports stories from around the web. Customize your newsletter to get articles on your favorite sports and teams. And the best part? It's free!