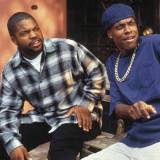 As we continue Black History Month with our celebration of black film, we'd be remiss not to countdown the best comedies. No standup concert films here, just a look at some of the funniest movies black film has to offer. From Eddie Murphy to Richard Pryor to Chris Rock, the stars represented here include the some of the best performers in comedy yesterday and today.
If you have seen one "this is the wrong ball" trick play, you have seen them all.  Lucky for El Camino Real's junior varsity team, namely quarterback Jahlil Pinkett, the eleven guys on Reseda Cleveland's defense had not seen one. On the first play of the game Friday, Pinkett took the snap and started walking to the sideline while shouting, "Coach, wrong ball."  After he got to the...
A junior varsity team from Southern California pulled off what could be the trick play of all time on Friday. And its star has some acting in his blood. During a 52-6 victory, El Camino Real quarterback Jahlil Pinkett takes the snap, and calmly starts strolling toward the sideline, seeming to request a new football. Everyone -- and we mean everyone -- on both sides lets up as Pinkett...
We all know about the old Statue of Liberty play but now you can add another ruse to your sandlot offensive arsenal. El Camino Real (Woodland Hills, Calif.) junior varsity quarterback Jahlil Pinkett lines up behind center, bends down to receive the snap, and — requests a new football from the sideline? The Cleveland defense didn't understand it either, as El Camino Real pulled...
MORE STORIES >>
Entertainment News

Delivered to your inbox

You'll also receive Yardbarker's daily Top 10, featuring the best sports stories from around the web. Customize your newsletter to get articles on your favorite sports and teams. And the best part? It's free!