We've updated our Privacy Policy.
By continuing to use this site, you are agreeing to the new Privacy Policy.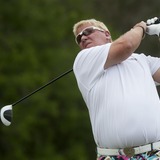 John Daly still manages to find ways to keep fans entertained, and you never really know what the 50-year-old golfer is going to do next.That was the case at a recent Myrtle Beach fundraising tournament, when he used an interesting prop as a tee. Plenty of fans were consuming beers while watching the action, so Daly elected to use a beer can to drive the ball. It's something you...
John Daly won the PGA Championship all the way back in 2001, meaning he was an invited attendee at the annual Champions Dinner on Tuesday night. And the 50-year-old, known for both his outrageous on-the-course wardrobe choices and offbeat demeanor — didn't disappoint with how he got himself gussied up for the gala. Daly rocked an über-patriotic getup for the event, as evidenced...
John Daly is without question one of the most colorful personalities in the history of professional golf. And the fact that he has adopted a style of golf attire befitting such a uniquely original persona only adds to his outrageous persona. Daly's fashion-forward (backward?) approach to clothing was on full display Thursday during the first round of the 145th Open Championship...
LIKE WHAT YOU SEE?
GET THE DAILY NEWSLETTER: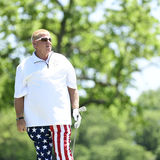 John Daly knows how to enjoy himself while continuing to play professional golf on the Champions Tour. The larger-than-life golfer sent out an Instagram post on Thursday featuring his, you guessed it, inflatable Jacuzzi hot tub. Champions Tour ✔️ My Bus on site ✔️ Meet Miller Lite guy to load up ✔️ Plenty of John Daly Cocktail Bottles ✔️ Smokes ✔️ BBQ ✔️ Portable...
John Daly officially became eligible to join the Champions Tour when he turned 50 last month, and the man already looks born again. Appearing in his first ever Champions Tour major at the Regions Tradition over the weekend, Daly had a rough final round and shot a 74 to finish tied for 15th. He did, however, end on a high note with an eagle on the 18th hole. And what did he do after...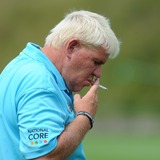 By Larry Brown John Daly was taken to the hospital to be treated after collapsing on the 18th hole while playing a course in Mississippi on Saturday, according to a report. Yahoo Sports' Pat Forde says Daly was playing at Deerfield Golf Club in Canton, Miss. and collapsed on the 18th tee box. He was taken to Baptist Medical Center and was being evaluated. A friend told the AP...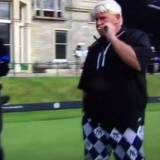 By Steve DelVecchio John Daly is our favorite story of the The Open Championship thus far, and it's not particularly close. The greatness continued on Thursday before the first round of the tournament. In an interview with the BBC, Daly was asked about the fitness level of modern tour players. Those of you who have followed Daly's career know that staying in shape isn't really...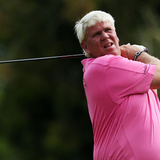 Steve DelVecchio John Daly's ex-wife, Sherrie Miller, is suing the PGA golfer's current fiancee. Need we say more? We will anyway, because the details are incredibly entertaining. Miller filed a lawsuit against Anna Cladakis in 2011, alleging that Cladakis broke up the marriage between Miller and Daly. She is seeking unspecified damages. Here's more from The Associated Press: ...
John Daly, known as the "Man of a Thousand Pairs of Garish Pants" (okay, not really, but he could be), took part in the Pebble Beach Pro-Am on Thursday rocking perhaps the craziest pair of golf pants he's ever worn. And that's saying something (SpongeBob slacks, anyone?) Regaled in slacks featuring $100 and $50 bills, […]The post John Daly plays pro-am with Kid Rock in pants that...
MORE STORIES >>
Golf News

Delivered to your inbox

You'll also receive Yardbarker's daily Top 10, featuring the best sports stories from around the web. Customize your newsletter to get articles on your favorite sports and teams. And the best part? It's free!