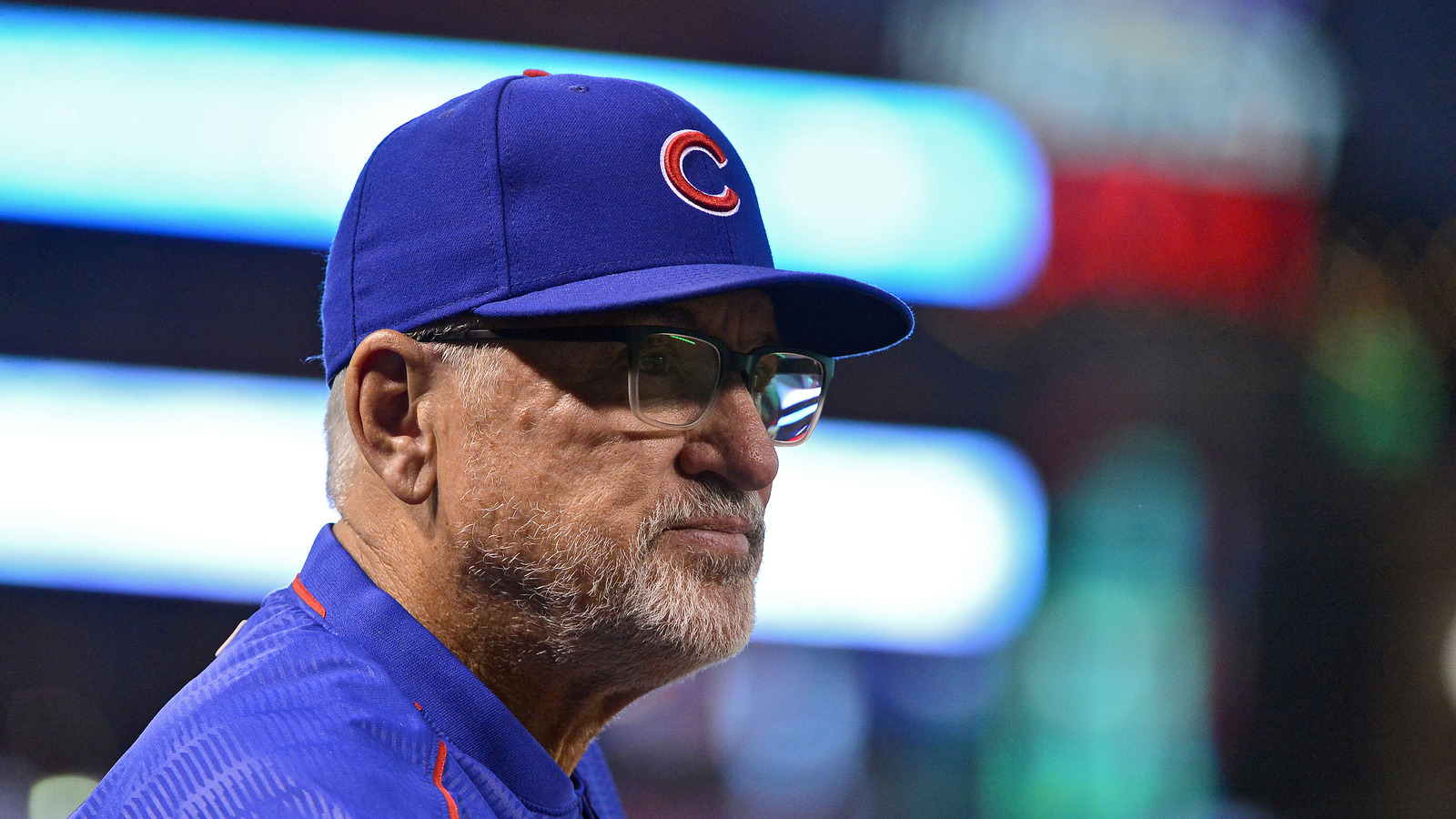 Maddon bringing the Cubbies a championship has forever cemented his status in the Windy City.
Jeff Curry-USA TODAY Sports
It's hard to question what Joe Maddon has accomplished in his first three seasons in Chicago. Helping the team reach the NLCS his first season exceeded everyone's expectations. Leading the team to a World Series victory last year was like climbing Mt. Everest without a Sherpa. And following up with another division title when most teams fail to make the playoffs after reaching the peak should put him in the rare air of baseball managers.
His Cubs are 99 games over .500 since he came on board. So, why is he taking so much flak from Cubs' fans?
Instead of embracing him, people question his every move. Between his lineup machinations, pitching decisions, and general stubbornness, the only certainty is that he's going to tick somebody off.
I was thrilled when the Cubs hired him. I knew he was the one manager that wouldn't let the 108-year drought faze him. He's a great manager of personalities, but not quite as good when it comes to managing day-to-day. His stubbornness and insistence on being right are a detriment to the Cubs defending their title. He still believes pulling Kyle Hendricks in Game 7 last year was the right decision and points to the results as proof.
That's what makes him so frustrating. He accomplished the impossible in Chicago and should already have a street named after him. A statue erected. Immunity from further criticism. But in this 'what have you done for me lately' society, that's not enough. If he has another bad postseason, the criticism is going to grow even stronger.
Is Maddon a great manager, or does he have great players? The roster is loaded, but that doesn't guarantee success. He also led Tampa to 90 or more wins five times with far less talent. So he must be doing something right.
His was a charmed existence until the playoffs last year. Between using Aroldis Chapman until his arm almost fell off and pulling Hendricks far too soon, Maddon became the center of contention for those wearing Cubbie blue.
The questionable decisions continued this year, though, as Maddon decided the best solution to the leadoff spot that Dexter Fowler filled so well the last two seasons was slugger Kyle Schwarber. That led to a funk Schwarber never seemed to overcome despite slugging 30 homers. Between a stint in the minors and a place on the bench against lefties, this wasn't the year envisioned after Schwarber's World Series heroics.
But then playing people out of place is a Maddon tradition. If you once played third base back in little league, Maddon is going to throw you out there. Players like Ben Zobrist, Ian Happ, and Javy Báez are his kind of guys because they give him so many options.
The reason the Cubs let Fowler leave was because it was supposed to be Albert Almora's turn to shine. A gold glove caliber center fielder with good wheels and an emerging bat, he was all but penciled in as the starter. That was until the team picked up Jon Jay in the off-season.
Instead of being the backup, he saw more playing time than Almora as Maddon fell in love with Jay. The early call-up of Happ also didn't help as more often than not, if Jay wasn't in the lineup, Maddon inserted Happ in center instead.
It seemed no matter what Almora did, he wouldn't see regular playing time. At one point against the New York Mets in September, he drove in eight runs in just four at-bats without starting a game in the series. But there he was on the bench again the next day. When he was asked by a reporter if Almora would see more playing time due to his recent success, Maddon replied, "Maybe he's doing so well because we're putting him in the right spots."
And I already mentioned that glove.
In the eighth inning of a game against Cincinnati a few weeks previous, Maddon left Almora on the bench while Happ just missed catching a deep drive over his head—ultimately resulting in a loss. When asked after the game why Almora wasn't in, his reaction was, "Almora wouldn't have caught it either."
Are you starting to notice a pattern here?
Maddon is loved by the media, but he doesn't like to be questioned. He's very generous with his time, and you can ask him anything you like, but you may not get the answers you want. There's a quiet arrogance behind his 'Joe Cool' facade that disarms the media from persisting with tough questions. He doesn't yell at reporters like former manager Lou Piniella did at times, of course. Butt in his way, he makes them question themselves for even questioning his decisions.
His lineup changes are legendary, as he has had over 140 different configurations each year he has been in Chicago. While the lack of continuity can sometimes hurt the offense, his philosophy has worked well during the dog days of August with records of 19-9 in 2015, 22-6 in 2016 and 17-12 this year.
He had similar late season success in Tampa. Between discouraging his players from coming to the park early and encouraging them to skip batting practice at times, his teams historically finish strong.
His managing last year in the playoffs, especially the World Series, caused a lot of fans to jump off his bandwagon. It seemed like the pressure he was so good at keeping off of his players got to him. He quit using several key pitchers in his bullpen and pitched Chapman often when he wasn't needed. It hurt his effectiveness when it was needed the most.
Having too many choices on the roster is not necessarily a good thing for Maddon. He tends to over think his decisions. I can't imagine what his lineups will look like against the Washington Nationals in the NLDS. If the Cubs are going to repeat, he's going to have to manage a lot better in the playoffs than he did last year.
Maddon has his warts. He's not the perfect manager, but then who is? The bottom line is he was the manager when the Cubs finally ended more than a century of pain.
His act will eventually play itself out because he's a different cat. But for now, it's hard to argue with success. And that's something Cubs fans weren't too familiar with before he came to town.
MORE FROM YARDBARKER
Cubs News

Delivered to your inbox

You'll also receive Yardbarker's daily Top 10, featuring the best sports stories from around the web. Customize your newsletter to get articles on your favorite sports and teams. And the best part? It's free!