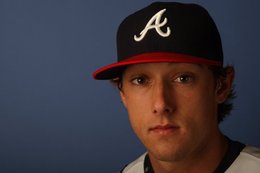 HOUSTON -- Houston Astros leadoff hitter Jordan Schafer steps into the batter's box with one goal in mind.
"Cause some havoc on the bases," Schafer said Monday night, fresh off sparking his team to a 4-3 win over the New York Mets to snap a two-game slide.
It was another night of mission accomplished for the young center fielder, who accounted for much of the Astros' offensive output, including scoring the game-winning run on an RBI single by Jed Lowrie with one out in the eighth inning to break a 3-3 tie.
"His ability to get on base and make things happen, that's what catalysts do," Astros manager Brad Mills said of Schafer. "He made things happen."
Just ask the Mets, who dug themselves out of a three-run hole in the seventh only to see Schafer get the Astros going an inning later with another key hit.
Earlier in the game, Schafer, 25, broke a no-hitter attempt by R.A.
Dickey in the sixth, then scored to give the Astros a 1-0 lead and spark a three-run inning.
The win improved the Astros to 5-9 in games decided by two or fewer runs. New York, meanwhile, dropped to 9-2 in such games.
The Mets entered the game hot, having won five of their previous six, including two of three at Colorado.
Houston returned home after a 2-4 road trip that saw it drop series at Milwaukee and Cincinnati. The Astros have lost six straight series since claiming their opening series over Colorado.
Astros reliever Fernando Rodriguez (1-3) pitched one-third of an inning for the win, and closer Brett Myers pitched a scoreless ninth for his fifth save in as many chances.
Schafer, who finished 2-for-4 with two runs, has now reached safely in all 23 games this season for the Astros, tied with Ricky Gutierrez (1998) for the second-longest stretch in team history at the start of the season. He leads Houston with 18 runs this season.
Schafer singled on a grounder to third to start the bottom of the eighth, stole second and scored on Lowrie's line drive to center that was deflected by Mets reliever Manny Acosta (0-2).
"We were just trying to scrap out a run there," Schafer said. "Luckily he bobbled the ball there. Jed came up with a big hit, and we were lucky to get a run there, and Myers shut the door for us."
Dickey held Houston hitless through five in dominating fashion, striking out six and walking two as he aimed for his second win in as many starts.
But he ran into trouble in the sixth, when Schafer hit Dickey's first offering for a line drive to left to break the no-hit attempt. Schafer wasn't done running. He reached second on a sacrifice bunt by Jose Altuve, made it to third on a Lowrie single to left and scored on a play that saw Travis Buck ground into a forceout with Lowrie retired at second.
Matt Downs then took a 1-0 pitch deep to left for a two-run homer, his second home run of the season.
"Tonight was the night that I literally threw one pitch that I didn't like, and it got hit out of the park," Dickey said. "That normally doesn't happen."
Astros starter Bud Norris kept the Mets scoreless through six innings but came undone in the seventh.
First he coughed up back-to-back singles to David Wright and Ike Davis. Andres Torres hit an RBI single to score Wright and slice the Astros' lead to 3-1.
Pinch hitter Kirk Nieuwenhuis hit a two-run single to tie the game with two outs, and that marked the end of Norris' outing.
"I think when R.A. was pitching so well, and they got the hits, it woke us up a little bit," Mets manager Terry Collins said. "We were there in the end."
Norris allowed three runs on seven hits over 6 2/3 innings. He struck out seven and walked one.
Wilton Lopez got Ruben Tejada to line out to third baseman Chris Johnson for the third out.
"Bud threw the ball extremely well," Mills said. "Obviously that seventh inning was a crucial inning for him. He was matching Dickey zeros for zeros.
"He did a good job of putting us in position when we couldn't get anything going against the guy who was no-hitting us."
NOTES: Mets right-hander Mike Pelfrey, on the disabled list since April 24, will have season-ending Tommy John surgery Tuesday. Pelfrey, 28, has a partially torn ligament in his elbow. The injury, initially diagnosed last week, was confirmed by orthopedic surgeon James Andrews, who will perform the operation. ... The Mets activated Torres from the 15-day disabled list. He had been sidelined since Opening Day due to a strained calf. Infielder Zach Lutz was optioned to Triple-A Buffalo after Sunday's game.

Read the rest of this story...
MORE FROM YARDBARKER
MLB News

Delivered to your inbox

You'll also receive Yardbarker's daily Top 10, featuring the best sports stories from around the web. Customize your newsletter to get articles on your favorite sports and teams. And the best part? It's free!