Is the reported Jose Altuve extension a roadmap for Carlos Correa? Not really
Astros shortstop Carlos Correa was not in attendance for Houston's trip to the White House in celebration of its 2017 World Series championship on Monday. Instead, he was helping gather supplies to aid the hurricane relief effort in Puerto Rico.
A battle to see who will be the AL MVP Award this year will be good for the Astros. When you go out to dinner with your friend and you they order something that looks better than you did. You are envious of what they ordered. Last year, Jose Altuve played at a MVP level […] Astros...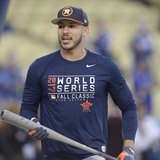 Carlos Correa was noticeably absent as the Houston Astros attended a ceremony Monday at the White House to celebrate the team's World Series title with Donald Trump. On Tuesday, the All-Star shortstop explained why.Some presumably have inferred Correa, a native of Puerto Rico, opted out of the visit as a sign of protest over the U.S. government's response to the humanitarian crisis...
Carlos Correa skipped the Houston Astros' visit to the White House to help arrange for more relief supplies for shipment to hurricane-ravaged Puerto Rico, where he grew up.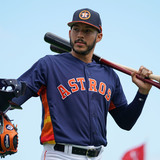 Carlos Correa and the Houston Astros are World Series champions. But that's not good enough for the 23-year-old shortstop. He wants to be the league's Most Valuable Player as well."MVP is something I don't want to retire without winning one. It would be like a dream come true. I already have a Rookie of the Year. I have (been an) All-Star. I've got a World Series championship. That...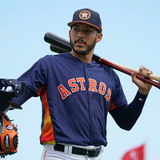 The Astros have renewed the contract of star shortstop Carlos Correa at $1M, reports FanRag's Jon Heyman (Twitter link). That comes in just shy of the record for a pre-arbitration player, set by Kris Bryant last offseason when the Cubs agreed to a $1.05M salary. Correa's $1M mark ties the previous record holder, Mike Trout, who earned $1M in 2014 as a pre-arb player before agreeing...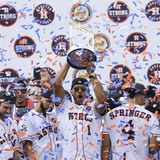 Spring training action is well underway and the regular season less than a month away. It's time to start thinking about what might happen in the 2018 MLB season and who might take home the hardware for the big awards.Most of the attention in the Windy City and Big Apple will go to the Chicago Cubs and New York Yankees, respectively. But we expect the awards for baseball's top managers...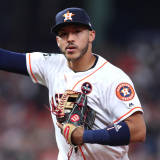 Never in the history of the game has there been such a uniquely skilled set of athletes at the shortstop position. A lot of that can be attributed to the likes of Alex Rodriguez, Derek Jeter, Nomar Garciaparra and Edgar Renteria, all players who redefined the position, but not even those players could have predicted what the modern-day shortstop has matured into.Nowadays, the premier...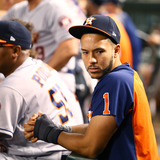 Things are really looking up for the Houston Astros.Manager A.J. Hinch announced Saturday that the team intends to activate shortstop Carlos Correa for Sunday's game, where he will return to the cleanup spot and play shortstop. Correa has not played since July 17 due to a torn thumb ligament. He was hitting .320 with 20 home runs before succumbing to injury. The news comes at a great...
MORE STORIES >>
Astros News

Delivered to your inbox

You'll also receive Yardbarker's daily Top 10, featuring the best sports stories from around the web. Customize your newsletter to get articles on your favorite sports and teams. And the best part? It's free!