We've updated our Privacy Policy.
By continuing to use this site, you are agreeing to the new Privacy Policy.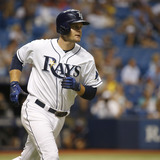 The Royals have designated outfielder Billy Burns, per a club announcement. His roster spot will go to first baseman Lucas Duda, whose signing is now official.Burns, 28, has received only limited MLB opportunities since landing in Kansas City in a 2016 trade from the A's. He had turned in a highly productive 2015 season, with a .294/.334/.392 slash and 26 steals to go with quality...
KANSAS CITY, Mo. -- The reigning World Series champions had been rendered an afterthought as the calendar flipped to August, the Kansas City Royals so far out of playoff contention that some were wondering whether they might begin jettisoning their stars and rebuilding.They proceeded to have one of the best months in franchise history.Despite back-to-back extra-inning losses to the...
Billy Burns was going to be one of those interesting test cases. His numbers in the minor leagues were strong — he drew walks about 12% of the time, and he infrequently struck out. He could motor, too, adding to his value both at the plate and in the middle of the outfield. Yet he had just two professional homers to his name, over 1,800 opportunities, and we've seen these failures...
LIKE WHAT YOU SEE?
GET THE DAILY NEWSLETTER:
Oakland Athletics outfielder Billy Burns left Friday's game against the San Francisco Giants with what was officially called a testicular contusion.That's a black-and-blue nut to all us laymen. Leading off the fifth inning, Burns went down quickly after the Jake Peavy pitch below bounced off of the ground and hit him in the groin. Billy Burns left tonight's game with a "testicular...
Oakland Athletics outfielder was having a decent game Friday night against the San Francisco Giants before an unfortunate bounce forced him out of the game with the kind of injury no guy ever wants to get--a testicular contusion. When he connected with the ball it went foul, bounced off the ground, and right back up to his family jewels.Ouch. Billy Burns made the most NUTS #JustRidiculous...
As hard as it might be to believe right now, Oakland front office asked center fielder Billy Burns to consider ending the switch-hitter experiment and bat solely from the right side when they acquired him. "It was presented as an idea, and it wasn't something they wanted to do during the season," Burns admitted, but […]
The first-level explanation for Billy Burns' impressive numbers last month? Spring-training statistics are irrelevant at best, misleading at worst. You know this part. However much there might be a little signal in the stats, it tends to be overwhelmed by noise, so it's best to just ignore the numbers entirely. But for weeks we're given […]
Billy Burns. Photo Credit: Getty Images.   25-year-old centerfielder Billy Burns was first drafted out of Walton High School in Marietta, GA by the Atlanta Braves in the 16th round of the 2008 amatuer draft. Opting to attend Mercer University in Macon, GA before pursuing his Major League Baseball career, he was drafted again in the 32nd round of the 2011 draft by the Washington...
Last year, then-Washington outfield prospect Billy Burns produced the most stolen-base runs among every minor-league player in the whole minor leagues — about 12 of them, it would appear, using the major-league linear-weight values for stolen bases and caught stealings*. *Caughts stealing? Now employed by the Oakland franchise — and, indeed, having been promoted to […]
Billy Burns' name matches his play on the basepaths. The minor league outfielder stole 74 bases in 81 attempts while splitting time between Nationals' Class-A and Double-A affiliates last season. Burns was traded to the A's at the end of 2013 seems to be blazing a trail to the big leagues.The 24-year-old prospect — playing for the Midland Rockhounds —already has people comparing...
MORE STORIES >>
Royals News

Delivered to your inbox

You'll also receive Yardbarker's daily Top 10, featuring the best sports stories from around the web. Customize your newsletter to get articles on your favorite sports and teams. And the best part? It's free!