We've updated our Privacy Policy.
By continuing to use this site, you are agreeing to the new Privacy Policy.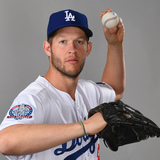 The late Kevin Towers was memorialized at a "Celebration Of Life" ceremony today at Petco Park, with scores of Towers' friends and colleagues from around baseball in attendance.  The Associated Press' Jay Paris and the Padres' Bill Center each have details on some of the memorials from the 22 speakers who shared their experiences and fond memories of Towers, whose 35 years in baseball...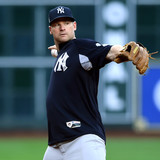 The Los Angeles Angels are making moves at the Winter Meetings.The Angels are reportedly close to acquiring Chase Headley from the San Diego Padres to fill their need at third base. This move would come hours after they made another trade to acquire Ian Kinsler from the Tigers to play second base.Luis Valbuena was slated to play third base for the Angels in 2018, and he was coming...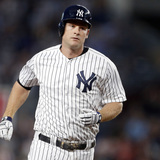 In what amounts to a salary dump after taking on Giancarlo Stanton's contract, the New York Yankees have reportedly traded starting third baseman Chase Headley and reliever Bryan Mitchell to the San Diego Padres. New York will save significant cash. Headley is set to make $13 million this upcoming season. The former MVP candidate also returns to where it all started.Headley played...
LIKE WHAT YOU SEE?
GET THE DAILY NEWSLETTER: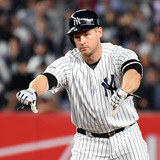 While some may make the case that Chase Headley's best days are behind him, he's coming off a pretty solid campaign. But, now he's returning to the place where he would enjoy some of the best days of his career. The Yankees already made the biggest splash of the offseason by acquiring Giancarlo Stanton. Now it appears they're just trying to shed some salary.Over parts of eight seasons...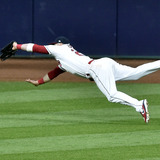 Jason Kipnis is a long-time MLB second baseman. But if you watched him play center field in Game 1 of the Cleveland Indians vs. New York Yankees game, you'd think he was a natural outfielder. Twitter was in awe of Kipnis after he robbed Chase Headley of extra bases. — Chad Breznak (@cbrez62) October 6, 2017 #baseball#ALDS— Dani Figliuolo (@dani_figliuolo) October 6, 2017 Well, not...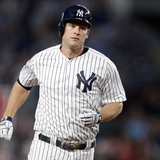 Yankees infielder Chase Headley took one for the team during Tuesday night's game against the Twins.Headley came to the plate in the fifth inning of the game, and Dillon Gee greeted him with an 87-mph pitch right to the groin. Ouch. To his credit, Headley took it like a champ — shaking it off and making his way to first base. And it wasn't for naught, though, as he did manage to...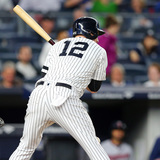 There are hit-by-pitches, and then there are painful hit-by-pitches. Chase Headley certainly knows what we're talking about.In the bottom of the fifth inning of Tuesday's Yankees-Twins game, Headley was hit by a pitch … in the groin. Headley remained in the game despite the painful incident. He even scored a run later in the inning.Perhaps the blow to his personal area affected him...
  For the first time in a long time, the New York Yankees are embracing the rebuilding process with open arms. The Yankees have jumped out to a 30-20 start and find themselves in 2nd place in the American League, trailing the Houston Astros. The Yankees are ahead of schedule in the rebuilding process and are showing themselves to be a competitive team, poised to make a playoff berth...
Earlier this week, the top prospect in the New York Yankees' system, Gleyber Torres, was called up to Triple-A Scranton/Wilkes-Barre.  While that alone qualifies as major news, there were more important implications of this move: in his first game with the RailRiders, Torres played third base.  Torres has predominantly been a shortstop in his minor league career, so a positional...
The Yankees are off to a much better start than many expected. Young players like Aaron Judge and Aaron Hicks have contributed from day one. Veterans like Jacoby Ellsbury and Starlin Castro, whom many had thought were lost causes, are off to hot starts offensively. Perhaps the most notable veteran off to a great start is Chase Headley. After two very disappointing years at the plate...
MORE STORIES >>
Padres News

Delivered to your inbox

You'll also receive Yardbarker's daily Top 10, featuring the best sports stories from around the web. Customize your newsletter to get articles on your favorite sports and teams. And the best part? It's free!