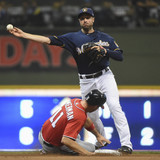 At this point, there's little point in expounding upon what an odd offseason it's been for Major League free agents. Relievers got paid handsomely, the devaluation of bat-first corner players is more apparent than ever, and nearly 20 percent of MLBTR's Top 50 free agents remain unsigned on March 5. Readers can choose whichever of the myriad explanations that've been presented this...
The story of Eric Sogard's 2017 season can be a loosely tied metaphor to this current Brewers campaign. I emphasize the word loose, because Sogard was once batting in the .400s. The Brewers were never that good. However, through April and May, the entire league was patiently waiting for the Brewers to regress some bit, or for the Cubs to rip off a winning stretch to reclaim the division...
Quickly, without Googling: through this past weekend's action, among Major League players with at least 50 plate appearances, who tops the leaderboard for wRC+? Mike Trout? A good guess, if a predictable one, but he's in second place. Eric Thames? You're really, really close. As in, same team, same first name, close. I'm talking about Eric Sogard. Here, I'll  link the actual leaderboard...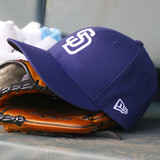 The San Diego Padres wanted to make Eric Sogard's daughter feel a bit better after a pretty crushing defeat.For context, Saydee Sogard, daughter of Milwaukee Brewers second baseman Eric, was extremely excited when her dad hit a go-ahead home run in the tenth inning of their game against the Padres. Unfortunately for them, San Diego's Hunter Renfroe hit a two-run shot in the bottom...
MILWAUKEE (AP) Former Oakland infielder Eric Sogard has agreed to a minor league contract with the Milwaukee Brewers and will attend major league spring training. Sogard hit .247 with one homer and 37 RBIs in 120 games for Athletics this year and stole six bases in seven attempts. The Brewers announced the agreement Thursday along with minor league deals for pitcher Hiram Burgos...
MILWAUKEE -- The Milwaukee Brewers have signed former Oakland Athletics infielder Eric Sogard to a minor-league contract with an invitation to major league camp in spring training.Sogard hit .247 with one homer and 37 RBIs in 120 games for Oakland in 2016. The left-handed hitter was 6 of 7 in stolen-base attempts.The Brewers announced the signing of Sogard on Thursday, along with...
The red-hot Oakland A's are still searching for a second baseman to help them sail into the postseason. The Athletics typical second basemen, Eric Sogard and Nick Punto, are just not cutting it. Sogard is rarely starting these days due to .194 batting average and Punto is not doing much better with only a .209 AVG and 2 home runs. Additionally, Sogard's strength is his defense, but...
Oakland Athletics shortstop Eric Sogard snags a soft liner off the bat of Chris Carter and then is sent tumbling by the broken bat. The wayward Louisville Slugger skipped toward Sogard just as he was going to unleash a throw across the diamond. The post Athletics Eric Sogard Sent Tumbling By Stray Bat appeared first on Baseball Hot Corner.
MORE STORIES >>
Brewers News

Delivered to your inbox

You'll also receive Yardbarker's daily Top 10, featuring the best sports stories from around the web. Customize your newsletter to get articles on your favorite sports and teams. And the best part? It's free!