SARASOTA, Fla. - The Orioles reassigned infielders Erick Salcedo and Garabez Rosa to minor league camp following yesterday's game in Clearwater. Salcedo was competing for a spot as the utility infielder. He impressed at second base and shortstop and also went 4-for-8 with a double. Rosa, who was 3-for-16 with ... Read More
To put in perspective how long Garabez Rosa has been in the Orioles organization, when Adam Jones was traded to the club in February 2008, Rosa was about to begin his second season on the O's farm. Signed out of the Dominican Republic at age 17 in November 2006, Rosa ... Read More
After a season where he led the league in batting and RBIs, Double-A Bowie's Garabez Rosa has been named the MVP of the Eastern League for 2017. Rosa topped all hitters in batting average (.310), hits (162) and RBIs (91). The 162 hits are the second highest single-season total in ... Read More
Just as the problems hit the International League this week with weather, same thing happened to the Eastern League.  So many games were postponed.  There was an attempt to make some up as double headers, but those were postponed to due to rain.  Luckily there was a little break in the misfortune of the forecast to get some games played.  It was and it wasn't difficult to choose...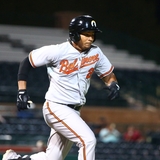 SS Garabez Rosa is the Double-A Infielder Of The Week. (Photo:Orioles.com) The journey through the Minor Leagues can be a tumultuous one for many and finding a steady ground both on and off the field is something that many may struggle with. For players who get bounced around different teams through an organization's farm system, sometimes their performance can suffer but for the...
While many of us were focused on Hyun Soo Kim, Joey Rickard's nightly stellar play, Nolan Reimold's late-spring surge and Garabez Rosa's seemingly nightly late-inning hit, the X-man was laying in the weeds. Has the Orioles' 2008 second-round draft pick Xavier Avery made this team? He has had one impressive ... Read More
Phillies third baseman Maikel Franco hit his major league-leading ninth homer of spring training, but Garabez Rosa hit a tying homer in the ninth inning for Baltimore and then another run scored on a wild pitch to gi
The Reading Fightins could not overcome an early deficit and dropped game 4 of the Eastern League Championship Series to the Bowie Baysox by a score of 9-1. Bowie scored three runs led by a Garabez Rosa tw0-run double off of Reading starting pitcher Ben Lively in the bottom of the opening frame to jump out to a 3-0 lead. Reading scored their only run in the 4th inning, when outfielder...
MORE STORIES >>
Orioles News

Delivered to your inbox

You'll also receive Yardbarker's daily Top 10, featuring the best sports stories from around the web. Customize your newsletter to get articles on your favorite sports and teams. And the best part? It's free!